You are currently browsing the tag archive for the 'Commentary' tag.
The Logos Bible Software "Free book of the Month" for March 2018 is from P&R Publishing, Anthony T. Selvaggio, From Bondage to Liberty: The Gospel According to Moses. The book is part of P&R's The Gospel According to the Old Testament series. The series includes twenty volumes tracing the theme of salvation in a diverse assortment of Old Testament characters. Moses, Abraham, and Joseph seem like obvious characters for a series like this, but there are also volumes on Judges, Jonah, and even Nahum. Selvaggio an ordained minister, a lawyer, an author, a lecturer, and a visiting professor at Ottawa Theological Hall in Ottawa, Canada.
For $1.99 more you can add Christopher W. Morgan's A Theology of James: Wisdom for God's People in the Explorations in Biblical Theology (P&R, 2010).  Morgan is dean of the School of Christian Ministries at California Baptist University in Riverside, California. The Explorations series "focus on applying God's truth to life" by tracing doctrines through the Bible. The series is written for "college students, seminarians, pastors, and thoughtful lay readers." About this volume, Thomas Schreiner said "Morgan reminds us in this wonderfully lucid, practical, and faithful rendition of James's theology that James's teaching is not only in accord with the gospel, but fundamental to the gospel."
The third P&R book offered in this promotion is the Reformed Expository Commentary on Acts by Derek W.H. Thomas. Thomas is minister of preaching and teaching at First Presbyterian Church in Columbia, South Carolina and distinguished visiting professor of systematic and historical theology at Reformed Theological Seminary. This commentary is only $4.99 for the month of March.
Logos is also running a giveaway during the month of March. You can enter to win A Theology of Lordship (4 vols.) by John Frame
So head over to the Logos Free Book of the Month page, grab the free (and almost free) books for your Logos Library before the end of March.
The Logos Bible Software "Free book of the Month" for February 2018 is John Stott, The Message of the Sermon on the Mount (InterVarsity, 1978). John Stott was one of the major evangelical voices  in the twentieth century. David Brooks of the New York Times once described Stott as a kind of "pope of evangelicalism."
Brooks said this in 2004 to distance evangelicalism from " the made-for-TV, Elmer Gantry-style blowhards" who the media calls "evangelicals." He concludes his essay by saying "you can't understand this rising global movement [evangelicalism] if you don't meet its authentic representatives. Not Falwell, but Stott."
Stott edited the New Testament volumes of the Bible Speaks Today series and wrote several of the commentaries. These are light, devotional commentaries which are aimed at the layperson either a small group setting or a personal reading. There are occasional references to the Greek and a few references to other scholarship. Pastors will enjoy reading this series as well as they prepare to preach and teach Scripture. For only $1.99 more, you can add Stott's The Message of Ephesians in the same Bible Speaks Today series. Logos is also offering the Michael Wilcock's two-volume Psalms commentary (2001) in the same series for $4.99.
You can also enter to win a seven-volume Stott Collection from Logos. These offers are only good through February. so head over Logos's Free Book of the Month site ASAP and get these free (or almost free) resources.
Eerdmans has a monthly "Commentary Club sale" and this month they are featuring three commentaries in the Two Horizons series. Although this series is an example of the methods of the Theological Interpretation of Scripture, there is usually a blend of traditional exegesis and theological interpretation. I have reviewed several volumes (James McKeown, Ruth; Lindsay Wilson, Job; Ernest C. Lucas, Proverbs;  Andy Johnson, 1 & 2 Thessalonians) and purchased a few more. Each of these commentaries include lengthy theological essays drawn from the exegesis of the book. These are far more detailed than an "excursus" are worth the price of the book alone.
If you do not mind reading on a Kindle (or Kindle app on a tablet), these are a great deal. Robert W. Wall and Richard B. Steele's commentary on 1 & 2 Timothy, Titus is only $1.99.  I reviewed this commentary soon after it was published in 2012.
After the exegesis of each book, Wall provides a "rule of faith" reading based on five categories drawn from Tertullian's "Theological Grammar." The five categories are: Creator God, Christ Jesus as Lord, Community of the Spirit, Christian Existence and Discipleship, and Consummation in a New Creation. With his exegesis in mind, Wall reads back through each Pastoral Epistle with these five areas in mind, creating a kind of mini-theology for each book. He gathers all the data from the letter on each element and provides a running theological commentary for the book. For 1 Timothy, this is nearly 50 pages!

An additional feature of this commentary are three "case studies" written by Richard B. Steele, Wall's colleague at Seattle Pacific University. These short sections are applications of each Pastoral letter to a particular historical situation. Steele discusses 1 Timothy's view of leadership in "John Wesley and Early Methodist Societies," 2 Timothy in "John William Fletcher: John Wesley's Designated Successor" and Titus in "Phoebe Palmer and the Wesleyan Holiness Movement." Given then theological commitments of Wall and Steele, the content of these articles are obviously interested in Wesleyan applications.
Gordon McConville and Stephen Williams commentary on Joshua is $2.99 and Psalms by Geoffrey W. Grogan is $3.99. I did not review these two commentaries, but I do own a copy of Grogan's book and find it a very useful one-volume commentary on Psalms.
These affordable prices for Kindle versions of the Two Horizons commentaries run  through February 28th, 2018.
The first Logos Bible Software "Free book of the Month" for 2018 is Todd Wilson's Galatians: Gospel-rooted Living. This 2013 commentary is in the Preaching the Word series from Crossway Books. Todd Wilson is has a PhD from Cambridge University and serves as the senior pastor of Calvary Memorial Church in Oak Park, Illinois. Wilson recently edited Becoming a Pastor Theologian: New Possibilities for Church Leadership (IVP Academic 2016). I happened to attend his paper on Galatians at the 2017 ETS meeting in Providence and found it very stimulating, so I am looking forward to this commentary.
Michael Bird blurbed the book:
"Todd Wilson has written a deeply pastoral and theologically competent commentary on Galatians that is an exemplary effort at Biblical exposition. There are some doozy passages in Galatians, especially on the Law, and Wilson provides a plain explanation and then shows readers how these texts relate to modern Christian living. A wonderful synergy of homiletical energy and honest exegesis."
For only $1.99 more, you can add Ray Ortlund Jr.'s Proverbs:Wisdom that Works (2012) in the same Preaching the Word series.  Graeme Goldsworthy said "The strength of Ray Ortlund's study of Proverbs is its Christ-centeredness. The wisdom of Proverbs loses none of its practical value, but rather is given its ultimate fulfillment as an expression of the wisdom of Christ."
Logos is also offering Martyn Lloyd-Jones's Acts 1-8 for $9.99. The Lloyd-Jones commentary was originally in six volumes, so Logos will add six separate resources to your library; that works out to $1.67ish per volume.
The giveaway this month is the Crossway D.A. Carson Collection (7 vols.,  $105.99 value). There are several ways to get chances to win this collection, visit the Logos Free Book of the Month for details. The free books (and almost free) books are only available through January 2018.
The Logos Bible Software "Free book of the Month" for November is volume one of James Montgomery Boice's Exposition of the Psalms. Volume 1 (Psalms 1–41) is free, volume 2 (Psalms 42–106) is $1.99 and Volume 3 (Psalms 107–150) is $2.99. This is about 1000 pages of exposition for $4.98, less than the price of a Venti Candy Cane Peppermint latte.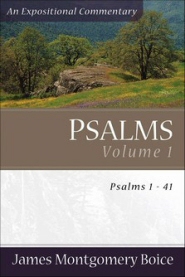 These are expositional commentaries, rather than exegetical. Boice comments on the English text and only occasionally interacts with other commentaries or scholarship. This is a commentary intended to be read by a layperson or pastor. He is not interested in the origins of the Psalms not does the commentary worry too much about the historical setting beyond what the Psalm header indicates. He says in the introduction, "The sermons appearing in this volume were preached in relatively short segments between the winter of 1989 and the fall of 1991 and were aired on the Bible Study Hour in special winter and summer series in 1992–93." Boice is a preacher, and his expositions in these three volumes demonstrate his preacher's heart. You can also get the complete James Montgomery Boice Expositional Commentary series for $99 during the "Twelve Days of Christmas" sale.
Logos also has a giveaway, this month it is the Baker D.A. Carson Collection (15 vols. $262.99 value). I am not sure why they did not choose to make the Boice collection the giveaway this month, but the Carson collection is worth entering the contest.  There are a few ways to get chances in this giveaway, so scroll down to the bottom of the page and enter early and often.
The free books (and almost free) books are only available through December 31, 2017.
McKnight, Scot. Philemon. Grand Rapids, Mich.: Eerdmans, 2017. 126 pp.; Hb.; $25.00. Link to Eerdmans   
Commentaries on Philemon are often added to the end of a Colossians commentary as if this short letter is an appendix to Colossians (or, in the case of Jac Müller's 1955 NICNT commentary, an add-on to Philippians). Perhaps editors consider the letter too short to merit a full sized commentary, unless it is heavily supplemented with additional material on slavery in the Roman world (as in the 588 page Barth and Blanke Eerdmans Critical Commentary, 2000). Although Scot McKnight's commentary on Philemon in the NICNT series was originally intended to be included with this forthcoming Colossians commentary, Eerdmans decided to publish Philemon separately.
As McKnight recognizes, commentaries on Philemon must deal with the problem of slavery in the letter. In Philemon, Paul "envisions a new kind of relationship on the basis of siblingship," even if that new relationship is between a slave and master (2). For many modern commentators this is a problem since slavery is a horrific abuse of human rights and a serious problem throughout the world today. Rather than tell Philemon to release his slave Philemon from his bondage, Paul does not seem to notice a problem with slavery in this short letter. Taken along with Colossians, Paul tells slaves to obey their masters rather than commanding masters to set their slaves free. In 1 Corinthians 7:21-24 Paul tells people who were slaves when called by Christ to "not let it trouble them" and to gain their freedom if possible. McKnight points out this is as close to modern abolitionism that Paul gets, "but abolitionism it is not" (29).
In this commentary, slavery is in the background, but the relationship of masters and slaves is not the point of the letter. For McKnight, Philemon is a "deeply disturbing text" which embodies a new vision of reconciliation. This commentary argues the church ought to be a place of reconciliation first among its own people and second in society. "Reconciled people become agents of reconciliation" (5). In Philemon, Paul "envisions a new kind of relationship on the basis of siblingship" even if that new relationship is between a slave and maser.
Because Paul does not appeal to Onesimus to set Philemon free, he seems to approve of slavery. One approach to the problem is to fully describe slavery in the Roman world then draw contrasts to various modern practices of slavery in order to claim Roman slavery was often not harsh. Onesimus is imagined to be an educated majordomo for a wealthy Philemon, appealing to Paul to adjudicate some dispute with his master. This strategy attempts to reduce Paul's offensive lack of interest in ending the dehumanizing practice of slavery.
McKnight provides a twenty-two page description of slavery in the Roman world, summarizing a wide range of recent scholarship on Roman slavery. He carefully defines slavery and describes Rome's pervasive "slave culture." This includes brief sections on the family loie of a slave, the slave's relationship with the master, and options for obtaining justice for the slave, including manumission and the possibility of becoming a runaway. Each of this subsections are illustrated with some Greco-Roman source and each example could be multiplied. McKnight offers illustrations and ample references to more detailed works of Roman slavery, thus keeping this commentary on Philemon from becoming too bloated with background material.
After surveying the possibility of slavery as providing a way for a person to move up the Roman social ranks, McKnight comments "we must come down from these utopian mountains to the reality" (26). The western ideal of freedom was unknown to the vast majority or Romans. Only those at the very top of Roman society would have something like the freedom western (especially American) people enjoy. We are, as McKnight says, "driven by culture to evaluate Paul's moral message on the basis of later abolition of slavery and freedom of slaves" (26). In order to properly interpret a text like Philemon, we must enter the word of the Roman first century and read Philemon in that context.
This is material valuable, but McKnight does not simply lay out background then proceed to the commentary. He includes a six-page essay entitled "Philemon in the Crucible of New World Slavery and Slavery Today" (30-36). Here he deals with the serious problem of slavery in the twenty-first century. A reader of Philemon may feel smugly satisfied modern Christianity has "gone beyond Paul" by ending slavery in England and America, but the conditions of slavery persists throughout the world with estimates as high as thirty-five million people living in slavery. This includes sex trafficking as well as labor exploitation (either agricultural or domestic). McKnight mentions three brief examples, Thai fishing ships, child sex slaves and forced marriages. "Modern slavery" McKnight says, "is different from the past in its deception, its technological sophistication, and is disregard for ethnicity and race" (36). Paul's answer to this heinous problem would be the same as his answer to Philemon: the church is to be a place where reconciliation happens and justice in the church ought to become justice for all.
The body of the commentary is only about sixty-five pages, about half of the volume. McKnight proceeds as do other contributions to the NICNT. After providing a translation of the text and a brief introduction, McKnight works through the text phrase-by-phrase, with any comments on the Greek in transliteration (although Greek appears untransliterated in the footnotes). Since Philemon is less complicated grammatically than other Pauline letters, the notes only occasionally need to deal with lexical and syntactical issues. More often McKnight comments on the rhetoric of the letter, focusing on how Paul makes his appeal to Philemon.
Conclusion. This new contribution on Philemon ought to take its place alongside other major exegetical commentaries (Barth and Blanke, Johnson, Knox). This small commentary will assist pastors and teachers to prepare sermons and studies on this small but important letter of Paul which are sensitive to the original cultural context but also squarely aimed at contemporary issues. McKnight has already contributed an excellent commentary on James to the NICNT series and his Colossians volume is scheduled for release in February 2018 to replace the venerable NICNT commentary by F. F. Bruce on Colossians, Philemon, and Ephesians (1984). In anticipation of this new commentary, McKnight posted "Ten Reasons the Church Needs Philemon" to his Jesus Creed blog. EerdWorld has a short video interviewing McKnight on this commentary and his forthcoming NICNT commentary on Colossians.
NB: Thanks to Eerdmans for kindly providing me with a review copy of this book. This did not influence my thoughts regarding the work.
The Logos Bible Software "Free book of the Month" for October is their best offer ever. During the month of October, you can add The Anchor Yale Bible commentary on Romans by Joseph A. Fitzmyer for free, and Francis I. Andersen's Anchor Bible Commentary on Habakkuk for only $1.99, and J. Louis Martyn's Galatians commentary for only $2.99. All three of these are excellent contributions to scholarship. Any work on Romans engages with Fitzmyer, and Martyn commentary on Galatians is one of the best available. The three books are about $150.00 retail, and you can get Logos 7 Basic Edition for free. So no excuses!
The Anchor Bible format begins with a fresh translation followed by a comment on the text and then a "notes" section for exegetical detail. All Greek is transliterated and all citations are in-text. All three commentaries interact with both ancient and modern scholarship and seek to explain the text as clearly as possible. For each section there is a bibliography covering secondary literature in English, German, and French. This makes the commentary invaluable for any student of these biblical books.
Strangely, Logos is not giving away the Anchor series in their monthly Logos. In anticipation of the the Reformation celebrations at the end of October, they are giving away the 55 volume set of Luther's Works (a $258.99 value).  There are a few ways to get chances in this giveaway, so scroll down to the bottom of the page and enter early and often.
The free books (and almost free) books are only available through October 31, 2017. Do not miss this opportunity to add three excellent professional commentaries to your Logos Library.
The Logos Bible Software "Free book of the Month" for April is E. Randolph Richards and Brandon J. O'Brien, Misreading Scripture with Western Eyes: Removing Cultural Blinders to Better Understand the Bible (IVP, 2012). You may recall their recent Paul Behaving Badly (IVP 2016). When I reviewed that book several people told me they had read Misreading Scripture and found it to be an excellent and challenging book. In my own teaching I have always tried to set the text in the proper context, not only the context of the Bible but also the proper cultural context. This book is a good introduction to some of the important cultural and social realities an informed Bible reader needs to understand in order to read the Bible without imposing modern, western assumptions on the ancient, eastern text.
In addition to the free book, Logos is offering Christopher A. Hall's Reading Scripture with the Church Fathers (IVP, 1996).  EDIT: Logos changed the "almost free book of the month" to Kenneth Bailey's  Jesus through Middle Eastern Eyes: Cultural Studies in the Gospels.  This is an excellent book which sets Jesus's life and ministry into its cultural context. It is also a great companion volume to Misreading Scripture.
Until April 30, you can enter (several times) to win the 29-volume set of Ancient Christian Commentary on Scripture Complete Set Updated Edition (ACCS).
Since Logos Basic is now free, there is really no excuse for not adding these two excellent books to your Logos library.
The Logos Bible Software "Free book of the Month" for March has an Easter theme. During the month of March, you can download This Risen Existence: The Spirit of Easter (Fortress 2015) by Paula Gooder for your Logos library. The book contains seven chapters for the weeks leading up to Easter, including one each on the four Gospels, the resurrection in the Epistles, one chapter on the ascension and a final chapter on Pentecost
In addition to the free book, Logos is offering Dennis Ngien's Fruit for the Soul: Luther on the Lament Psalms (Fortress, 2015). This  373 page book studies the importance of the the lament Psalms for Luther's theology. The book reviews Luther;s theological reading of Psalms 6, 51, 77, 90, 94, and 11.
Logos is also giving away one set of their Fortress Lutheran Library Expansion Bundle (30 volumes, $778 value). There are several ways to enter, but the giveaway ends April 30.