You are currently browsing the category archive for the 'Bible Software' category.
Logos Bible Software is offering Roland Murphy's Word Biblical Commentary on Ecclesiastes (1992) for free during the month of June, and you can add John Durham's Exodus commentary (1087) for $1.99 and G. R. Beasley Murray's John (Second Edition, 1999) for $9.99. This means for a mere $12 you can add three major commentaries to you Logos library (well over $100 if purchased at Amazon, although much less for the savvy shopper who knows how to navigate a used bookstore).
Murphy was the George Washington Ivey Professor of Biblical Studies at Duke University for many years and was  co-editor of both the Jerome Biblical Commentary and the (New) Jerome Biblical Commentary. His Ecclesiastes commentary is excellent and will be a fine addition to a Logos library.
The Word Biblical Commentary series are serious exegetical commentaries. Each unit begins with a short bibliography including monographs and peer-reviewed journals (including German and French sources). These are often a great place for students to start a research project, although they are only complete up to the publication of the volume. The authors focus on the original languages and deal with technical details of translation and technical variations via footnotes on a new translation of each section.  Following the translation is a section entitled Form/Structure/Setting. In some of the the earlier commentaries this section included something like source or form criticism, but usually the literary structure of the Hebrew or Greek is in view. Following this section is the commentary proper, proceeding verse by verse with attention to the original text (which is included without transliteration). Each unit concludes with a brief section entitled explanation, although the content of this unit varies from volume to volume.
The Word Biblical Commentary series was originally published by Word Books (Waco, Texas) in 1983. The first few volumes are all still very valuable: Trent Butler on Joshua; Ralph Klein on 1 Samuel; Leslie Allen on Psalms; Gerald F. Hawthorne on Philippians; Richard J. Bauckham (2 Peter & Jude. The series was purchased by Thomas Nelson, but after HarperCollins acquired both Thomas Nelson and Zondervan, the series was moved to Zondervan. The series is nearly complete, with Steven J. Walton's Acts commentary and Andrew D. Clarke on 1 Corinthians still listed as "forthcoming."
As typically happens with an aging commentary series, Zondervan is revising or replacing some earlier volumes. Ralph Martin's Second Corinthians commentary was revised by a few of his students by adding a few additional sections (conveniently marked with gray pages; see my review here); Trent Butler completely revised his Joshua commentary, adding a second volume with extremely detailed geographical notes on the second half of Joshua. You can read my review here, originally published in Journal for the Evangelical Study of the Old Testament 5.1 (2016).
One serious advantage to the Logos format of this commentary is that all the Logos features are available. This includes searching English, Hebrew and Greek words, fuzzy searches, etc. By right-clicking a Hebrew word, the user can open their Hebrew lexicon of choice, right-clicking an English word opens up many options, including searching the user's entire library, or limiting that search to a preferred Bible dictionary. A used can hover over abbreviations and a popup will identify the source, if it is a resource in the Logos library then it is clickable. References to other parts of the commentary are hyperlinks (so, "see notes" will go right to the section to which the author refers. All scripture reference are links as well, so the user can hover over the link and read the verse, to click to go to the preferred translation. Perhaps the most useful tool is how Logos cites sources. If the used copies a chuck of text and pastes it into a word processor, Logos will create a footnote citing the source in the user's preferred format. I usually paste as plain text then edit the citation myself so it conforms to the format I prefer. What is important here is these digital books have real page numbers so they can be cited as if you have the real book in your desk. To me, this is a critically important feature. Nothing is more frustrating than students trying to cite a Kindle book in a research paper (in fact, just don't try, find a real copy of the book and cite it properly).
As with most Logos resources, all resources are available on any Logos platform. I usually work with Logos on my desktop computer, but I can also read the books using my iPad and the Logos Bible App. All notes and highlights are synced with the user's Faithlife account so I can read, make a few notes on a book, then pick up those notes on my desktop when I return to the office and incorporate them into whatever document I am working on at the time. If the user downloads the book to their device, footnotes appear at the bottom of the page (like a real book). Unfortunately, Logos removed the real page numbers from the iOS app, this is a major step backward (although I hear the page numbers will be restored in the future).
Logos usually does a giveaway with these free and almost free books, so this month they are giving away the Zondervan Theology Collection (7 volumes, $155.99 value).
Be sure to get these books before the end of June 2018 when the offer expires.
The Logos Bible Software "Free book of the Month" for April 2018 is Four Views on the Warning Passages in Hebrews, edited by Herbert Bateman IV (Kregel, 2007). Like most "four views" books, this volume contains essays explaining the warning passages in Hebrews 6 and Hebrews 10. If you are unaware of the controversial nature of these passages, see these two posts on Hebrews 6.  In this volume, Grant R. Osborne represents a Classical Arminian view, Buist M. Fanning, a Classical Reformed view, Gareth Lee Cockerill a Wesleyan Arminian view and Randall C. Gleason a Moderate Reformed view. Each writer offers an essay and the other three offer brief responses. Hebrews scholar George H. Guthrie concludes the book with a final response. When students ask me about Hebrews 6 and 10, this volume is my "go to" text to balance the two major approaches (Calvinism and Arminianism).
As Logos usually does, they are offering two "almost free" books as well. For only $1.99 you can add Lars Kierspel, Charts on the Life, Letters, and Theology of Paul (Kregel, 2012). When I reviewed this book in 2012 I said:
As with other books in this series, Kierspel has a paragraph on text explaining each chart in the final section. This 44-page section is important to read since it is here that he gives bibliography for the data he includes. In some cases these are mini-introductions to controversial topics (like Pauline chronology, for example). The book has an extensive 31 page bibliography. Like other books in this series, there a staggering amount of information presented in these charts. While I question the usefulness of some of the charts for classroom use, the book is a worth while investment for those who teach the Pauline letters in church or classroom.
For $9.99 you can add one more Kregel publication, Robert Chisholm's Commentary on Judges and Ruth. I also reviewed this commentary a few years ago, saying:
Chisholm's commentary on Judges and Ruth is an excellent exposition of the text from a conservative scholar. For the most part he assumes the historicity of the text and ignores any discussion of potential sources or anachronisms. He specifically eschews these methods in the introduction (p. 15), characterizing these as "creative scholarly conjecture" (p. 30).  He considers revisions of Noth's Deuteronomisitc History to be a "debate going around in circles" (55). His exposition of the text is based on the assumption the book was intended to be read as a literary whole.

There is less historical background material in this commentary than might be expected. Major commentaries on Old Testament books can become bloated with material accessible in other resources (Bible Dictionaries for example). Since his interests are literary and theological, there is no need to offer descriptions of geographical locations or comments on archaeology (or the lack thereof) as background to the stories.

I would recommend the book to pastors and teachers who are preparing sermons on the often overlooked book of Judges.  Chisholm's exposition is easy to read and provides excellent illumination of the text for the purpose of serving the Church today.
Three great books form Kregel Academic for a mere $13 total. More, until April 30 you can enter (several times) to win the five volume set of Kregel Charts of the Bible and Theology. Since Logos Basic is now free, there is really no excuse for not adding these excellent books to your Logos library.
The Logos Bible Software "Free book of the Month" for March 2018 is from P&R Publishing, Anthony T. Selvaggio, From Bondage to Liberty: The Gospel According to Moses. The book is part of P&R's The Gospel According to the Old Testament series. The series includes twenty volumes tracing the theme of salvation in a diverse assortment of Old Testament characters. Moses, Abraham, and Joseph seem like obvious characters for a series like this, but there are also volumes on Judges, Jonah, and even Nahum. Selvaggio an ordained minister, a lawyer, an author, a lecturer, and a visiting professor at Ottawa Theological Hall in Ottawa, Canada.
For $1.99 more you can add Christopher W. Morgan's A Theology of James: Wisdom for God's People in the Explorations in Biblical Theology (P&R, 2010).  Morgan is dean of the School of Christian Ministries at California Baptist University in Riverside, California. The Explorations series "focus on applying God's truth to life" by tracing doctrines through the Bible. The series is written for "college students, seminarians, pastors, and thoughtful lay readers." About this volume, Thomas Schreiner said "Morgan reminds us in this wonderfully lucid, practical, and faithful rendition of James's theology that James's teaching is not only in accord with the gospel, but fundamental to the gospel."
The third P&R book offered in this promotion is the Reformed Expository Commentary on Acts by Derek W.H. Thomas. Thomas is minister of preaching and teaching at First Presbyterian Church in Columbia, South Carolina and distinguished visiting professor of systematic and historical theology at Reformed Theological Seminary. This commentary is only $4.99 for the month of March.
Logos is also running a giveaway during the month of March. You can enter to win A Theology of Lordship (4 vols.) by John Frame
So head over to the Logos Free Book of the Month page, grab the free (and almost free) books for your Logos Library before the end of March.
The Logos Bible Software "Free book of the Month" for February 2018 is John Stott, The Message of the Sermon on the Mount (InterVarsity, 1978). John Stott was one of the major evangelical voices  in the twentieth century. David Brooks of the New York Times once described Stott as a kind of "pope of evangelicalism."
Brooks said this in 2004 to distance evangelicalism from " the made-for-TV, Elmer Gantry-style blowhards" who the media calls "evangelicals." He concludes his essay by saying "you can't understand this rising global movement [evangelicalism] if you don't meet its authentic representatives. Not Falwell, but Stott."
Stott edited the New Testament volumes of the Bible Speaks Today series and wrote several of the commentaries. These are light, devotional commentaries which are aimed at the layperson either a small group setting or a personal reading. There are occasional references to the Greek and a few references to other scholarship. Pastors will enjoy reading this series as well as they prepare to preach and teach Scripture. For only $1.99 more, you can add Stott's The Message of Ephesians in the same Bible Speaks Today series. Logos is also offering the Michael Wilcock's two-volume Psalms commentary (2001) in the same series for $4.99.
You can also enter to win a seven-volume Stott Collection from Logos. These offers are only good through February. so head over Logos's Free Book of the Month site ASAP and get these free (or almost free) resources.
The first Logos Bible Software "Free book of the Month" for 2018 is Todd Wilson's Galatians: Gospel-rooted Living. This 2013 commentary is in the Preaching the Word series from Crossway Books. Todd Wilson is has a PhD from Cambridge University and serves as the senior pastor of Calvary Memorial Church in Oak Park, Illinois. Wilson recently edited Becoming a Pastor Theologian: New Possibilities for Church Leadership (IVP Academic 2016). I happened to attend his paper on Galatians at the 2017 ETS meeting in Providence and found it very stimulating, so I am looking forward to this commentary.
Michael Bird blurbed the book:
"Todd Wilson has written a deeply pastoral and theologically competent commentary on Galatians that is an exemplary effort at Biblical exposition. There are some doozy passages in Galatians, especially on the Law, and Wilson provides a plain explanation and then shows readers how these texts relate to modern Christian living. A wonderful synergy of homiletical energy and honest exegesis."
For only $1.99 more, you can add Ray Ortlund Jr.'s Proverbs:Wisdom that Works (2012) in the same Preaching the Word series.  Graeme Goldsworthy said "The strength of Ray Ortlund's study of Proverbs is its Christ-centeredness. The wisdom of Proverbs loses none of its practical value, but rather is given its ultimate fulfillment as an expression of the wisdom of Christ."
Logos is also offering Martyn Lloyd-Jones's Acts 1-8 for $9.99. The Lloyd-Jones commentary was originally in six volumes, so Logos will add six separate resources to your library; that works out to $1.67ish per volume.
The giveaway this month is the Crossway D.A. Carson Collection (7 vols.,  $105.99 value). There are several ways to get chances to win this collection, visit the Logos Free Book of the Month for details. The free books (and almost free) books are only available through January 2018.
The Logos Bible Software "Free book of the Month" for November is volume one of James Montgomery Boice's Exposition of the Psalms. Volume 1 (Psalms 1–41) is free, volume 2 (Psalms 42–106) is $1.99 and Volume 3 (Psalms 107–150) is $2.99. This is about 1000 pages of exposition for $4.98, less than the price of a Venti Candy Cane Peppermint latte.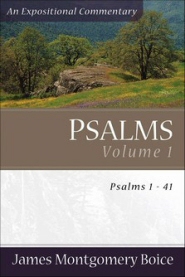 These are expositional commentaries, rather than exegetical. Boice comments on the English text and only occasionally interacts with other commentaries or scholarship. This is a commentary intended to be read by a layperson or pastor. He is not interested in the origins of the Psalms not does the commentary worry too much about the historical setting beyond what the Psalm header indicates. He says in the introduction, "The sermons appearing in this volume were preached in relatively short segments between the winter of 1989 and the fall of 1991 and were aired on the Bible Study Hour in special winter and summer series in 1992–93." Boice is a preacher, and his expositions in these three volumes demonstrate his preacher's heart. You can also get the complete James Montgomery Boice Expositional Commentary series for $99 during the "Twelve Days of Christmas" sale.
Logos also has a giveaway, this month it is the Baker D.A. Carson Collection (15 vols. $262.99 value). I am not sure why they did not choose to make the Boice collection the giveaway this month, but the Carson collection is worth entering the contest.  There are a few ways to get chances in this giveaway, so scroll down to the bottom of the page and enter early and often.
The free books (and almost free) books are only available through December 31, 2017.
The Logos Bible Software "Free book of the Month" for October is their best offer ever. During the month of October, you can add The Anchor Yale Bible commentary on Romans by Joseph A. Fitzmyer for free, and Francis I. Andersen's Anchor Bible Commentary on Habakkuk for only $1.99, and J. Louis Martyn's Galatians commentary for only $2.99. All three of these are excellent contributions to scholarship. Any work on Romans engages with Fitzmyer, and Martyn commentary on Galatians is one of the best available. The three books are about $150.00 retail, and you can get Logos 7 Basic Edition for free. So no excuses!
The Anchor Bible format begins with a fresh translation followed by a comment on the text and then a "notes" section for exegetical detail. All Greek is transliterated and all citations are in-text. All three commentaries interact with both ancient and modern scholarship and seek to explain the text as clearly as possible. For each section there is a bibliography covering secondary literature in English, German, and French. This makes the commentary invaluable for any student of these biblical books.
Strangely, Logos is not giving away the Anchor series in their monthly Logos. In anticipation of the the Reformation celebrations at the end of October, they are giving away the 55 volume set of Luther's Works (a $258.99 value).  There are a few ways to get chances in this giveaway, so scroll down to the bottom of the page and enter early and often.
The free books (and almost free) books are only available through October 31, 2017. Do not miss this opportunity to add three excellent professional commentaries to your Logos Library.
This month you can download David E. Garland's NIV Application Commentary on Mark for free, and add John Walton's NIVAC commentary on Job for only $1.99. For the first time that I can recall, they are offering a third book in this series, Scot McKnight's commentary on 1 Peter for $2.99. For the price of one of those fancy coffees, you can purchase three excellent commentaries for your Logos library.
T
he NIV Application Commentary is intended for pastors preparing to teach and preach. There is interaction with the exegetical details, but the focus is on answering questions which will illuminate the text for preaching in the modern world. Commenting on the whole series, "This is the pulpit commentary for the twenty-first century."
I have always enjoyed reading David Garland's work; he is one of those commentators who I will usually purchase when I am teach a book. In fact, he has written quite a few major commentaries. His recent contribution  A Theology of Mark's Gospel: Good News about Jesus the Messiah, the Son of God (Biblical Theology of the New Testament Series, Zondervan, 2015) is excellent, and he wrote the Mark section in the Zondervan Illustrated Bible Background commentary series. His commentary on 1 Corinthians (Baker Exegetical commentary) and 2 Corinthians (NAC, Broadman and Holman) were both very useful as I taught through 1-2 Corinthians a few years ago. He has also written a Luke commentary in the Zondervan Exegetical Commentary on the New Testament and Colossians, Philemon in the NIVAC.
From the book blurb on Walton's Commentary on Job:
A lot of people assume that the book of Job deals with the question of why righteous people suffer. Instead, John Walton suggests that the book is about the nature of righteousness—not the nature of suffering. As we learn to deepen our questions, God will transform how we think about his work in the world and about our responses in times of suffering.
You should grab all three books while Logos has them on sale. As always, Logos has a giveaway related to their free (and almost free) book of the month promotion. This time you can enter to win a the Zondervan Illustrated Bible Backgrounds Commentary: New Testament and Old Testament (9 vols.) If you have not seen this resource, it is a great deal of fun to read. The commentary is brief and focused (obviously) on Bible background issues, but it is lavishly illustrated. Always worth at least browsing through when teaching through a book. I do not have the Logos version of these books, so I am not sure how they have worked out the illustrations.
Head over to Logos, get the free (and almost free) books for your Logos Library, and maybe win the Zondervan Illustrated Bible Backgrounds Commentary!
The Logos Bible Software "Free book of the Month" for April is E. Randolph Richards and Brandon J. O'Brien, Misreading Scripture with Western Eyes: Removing Cultural Blinders to Better Understand the Bible (IVP, 2012). You may recall their recent Paul Behaving Badly (IVP 2016). When I reviewed that book several people told me they had read Misreading Scripture and found it to be an excellent and challenging book. In my own teaching I have always tried to set the text in the proper context, not only the context of the Bible but also the proper cultural context. This book is a good introduction to some of the important cultural and social realities an informed Bible reader needs to understand in order to read the Bible without imposing modern, western assumptions on the ancient, eastern text.
In addition to the free book, Logos is offering Christopher A. Hall's Reading Scripture with the Church Fathers (IVP, 1996).  EDIT: Logos changed the "almost free book of the month" to Kenneth Bailey's  Jesus through Middle Eastern Eyes: Cultural Studies in the Gospels.  This is an excellent book which sets Jesus's life and ministry into its cultural context. It is also a great companion volume to Misreading Scripture.
Until April 30, you can enter (several times) to win the 29-volume set of Ancient Christian Commentary on Scripture Complete Set Updated Edition (ACCS).
Since Logos Basic is now free, there is really no excuse for not adding these two excellent books to your Logos library.