You are currently browsing the category archive for the 'Bible Software' category.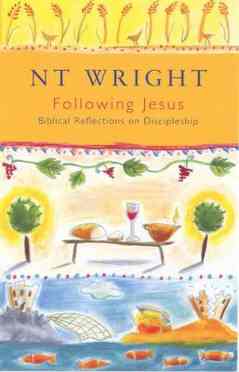 Logos Bible Software is offering N. T. Wright's Following Jesus: Biblical Reflections on Christian Discipleship for free in the month of March. This book was originally published by SPCK in 1994 and has been reprinted in North America by Eerdmans. Both books have been recently reprinted by Eerdmans with redesigned covers.
The book is a series of sermons on six books of the New Testament ( Hebrews, Colossians, Matthew, John, Mark, and Revelation) and six key themes (resurrection, rebirth, temptation, hell, heaven, and new life in a new world). Although he has developed these ideas further in more recent books, Following Jesus demonstrates something of Wright's pastoral heart. These short chapters are intentionally devotional and challenge the reader to a deeper relationship with Jesus Christ.
N. T. Wright For $1.99 more, you can also get Wright's Who Was Jesus?  (SPCK 2005). This book is a response to three authors who have rather radical views on Jesus (Barbara Thiering, A. N. Wilson, and John Shelby Spong). For a Jesus scholar like Wright, responding to these three is a fairly easy task and Wright is perhaps at his snarkiest. For example, the Jesus described by A. N. Wilson a "moderately pale Galilean."
Although this Free Book of the Month promotion will likely give Jim West an apoplectic fit, most will find this a great deal on two of Wright's popular level books.
Logos is also running a giveaway this month, you can enter to win The N.T. Wright Collection (52 vols.) for the Logos library. This includes his major works (New Testament and the People of God; Jesus and the Victory of God; The Resurrection of the Son of God; Paul and the Faithfulness of God; Pauline Perspectives: Essays on Paul 1978–2013; Paul and His Recent Interpreters) as well as his more popular works and the "For Everyone" commentary series. Logos says this is a $700 value and gives you four ways to enter the contest.
The free and almost free book offer expires at the end of February, so head over to Logos and grab these books.
The Logos Bible Software "Free book of the Month" is really a Journal.  For the month of January, you can add the first issue of the Bulletin for Biblical Research, published by the Institute for Biblical Research in 1991. According to the then editor of the journal Bruce Chilton, "the Institute for Biblical Research has launched the Bulletin for Biblical Research as an instrument for understanding the religious senses of scripture. The aim is to publish articles which are both fully critical and generally accessible to the scholarly community."
The articles include in this issue are:
Robert L. Hubbard, "The Go'el in Ancient Israel: Theological Reflections on an Israelite Institution"
Richard S. Hess, "Lamech in the Genealogies of Genesis"
Ellen F. Davis, "Self-Consciousness and Conversation: Reading Genesis 22"
H. G. M. Williamson, "Ezra and Nehemiah in the Light of the Texts from Persepolis"
Jacob Neusner, "Uncleanness: A Moral or an Ontological Category in the Early Centuries A.D.?"
Marianne Meye Thompson, "Signs and Faith in the Fourth Gospel"
Darrell L. Bock, "The Son of Man in Luke 5:24"
E. Earle Ellis, "'The End of the Earth' (Acts 1:8)"
The are all substantial articles from recognized scholars. Be sure to add this volume to your Logos library. In fact, if you are interested in serious biblical research, you should consider adding all twenty-four BBR volumes!
For only $1.99, you can purchase Colin J. Hemer, The Book of Acts in the Setting of Hellenistic History. This book was originally published in 1989 in the WUNT series, this electronic version is the third printing from Eisenbrauns (2008).  The book retails for $40 and is well worth that price, let alone the mere $2 for the Logos version in January.
The contents include:
Chapter 1:  Acts and Historicity
Chapter 2, Preliminary Questions including the Unity and Genre of Luke-Acts, The Meaning of Historicity
Chapter 3: Ancient Historiography, inclduing a section on Luke and Josephus
Chapter 4: Types of Knowledge Displayed in Acts
Chapter 5: Evidence from Historical Details in Acts
Chapter 6: Acts and Epistles, including the 'Theological Disparity' between Paul and Luke
Chapter 7: Galatia and the Galatians
Chapter 8: The Authorship and Sources of Acts
Chapter 9: The Date of Acts
Appendix 1: Speeches and Miracles in Acts
Appendix 2: The 'God-fearers'
Thanks to Eisenbrauns and Logos for making these resources available. Be sure to get the books before January 31, 2017!
The Logos Free Book of the Month offer for December is How to Read Proverbs by Tremper Longman III (IVP, 2002). Longman is a well-know Old Testament scholar who has contributed a commentary on Proverbs in the Baker Commentary on the Old Testament Wisdom and Psalms series (2012) and Psalms in the Tyndale Old Testament Commentaries (IVP, 2014). For only $1.99 you can add Longman's companion volume, How to Read Psalms (IVP, 1988).  I have used both of these small volumes on the book of Proverbs as a textbook in an undergraduate Wisdom Literature class.
The book is divided into three parts. First, Longman deals with the genre of Proverbs by defining and clarifying what proverbs are and "how they work." For example, most readers of the book of Proverbs wonder if proverbial sayings are "always true" since we all know someone who "raised up their child in the way they should go" and the child certainly departed from that part.
In the second part of the book, Reading Proverbs in Context, Longman places the book of Proverbs in the context of the Ancient Near East. Most books on Proverbs deal with potential overlaps with international Wisdom (did Solomon use Egyptian Wisdom?) Longman also deals with the conversation between Proverbs and two other Wisdom books which have a slightly different view, Job and Ecclesiastes. This section also deals with theological aspects of this rather secular of biblical books in a brief chapter entitled "Where is God in Proverbs? Christ, the Treasure of God's Wisdom."
The third section traces three themes in the book of Proverbs, money, women, and words. These three chapters demonstrate how to create a thematic biblical theology within the book of Proverbs. I used this model for several assignments the last time I taught wisdom literature.
Logos also has a free book available through their Verbum site. For the month of December they are offering The Sermons of St. Bernard on Advent & Christmas is a collection of 19 sermons, originally given in Latin and translated by John Cuthbert Hedley, the bishop of Newport from 1881–1915. For 99 cents you can add The Incarnation, Birth and Infancy of Jesus Christ, or, The Mysteries of Faith by St. Alphonsus Liguori. This book contains over 70 discourses and meditations on celebrating the Nativity of Jesus at Christmas.
Logos Bible Software is offering Craig Keener's Cascade Commentary on Romans for free during the month of October. This is one of the best resources Logos has offered in a while. I already have both books in my Logos library (and Fee as a physical book).
Unlike some of Keener's other commentaries, this book is a rather slender 211 pages plus indices. But do not let the size of the book fool you, Keener's commentary is an excellent exegetical commentary which is extremely useful for preaching and teaching the book of Romans. As he says in the introduction, Keener has included "only a fraction of my research documentation in the notes for interested readers to follow up" (xi).
I overlooked this short commentary when I offered my Top Five Romans Commentaries several years ago, but have read most of it while preparing for my Romans course this fall and would certainly consider this a highly recommended commentary for pastors or laymen interested in the important exegetical discussions for key passages in Romans. For more in depth work on Romans, I recommend Douglas Moo (NICNT) and Richard Longenecker (NIGTC).
For only $1.99 you can add Gordon Fee's Cascade Commentary on Revelation. I reviewed this commentary when it was first published, you can read the details here, but I said at that time "Fee's commentary is an exegetical commentary and his goal is to read the text in order to determine the author's original intent. . . Fee's commentary is useful and can be used by pastor and layman alike, although the specialist will find it lacking in the sorts of details we have come to expect from the mammoth exegetical commentaries of Aune or Beale."
As always Logos is giving away the other four published Cascade Commentaries in the Logos library. Both of these books are excellent additions to your Logos library, so make sure to add them to your library before the end of the month.
As they do every month, Logos Bible Software is offering a free book for your Logos library. This month Logos partners with 9Marks to offer you a free copy of Thabiti M. Anyabwile, What Is a Healthy Church Member?   Anyabwile is senior pastor of First Baptist Church in Grand Cayman, Cayman Islands and a contributor at The Gospel Coalition. And he tweets, @ThabitiAnyabwil.
From the Logos description of the series,
"This remarkable series is a must-read for Christians of all levels. Those who are young in the faith will be propelled forward in their spiritual growth with these accessible guides to important topics and significant doctrines. Mature Christians, students, and pastors will reach new depths in their understanding of Scripture and the Christian life with these succinct, yet profound volumes. This series organically weds theory and practice through clear explanation of key theological themes coupled with practical application in the church and from the pulpit."
For $1.99 you can add What Is a Healthy Church? by Mark Dever. Dever is the senior pastor of the Capitol Hill Baptist Church in Washington, D.C., and the president of 9Marks. He has published many books on both theology and church practice as well as articles for Ligonier and Tabletalk Magazine.
Both of these books are excellent additions to your Logos library, so make sure to add them to your library before the end of the month.
As always Logos is giving away a set of books related to the free book. This month they are giving an eleven book set from 9Marks, including:
Am I Really a Christian?
Biblical Theology in the Life of the Church: A Guide for Ministry
Church Planting Is for Wimps
Finding Faithful Elders and Deacons
It Is Well: Expositions on Substitutionary Atonement
The Church and the Surprising Offense of God's Love
The Gospel and Personal Evangelism
What Does God Want of Us Anyway?: A Quick Overview of the Whole Book
What Is a Healthy Church Member?
What Is a Healthy Church?
What Is the Gospel?
There are several ways to enter the contest, so visit the Logos Free Book of the Month site and enter the contest early and often.
Logos Bible Software is offering a volume of the Believers Church Bible Commentary for free in August 2016. During this month you can add Ecclesiastes by Douglas B. Miller to your Logos library for free, and for $1.99 you can add Thomas R. Yoder Neufeld's commentary on Ephesians (2002) in the same series.
According to Herald Press website, the Believers Church Bible Commentary  is a "cooperative project of Brethren in Christ Church, Brethren Church, Church of the Brethren, Mennonite Brethren Church, and Mennonite Church."
Each volume illuminates the Scriptures; provides historical and cultural background; shares necessary theological, sociological, and ethical meanings; and, in general, makes "the rough places plain." Critical issues are not avoided, but neither are they moved into the foreground as debates among scholars. The series aids in the interpretive process, but it does not attempt to supersede the authority of the Word and Spirit as discerned in the gathered church.
Douglas Miller is the Old Testament editor for the series and professor at Tabor College, Hillsboro, Kansas. He has published many articles on Ecclesiastes as well as a monograph, Symbol and Rhetoric in Ecclesiastes: The Place of hebel in Qohelet's Work (Atlanta: SBL, 2002). Thomas R. Yoder Neufeld is Professor Emeritus at  Conrad Grebel University and wrote Killing Enmity: Violence and the New Testament (Grand Rapids, Mich: Baker Academic, 2011).
Both of these books are excellent additions to your Logos library, so make sure to add them to your library before the end of the month.
As always Logos is giving away a set of 26 volumes of the Believers Church Bible Commentary,  a $432.99 value. Enter early and often.
You can also get Thomas Merton, Thoughts in Solitude as the Verbum Free book of the Month and Merton's The Ascent to Truth: A Study of St. John of the Cross for 99 cents. Dostoyevsky's Crime and Punishment is still the Noet Free book of the Month
Former atheist Alister McGrath has a doctorate in molecular biophysics has been nothing if not a prolific writer since becoming a Christian. Most of his books would be apologetics and often concern the relationship of science and religion. He is the Andreas Idreos Professor in Science and Religion in the Faculty of Theology and Religion at the University of Oxford and has written or edited dozens of books. Logos is offering his book, Why God Won't Go Away as a free download in the Logos Library for the month of May. Thomas Nelson published this 200 page book in 2011.
As an added bonus, you can purchase McGrath's response to Richard Dawkins's The God Delusion for $1.99. The book was written by Alister and Joanna McGrath and answers Dawkins's claim that faith intellectual nonsense and that science and religion locked in a battle to the death. This short 119 page book was published in 2010 (originally by SPCK in England and IVP Academic in America).
Both books are challenging, but like most apologetic from Christian publishers, they are intended to be read by Christian laypeople. This means McGrath is not as rigorously philosophical and technical as he could be in his presentation of the merits of Theism. Usually people who already believe in God will find these books convincing and those who are equally entrenched in their atheism will remain unconvinced.
As always, Logos has a giveaway related to their free (and almost free) book of the month promotion. This time you can enter to win a ten-volume SPCK collection of McGrath books. So head over to Logos, get the free books for your Logos Library, and maybe win the collection!
Logos Bible Software is going with a historical text for their "Free Book of the Month" promotion. They are offering Athanasius's On the Incarnation of the Word of God in the Logos library and they will add a free audio version of the book shen production is complete. Athanasius of Alexandria (c. A.D. 296–298 –
373)  wrote just before the rise of Arianism in AD 319. This is his best-known work and addressed to a recent Christian convert.  On the Incarnation "laid the foundation for the orthodox party at Nicea, was hailed as the noble champion of Christ." (Mark Galli and Ted Olsen, 131 Christians Everyone Should Know, 18).
This edition was published in 1903 by the Religious Tract Society, although the text first appeared in the third volume of the Christian Classics Series in 1887. T. Herbert Bindley revised that translation and wrote an introduction to the book and a summary of each chapter (about 40 pages). The second part of the book contains a refutation of the Jews and the Gentiles, providing a window into evangelistic apologetics of the fourth century.
For a mere $2 more, you can add Tertullian's Against Praxeas. Tertullian (c. 155 – c. 240) wrote this text to combat the rise of Sabellianism. This edition was published by A. Souter in 1920 by SPCK. The 25-page introduction outlines a basic introduction to Tertullian's life and includes a brief synopsis of Against Praxeas. 
I notice On the Incarnation is the free Verbum book this month, but for 99 cents you can purchase Historical Tracts of St. Athanasius, Archbishop of Alexandria translated and edited by John Henry Newman (the volume contains the encyclical epistles of St. Athanasius).  Noet is giving away a copy of Dostoyevsky's Crime and Punishment in exchange for an email address.
As always, Logos is giving away something related to the Free Book, so you can enter to win Enter to win Life and Works of Athanasius the Great (7 vols., $89.99 value). Enter early, enter often, but the free book offer and contest ends on April 30.
Once again Logos is offering something a little different for their Free Book of the Month promotion.  Instead of a traditional book in the Logos format, the free "book" is John Piper's Look at the Book, a series of 101 short videos on a wide variety of biblical texts.
Look at the Book is a "new online method of teaching the Bible," in which the camera is on focus on the text, not the teacher. As John Piper speaks, the video shows him "underline, circle, make connections, and scribble notes." Piper's goal in the series is to help readers see what he sees and how he sees it.
These videos are accompanied by an outline for Piper's teaching and a few study questions. Logos has a textbox below the question so you can type your answers which are saved as notes in the book. I could see this resource being used for a personal Bible Study or in a small group (listen to the video then discuss the questions). Since they are all around ten minutes, the videos could be used as a "daily devotional," but the purpose is to model how John Piper reads the Bible. After hearing a few of these videos, the method can become your own as you read the text and mark your Bible in similar ways. Although there are a few Old Testament examples, most of the videos are based on New Testament texts.
Here is a screenshot of the video and the outline in my Logos setup:
For $1.99, you can add Finish the Mission: Bringing the Gospel to the Unreached and Unengaged (Crossway, 2012), a collection of seven essays by  David Platt, Louie Giglio, Michael Ramsden, Ed Stetzer, Michael Oh, David Mathis, and John Piper. "Finish the Mission aims to breathe fresh missionary fire into a new generation, as together we seek to reach the unreached and engage the unengaged."
Noet is a division of Faithlife focusing on classics and they still have Guide for the Perplexed by Moses Maimonides and his The Eight Chapters of Maimonides on Ethics  for only 99 cents. This free book has not changed lately, hopefully someone at Faithlife will notice and change the free book soon.
Like every other month, the Logos Free (and almost free) Book of the Month is accompanied by a give-away, in this case the Crossway John Piper Collection (39 vols.), a $359.99 value. There are many ways to enter, so if you ever had the desire to own everything John Piper published through Crossway, now is your chance!
Verbum is offering The Impact of the Dead Sea Scrolls by Joseph A. Fitzmyer and a collection of essays by Fitzmyer, Interpretation of Scripture for only 99 cents. Fitzmyer is a well-known New Testament scholar and has written extensively on the Dead Sea Scrolls. Both are excellent additions to your Logos Library.
Both Verbum and Noet is part of the Faithlife family of companies. Verbum focuses on Catholic resources and Noet on classics. Both use the same Faithlife account as Logos, so these books are available to anyone with a Faithlife / Logos username and password.