You are currently browsing the tag archive for the 'Pauline Literature' tag.
Osborne, Grant R.  Ephesians: Verse by Verse. Osborne New Testament Commentaries; Bellingham, Wash.: Lexham Press, 2017. 267 pp.; Pb.  $19.99  Link to Lexham Press
Osborne, Grant R.  Philippians: Verse by Verse. Osborne New Testament Commentaries; Bellingham, Wash.: Lexham Press, 2017. 243 pp.; Pb.  $19.99  Link to Lexham Press
Osborne, Grant R.  Colossians and Philemon: Verse by Verse. Osborne New Testament Commentaries; Bellingham, Wash.: Lexham Press, 2017. 222 pp.; Pb.  $16.99  Link to Lexham Press
These three new commentaries on Paul's Prison Epistles from Lexham Press target a general readership rather than a scholarly audience. Like the popular The Tyndale Commentary Series, these three volumes are brief yet scholarly, targeting a wide range of readers.
As Osborne says in his preface, the commentaries in the series should be used for devotional Scripture reading. Since the commentaries are based on the NIV translation a reader can use this commentary as a supplement to their daily Bible reading. A second related goal is for these commentaries to be used in Church Bible studies, perhaps in a small group or Sunday school context. But pastors and teachers will be find the commentaries useful as they prepare sermons on the text of the Bible. Osborne says he wants "to help pastors faithfully exposit the text in a sermon." Osborne attempts to balance a deep reading of the text with a practical application for the Bible student.
Commentaries on these four books often begin with a discussion of authorship. Scholarship has questioned whether Paul wrote Ephesians and occasionally Colossians. Osborne briefly summarizes these challenges in his introductions and concludes there is no reason to reject the claim of each book that Paul is the author. The theological themes of Ephesians are consistent with Paul's other letters and there is really no problem with parallels between Ephesians and Colossians, especially if they were written about the same time.
Since Paul implies he is in prison in each of these four letters, the second issue commentaries on the Prison Epistles usually treat is "from which of Paul's many imprisonments did he write these letters?" In the Ephesian commentary Osborne evaluates the two main alternatives, Caesarea (Acts 24:27, A.D. 59-60) and Rome (Acts 28:30-31, AD 61-62) and concludes the Roman imprisonment is better, primarily because there is little evidence of ministry while Paul is in Caesarea. He does not engage with the suggestion Paul wrote Philippians from an implied imprisonment during his lengthy stay in Ephesus. Osborne suggests all four Prison epistles were written over a three or four month period and delivered by Tychicus.
Each commentary suggests a few primary purposes for the letters. Ephesians was a circular letter to all the churches in the Roman province of Asia, likely including the seven churches mentioned in Revelation 2-3, Colossae and Hierapolis. As such, Ephesians is a general letter dealing with doctrine and practice with very little "Jew-Gentile tensions" which appear in Paul's other letters. Philippians thanks the church for supporting Paul while he is in prison. Paul informs them of his situation in order to encourage them, but he also addresses some theological issues perhaps in response to an opponent in Philippi. Writing to a church Paul did not found, Colossians deals with a particular teaching threatening the church. Philemon's purpose is clear: Paul writes a letter of recommendation for an escaped slave who has now become a Christian.
For Philippians and Colossians Paul engages an opponent, or perhaps as many as three opponents. In Philippians 1:18 Paul mentions those who "preach the gospel out of impure motives," rival teachers from within the church. In Philippians 3:2 Paul surprises the reader with a warning to watch out for "those dogs, mutilators of the flesh." Osborne suggests the opponents are similar to (or even the same as) the opponents in Galatia, the Judaizers (Philippians, 118). But there are also hints of a third group, pagan persecutors of the church (1:27-30).
For Colossians, commentaries usually devote significant space to the "Colossian Heresy." This opponent is in some aspects Jewish (2: 16, 18 21; food laws and festivals), but in other ways they are Gentile, described as a philosophy (Col 2:4, 8) For Osborne, this is a "proto-Gnostic" teaching which devalued Christ (and perhaps over-valued angels).
Osborne also deals briefly with the literary features of the letters. It is currently fashionable to read Paul's letters in the light of Greco-Roman rhetoric. Osborne recognizes some value in studying these features, but for Ephesians he concludes "this is not Hellenistic rhetoric, but a Jewish homily and letter" (Ephesians, 7). For Philippians, he discusses the genre of the letter (friendship letter, word of exhortation) as well as the common suggestion Philippians is a compilation of several short letters from Paul. The multiple-source theories are "artificial and unnecessary" (Philippians, 3).
For Philemon, commentaries often are bogged down with long background sections on slavery in the Roman word. Osborne's entire section on Philemon is barely forty pages only touches on this cultural background. He does engage in a discussion of four potential reconstruction of the situation behind the letter before offering his own view (which he works out in the short commentary).
Finally, each introduction concludes with a short summary of the theology of the book. Although there are some unique elements in each letter, Osborne observes the work of Christ in each of these four letters as well as what each letter contributes to our understanding of the church in Pauline theology. Reading these three volumes at the same time highlights the consistency of the theology of the Prison Epistles.
The body of each commentary moves through paragraphs based on the outline provided in his introductions. Occasionally Osborne will refer to a Greek word, but these only appear in transliteration and do not distract readers who have not studied Greek. Footnotes are rare in the commentary, occasionally pointing to another scholar for additional information or to a series of cross-references. The commentary concludes with a glossary of key terms (indicated by bold in the text), a short bibliography, Subject/Author index and a Scripture index.
Conclusion. Like Osborne's commentaries on Galatians and Romans in this series, these three volumes achieve the goal of providing amble resources for reading the text. Osborne intentionally writes to be understood by the layperson as well as to assist a busy pastor preparing to preach or teach the Prison Epistles. There are more technical exegetical commentaries available, but Osborne's commentaries fill the need for a short, readable commentary accessible by all students of the Bible.
NB: Thanks to Lexham Press for kindly providing me with a review copy of this book. This did not influence my thoughts regarding the work.
Osborne, Grant R.  Romans: Verse by Verse. Osborne New Testament Commentaries; Bellingham, Wash.: Lexham Press, 2017. 542 pp.; Pb.  $26.99  Link to Lexham Press
Grant Osborne is perhaps best known for his The Hermeneutical Spiral, a standard textbook for a generation of pastors and teachers. He serves as the series editor for the IVP New Testament Commentary and contributed the Romans commentary for that series (2004). This is the first volume of a series of New Testament commentaries written by Osborne and published by Lexham Press in both print and Logos Library editions. As of December 2017, six of the commentaries have been published.
In the series preface, Osborne describes three goals for his commentaries. First, they may be used for devotional Scripture reading. Since the commentaries are based on the NIV translation a reader can use this commentary as a supplement to their daily Bible reading. Second, these commentaries may be used in Church Bible studies, perhaps in a small group or Sunday school context. Third, these commentaries will serve as aids for pastors and teachers as they prepare sermons on the text of the Bible. Osborne says he wants "to help pastors faithfully exposit the text in a sermon." As he writes these commentaries, Osborne draws on his own experience as a pastor and interim pastor. He goal is academic respectable but intended for the layperson. Osborne attempts to balance a deep reading of the text with a practical application for the Bible student.
In the seventeen-page introduction Osborne argues for a more or less tradition view of the date and origin of the book of Romans. Paul wrote the book about A.D. 57 from Corinth just before he returned to Jerusalem to deliver the collection. The Roman church was founded by Jews returning home after Pentecost, but most of these leaders were expelled in A.D. 49 by Claudius. When they returned in A.D. 54, they found the churches were now predominantly Gentile. Osborne sees the issues in Romans 14:1-15:13 as real tensions between Jewish and Gentile believers in the Roman churches. The main purpose of Romans is preparation for a new phase of Paul's ministry in the western half of the Empire. A second reason for writing the letter was to gain prayer support for the delivery of the collection (15:31). But the third reason Osborne offers for the writing of Romans may be more dominant: Paul wants to bring unity to a church in conflict.
Osborne includes a short theology of Romans, briefly discussing what the letter says about God, Christ, and the Holy Spirit. The election of the believer and the Christian walk. With respect to the election of the believer, Osborne refers to Romans 9-11, but refers readers to his exposition of 8:28 and the end of Romans 10 to allow "readers to decide for themselves" (17). In the commentary on Romans 8:28 he briefly compares Calvin and Arminius on the definition of foreknowledge and predestination, concluding that he find the Arminian view "more faithful to all the biblical data." In his comments on Romans 10 Osborne does not engage with Calvinist or Arminian theology, preferring to let Scripture speak for itself. He says "salvation is available for 'anyone' who is willing to believe" (318).
The body of the commentary covers paragraphs of Romans in each chapter. For example, Romans 6:1-14 is a sixteen pages chapter. 6:15-23 is a ten-page chapter. The commentary chapter is then divided into units covering each verse in the section. Occasionally Osborne will refer to a Greek word, but these only appear in transliteration and do not distract readers who have not studied Greek. Occasionally he corrects the NIV (for example, pages 113 and 361, gar is not translated in the NIV). Footnotes are rare in the commentary, occasionally pointing to another scholar for additional information or to a series of cross-references. The commentary concludes with a glossary of key terms (indicated by bold in the text), a short bibliography, Subject/Author index and a Scripture index.
Osborne excels in summarizing important theological points which arise in the text and gently suggesting his own view. For example, a classic problem for interpreters of Romans is the phrase "in whom all sinned" in Romans 5:12. He offers five options, three of which are viable options. He suggests mediate imputation (the Arminian view) is the best understanding of Paul's phrase. With respect to the "I" in Romans 7, Osborne offers four options before suggesting it is best to see "Paul as using himself as an example of all humanity" (200). Commenting on Israel's national future in 11:25-36, Osborne he makes three clear points which offer the reader an overview of this controversial topic.
One major difference between this commentary and his 2004 IVP commentary is the complete lack of reference to the work of other scholars. There are several places in this commentary which are identical to Osborne's 2004 commentary (the first paragraph of the introduction to each book for example). His comments on Romans 16:18 are virtually identical as well. Often the general text is the same, but in-text citations have been removed. For example, commenting on Romans 11:25, page 205 of the 2004 IVP Commentary has "The in part could modify Israel (so Barrett 1957; Käsemann 1980; Morris 1988), page 362 of this 2017 commentary has "The 'in part' could modify 'Israel'" with no reference to Barrett, Käsemann or Morris. The Lexham commentary does not indicate it is a revision of the IVP commentary, but in many case it is a lightly edited version of the 2004 commentary. This may not detract from the value of the commentary, since Osborne has in fact re-written most of the commentary to fit the style of the new series.
Osborne's Romans commentary is available in print or in the Logos library. The Logos version of the book utilizes all of the features of the Logos Bible Software and is available on every version of the software. Users can float over cross-references to read the text; footnotes function similarly. Clicking a reference will take you to that Scripture in your preferred translation. The electronic version is tagged with real page numbers so the commentary can be cited in the same way as the real book.
Conclusion. Osborne has succeeded (again) in his goal of providing a scholarly yet readable commentary on the important book of Romans. The commentary is irenic, never passionately arguing for an Arminian position or violently rejecting the Calvinist view.
NB: Thanks to Lexham Press for kindly providing me with a review copy of this book. This did not influence my thoughts regarding the work.
The background to the Pastoral epistles is a matter of some speculation. The letters to Timothy and Titus are collectively called the "pastoral epistles" and are usually described as "letters to young pastors" on topics of church organization. This common way of describing these letters misses the obvious fact that by this point neither Timothy nor Titus could be called "young," nor are they ever really described as pastors in the letters. Both men are described as personal representatives of Paul and both men are given the task of dealing with some sort of theological deviation from Paul's gospel which likely includes some practical, moral failure on the part of elders and deacons in Ephesus (and potentially Crete). First Timothy is less of a manual that could be subtitled "how to be a pastor" than directions to Timothy on how to deal with a serious problem plaguing Paul's churches in Ephesus.
This is how I would reconstruct the situation behind First Timothy.  I am more interested in placing these letters into Paul's career at this point that describing the "opponents" who are implied by the letter. After teaching through the material over a few months, I will return to the difficult problem of the opponents.
Paul spent about three years in Ephesus (Acts 19). During this time he would have established churches in the city and trained others who planted still more churches. Colossians is evidence that at least one other city near Ephesus was evangelized by a Pauline disciple. Revelation 2-3 mentions 6 churches in addition to Ephesus which may have been established as a result of Paul's three years of ministry in Ephesus.
While it is impossible to know how large the church was in Ephesus when Paul left, we do know from Acts that enough people had joined the Christians that they were an economic threat to the silversmiths who made small models of Artemis (Acts 19).
In Acts 20, Paul's final words to the Ephesian elders predicts that there will be some among the Christians who fall away from sound doctrine and practice. The connection between Acts 20 and the pastorals has led scholars such as C. F. D. Moule to suggest that Luke himself is the author of the letters. Luke intended them as an epistolary conclusion to his Luke/Acts. For a review of this argument, see Hagner, The New Testament (Grand Rapids, Mich.: Baker, 2012), 623.
Paul traveled to Jerusalem where he is arrested at held under house arrest in Caesarea for two years. He is then transferred to Rome after appealing to Caesar. He is in Rome under house arrest for two years. This is where the book of Acts ends. In all, Paul is away from Ephesus for at least five years before he wrote First Timothy, perhaps two or three years more than that.
Paul is released from prison after Acts 28 and continues his ministry, likely into Spain but perhaps visiting churches he established in the earlier parts of his ministry. Somehow he learns that his fears for the Ephesian churches have come true and some elders / leaders have moved away from Paul's teaching and practice. The nature of the problems in the Ephesian churches may be a division between "Pauline congregations" and Jewish-Christian congregations.
Timothy was sent to Ephesus to encourage the congregations to "guard the deposit" which had been given to the churches. As Bill Mounce points out, Timothy was not a pastor, or elder, or bishop in these Ephesian churches. He was "an itinerant apostolic 'delegate.'" (The Pastoral Epistles, lviii; citing Jeremias). Timothy has already been sent to difficult situations as Paul's personal representative, he was sent to both Thessalonica (Acts 17) and Corinth to continue Paul's work.
Keown, Mark J. Philippians 1:1-2:18. Bellingham, Wash.: Lexham Press, 2017. 533 pp.; Hb.; $39.99. Link to Lexham Press
Keown, Mark J. Philippians 2:19-4:23. Bellingham, Wash.: Lexham Press, 2017. 569 pp.; Hb.; $39.99. Link to Lexham Press
Mark Keown's contribution on Philippians in the Evangelical Exegetical Commentary (EEC) is one of the most detailed commentaries published on this Pauline Letter. This two-volume exegetical commentary can take its place alongside recent major Philippians commentaries by Fee (NICNT, 1995), O'Brien (NIGTC, 1991) or Hawthorne and Martin, (WBC, revised edition, 2004). Keown's revised dissertation was published as Congregational Evangelism in Philippians: The Centrality of an Appeal for Gospel Proclamation to the Fabric of Philippians (Paternoster Biblical Monographs; Cascade, Ore.: Wipf & Stock, 2009). He is a frequent presenter at SBL and has published several articles on aspects of Philippians.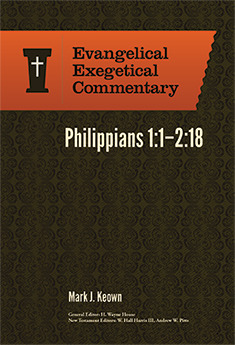 The 92-page introduction to the commentary more or less assumes Pauline authorship and settles on a Roman provenance (33) after weighing the various alternate suggestions. He examines various suggestions Philippians is a compilation of several shorter letters ("interpreting Philippians does not require a multi-letter hypothesis," 22). He suggests a range of dates from 61-64, but favors the later end of that range (33).
In his reconstruction of the background of the letter, Keown traces the history of the Roman church. Although it was primarily a Jewish Christian movement, after the edict of Claudius in A.D, 49 it was increasingly a Gentile church. This created friction as Jewish Christians returned to Rome after the death of Claudius. Keown suggests there was already some anti-Paulinism in the Roman church before Paul wrote Romans in A.D. 56. By the time Paul arrived in A.D. 60, there already was opposition to Paul from local Jewish Christian congregations.
He also argues the conditions of Paul's imprisonment have taken a turn for the worse because of conditions in Rome (ie. "Nero's lunacy, p. 14) in the early A.D. 60s. He is no longer under house arrest, but "in chains" and his life is in danger. As Keown acknowledges, this older view is so out of favor it rarely appears in a commentary on Philippians, but he argues the idea has merit (6). Despite worsening conditions, Paul is still zealously preaching the gospel, although his imprisonment has caused him to put off going to Spain. Instead, his intention is to return to Philippi when he is permitted to leave Rome. Keown wants this decision to affect the interpretation of the book, in contrast to Stephen Fowl (for example) who said it made little difference whether the Philippians was written from Ephesus or Rome. That Paul was writing from a Roman imprisonment will heighten the contrast between the Roman Empire and the heavenly politeuma (33, note 121).
This leads Keown to suggest Paul may have intended to escape from his Roman imprisonment and travel to Philippi. This material is synthesized from Keown's 2015 article in the Journal for the Study Paul and his Letters. The letter of Philippians clearly indicates Paul was in prison and planned to visit Philippi soon. At least according to church tradition Paul did leave Rome and continued to do some ministry (depending on the status of the Pastoral Epistles). Yet there is nothing to explain how he was released from prison. Keown briefly surveys many of the possible solutions to Paul's confidence he will leave Rome and concludes a prison escape answers all of the potential problems (12). Paul claims to have friends in the Praetorian Guard (1:13) who could help him escape. The obvious objection to this interesting reconstruction is Paul's desire to bear witness before Caesar (Acts 23:11) as well as his willingness to suffer for the sake of Christ (2 Cor 11:16-33). Yet even while boasting about his suffering, Paul does claim to have escaped from Damascus when persued by Aretas IV (2 Cor 11:33). Although Keown does not mention it, Paul avoids persecution a number of times in Acts (at Thessalonica and Ephesus for example). Although not exactly prison escapes, they do indicate Paul was willing to relocate in order to continue preaching the gospel, or at the very least Paul cannot be considered as seeking martyrdom.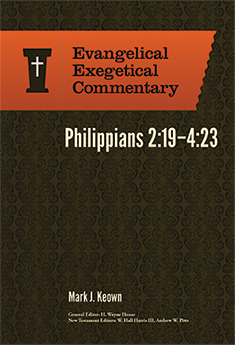 Perhaps the most useful feature of the introduction for most readers will be the lengthy introduction to the city and culture of Philippi. As Keown points out, Philippi was founded as a kind of mini-Rome," and this observation opens up several important interpretive possibilities.  After a sketch of the history of the city, Keown offers a commentary-worthy discussion of Acts 16 and the charges against Paul and Silas. He argues the letter of Philippians reflects a clash between Caesar and Christ, especially in the Christ Hymn (Phil 2:5-11). Because Philippi was so Roman in outlook, it is natural to see some of Paul's presentation as "anti-imperial." Keown says the letter is "utterly subversive and countercultural," although he stops short of some of the more radical anti-imperial readings of the letter (44).
The last long section of the introduction is an account of the church itself. For Keown, the Philippian church is predominantly Gentile including a number of prominent women (Lydia, for example). Paul has a positive relationship with the church and there is little which needs to be corrected as in Corinth, although there are some problems with divisions (4:2-3). The church is facing some opposition, which Keown describes as "twin challenges" (56) from Jerusalem (Judiazers) and Rome (Greco-Roman libertines). The final part of this description of the church is excellent fodder for a pastor preparing to preach this letter.
After the introduction, the body of the commentary is laid out in large sections divided into logical sub-sections as outlined in the introduction. Each section of commentary begins with an introduction discussing the context of the section as well as literary features. Following this introduction Keown offers his own translation of the text along with extensive textual critical notes.
The commentary itself proceeds phrase-by-phrase. Keown provides the Greek text followed by his translation. He comments extensively on Greek syntactical and lexical issues, occasionally comparing various translations in order to indicate the importance of the grammatical decisions. Since this is an exegetical commentary on the Greek text of Philippians, Greek words appear frequently and are not transliterated. Major commentaries are cited in-text, technical monographs and articles appear in the footnotes. Keown interacts with all major Philippians commentaries (Fee, O'Brien, for example), including many classic works (Lightfoot, Vincent, for example).
Following the exegetical section Keown makes a brief conclusion and offers a short section entitled "Biblical Theological Comments." Here he tries to connect the pericope to the larger world of Pauline theology. For example, after the exegetical section on Philippians 3:1-21, Keown discusses the impact of Paul's conversion on his theology, especially his view on what "Israel" means after his encounter with Christ as well as the role of the law. Paul's "fresh perspective on the law" is not antinomian, but rather "agapenomian, hypernomian, pneumanomian or kardianomian" (2:183). The four neologisms do indeed express how Paul sees the law in the present age (even if they are unlikely to catch on).
Each exegetical section ends with a short thought entitled "application and devotional implications." An exegetical commentary may draw theological implications, but not many technical commentaries like this one allow the author's pastoral heart to come forward and offer such exhortations.
Each volume includes a Scripture index, and volume two includes a brief glossary of foreign words and technical terms. The second volume also includes an extensive, 42-page bibliography divided into technical monographs, articles and essays, and other non-Philippians works cited in the commentary. For the commentaries, the bibliography follows the introduction in volume 1 (pages 83-92). There is no index of authors cited in either volume.
In the printed version of this commentary there were a few typographical oddities. In volume 2, starting on page 187 the header does not include the chapter/verse, although it does in the previous and following sections (it simply reads "Philippians" through page 290).  However, this does not distract from the content of the commentary.
Since Lexham Press is part of the larger Faithlife family, these volumes are available in Logos Bible Software as a single resource rather than two volumes. In the Logos resource, all Scripture is tagged so readers can float over the reference with their pointer and read the text or click to read the text in their preferred Bible. All abbreviations and references to other commentaries are similarly tagged; if you own the book you can click the pages to go directly to the resource. An additional advantage for the Logos version over the printed version is the ability to click on Greek words to launch your preferred lexicon. I happen to have BDAG in my library, so clicking a Greek work in the commentary takes me to the lexicon. Resources in the footnotes can be copied and pasted into a word processor, or in BibTex format for use in bibliography software. Finally, references to other section of the commentary are hyperlinked. For example, when Keown refers back to his thematic and structural analysis (page 492, for example), the Logos user can click the hyperlink and go directly to page 80 to read this section.
One potential problem is a discrepancy between the Logos resource (published 2016) and the printed book (published 2017). Since an electronic book can be updated frequently, it is possible a printed copy will be out of date. To date there are eleven commentaries in the Evangelical Exegetical Commentary available to Logos users, with a total of forty-four volumes planned.
NB: Thanks to Lexham Press for kindly providing me with a review copy of this book, both in print and Logos format. This did not influence my thoughts regarding the work.
In order to be a living sacrifice, the believer must completely change the way they think about everything. There are two parts to this change of thinking.
First, Paul says the believer is to "not be conformed" to the image of this world. The verb συσχηματίζω refers to being molded into another form, or guided by something else (BDAG). This is a compound word with σχῆμα "The term σχῆμα denotes the outward structure or form that may be known by the senses" (TDNT 7:954-58).
The "pattern of this world" is the way a culture thinks, the Greco-Roman worldview. This would include how a Gentile thinks about the gods, how daily life is regulated by placate the gods, relying on magic or divination when making decisions, etc. The average Roman would think about the Roman empire and the claims made by the emperor quite differently than a Christian view of empires based on the Hebrew Bible. The pursuit of honor in the Roman culture effects how and why a person decides to act in any given situation.
Second, the believer must be "transformed by the renewal of our minds." The verb μεταμορφόω refer to both outward physical changes (such as the transfiguration, Matthew 17:2) and inward spiritual changes (BDAG). It is used of the change of the physical body in glory (2 Corinthians 3:18). In Romans 12:2 the word refers to an inward spiritual change of the believer by the power of the Spirit. The verb is a passive imperative, suggesting that it is God who does the actual transforming of our minds so that we begin to think differently (Kruse, Romans, 464).
The key to this metamorphosis is the "renewing" of our minds. Paul may have coined the word ἀνακαίνωσις, both the noun and the verb (2 Cor 4:16; Col 3:10) do not appear outside of Christian literature (Jewett, Romans, 733). The word combines the more common καινόω, "to make new" with ἀνα to form a word which means to make something new again, to return it to a pristine state prior to it becoming "unnew." In Ephesians 4:21-24 Paul describes this process as putting off the old man and putting on the new (Cf. Col 3).
Paul argued in Romans 1 that Gentiles are futile in their thinking and ignorant of the way things really are. But the one who is in Christ has been enlightened, renewed so that they can "think about how they think," renewing their minds in Christ Jesus.
For example, they would have fully accepted gods had some control over their life, they may have made sacrifices or performed rituals to ensure good luck on a journey, they may have believed people could curse them, or even purchased magical amulets to protect themselves from such curses.
Paul is describing a change in the way we think about everything in life! For example: this new way of thinking includes how people relate to one another. Instead of trying to use people to get ahead in the pursuit of honor and shame, people ought to serve one another in sincerity of love. Instead of seeking revenge, we ought to pray for our enemies.
Paul says that Peter's actions are nothing less that hypocrisy. Peter has changed his attitude and behavior toward Gentile Christians after the visit from the "men from James." The first verb (ὑποστέλλω) is a military term and has the sense of retreating to an "inconspicuous position" (Witherington, Galatians, 154). In Acts 20:27 Paul uses the verb to describe what he did not do – he did not "shrink back" from preaching the gospel in Ephesus in the face of persecution. The second verb (ἀφορίζω) has the separating into groups (the sheep and the goats in Matt 25:32, for example). Witherington takes this to mean that the word has a sense of ritual purity, and I might add it has an eschatological sense. At the end of the age, the Lord will separate those who will enter the kingdom from those who will not. If we are right that the political and religious situation in Judea was becoming increasingly apocalyptic, it is possible that these "men from James" were encouraging a separation of the Jews and the Gentiles in anticipation of a coming judgment.
The reason for Peter's withdrawal from table fellowship is fear from the circumcision party, those Jews who insisted on circumcising Gentiles. There is at least the possibility (based on Galatians 6:12) that some Jews, such as the Zealots, were willing to use force to ensure Jewish traditions were being observed. If this is the case, then perhaps Peter's fear is a real fear of persecution by the more zealous wing of the Jerusalem church.  This is not a case of "the pastor is coming over, quick hide the beer bottles"! Peter and Barnabas may have withdrawn from fellowship to avoid a potentially violent reprisal from the "zealots" within Jewish Christianity.
Peter's actions therefore are out of character and not in line with his beliefs nor the agreement which he reached with Paul in Galatians 2:1-10. Paul thinks Peter and Barnabas have "shrunk back" out of fear and are in need of correction. While Peter is a hypocrite, Paul describes Barnabas as "led astray." The verb συναπάγω has the sense of "carried away,' he was fooled by the rhetoric of the "men from James."
Witherington suggests that Barnabas found himself in a bad place because he was originally sent to Antioch by Jerusalem, he could not go against the "orders" of the church who sent him to Antioch in the first place (Galatians, 157). His loyalty was to Jerusalem, the group with which he was associated from the earliest days (Acts 4), rather than to Paul and the Gentile mission. The Gentile mission is not Barnabas' commission, it is Paul's. All of the Jews in the Antioch church join with Peter and Barnabas in withdrawing from fellowship with the Gentile believers. This indicates that there is a church-wide split caused by the "men from James."
Paul publically confronted Peter because his "conduct was not in line with the truth." This confrontation was "before them all," which may mean that Paul waited until the church assembled. Parallel to the private meeting in Jerusalem, Paul chose to bring this issue to the whole assembly. The accusation against Peter that he is not living in accordance to what he knows is the truth, the agreement of Gal 2:1-10, for example. The agitators in the Galatian church, on the other hand, were described with military terms. They are spies and agitators who are outside of the truth of the gospel to begin with. Peter knows the truth and is not acting in accordance with it, the agitators do not even know the gospel.
Paul's point is that if Peter and the Jewish Christians withdraw from the Gentile Christians, then there is no unity in the body of Christ. As Paul will point out later in the later, there is no Jew or Greek in the Body of Christ, we are all members together "in Christ." To separate into two bodies, a Jewish and a Gentile one, totally misses the point of a "joint-body" as Paul describes in Ephesians 2.
What is at stake here is the nature of the Gospel. If Paul loses this argument, then Gentiles will continue to be "second class believers" in the eyes of some conservative Jewish believers.
Although the issues are different, how does contemporary churches create boundaries which push some types of Christians out of fellowship, or consider them as second-class Christians? Perhaps some of the boundaries are important (the men from James thought circumcision was critical to being a follower of Jesus), but others may not be. How can we disagree on the boundaries without compromising the unity of the Body of Christ?
One of the basic assumptions most Christian have about Jews in the first century is that they kept separate from the Gentiles. Josephus said that Jews "did not come into contact with other people because of their separateness" (Antiq. 13:245-247). Any Gentile who chooses to live according to the Law of Moses may be admitted, but otherwise there is no real fellowship with Gentiles.  
Josephus, Against Apion 2.210 Accordingly our legislator [Moses] admits all those that have a mind to observe our laws, so to do; and this after a friendly manner, as esteeming that a true union, which not only extends to our own stock, but to those that would live after the same manner with us; yet does he not allow those that come to us by accident only to be admitted into communion with us.
But perhaps the situation was not as strict as Josephus would have us believe. Gentiles were not totally excluded from Jewish worship. There was a huge "court of the Gentiles" in the temple complex which gave Gentiles a place to worship in the Temple. On a number of occasions in the gospels Jesus speaks with Gentiles, although usually the faith of the Gentile is in contrast to the unfaithfulness of the Jews.
One factor bearing on this issue is the long standing Jewish belief that purity laws did not apply to Gentiles even when they lived in Israelite territory. The "sojourner laws" (Deut 5:14) define these Gentiles as resident aliens and require only a few general commands for them while they are living within the nation of Israel. These are the same commands given by James at the Jerusalem Council in Acts 15:24-29.
Did Jews of the first century consider Gentiles impure and therefore exclude them from the inner courts of the temple? In the Second Temple re-telling of the story of Joseph known as Joseph and Asenath we are told that "Joseph never ate with the Egyptians, for this was an abomination to him" (7:1). In fact, he refuses to even kiss the lovely Egyptian Asenath because her lips have touched unclean food.
Several Second Temple period texts indicate Jews did not mix at all with Gentiles:
Jubilees 22:16 And you also, my son, Jacob, remember my words, and keep the commandments of Abraham, your father. Separate yourself from the Gentiles, and do not eat with them, and do not perform deeds like theirs. And do not become associates of theirs. Because their deeds are defiled, and all their ways are contaminated, and despicable, and abominable.

Tobit 1:10-12 After I was carried away captive to Assyria and came as a captive to Nineveh, every one of my kindred and my people ate the food of the Gentiles, but I kept myself from eating the food of the Gentiles. Because I was mindful of God with all my heart . . .

Judith 12:1-4 Then he commanded them to bring her in where his silver dinnerware was kept, and ordered them to set a table for her with some of his own delicacies, and with some of his own wine to drink. But Judith said, "I cannot partake of them, or it will be an offense; but I will have enough with the things I brought with me." Holofernes said to her, "If your supply runs out, where can we get you more of the same? For none of your people are here with us." Judith replied, "As surely as you live, my lord, your servant will not use up the supplies I have with me before the Lord carries out by my hand what he has determined."
In any case, it was certainly not normal for a missionary from Jerusalem to turn up in the home of a Gentile to preach the gospel, as did Peter in Acts 10. If a Gentile was worshiping in the Temple or synagogue, such as Cornelius, then that Gentile would be welcome to hear the gospel. But for the Jewish mission in Judea, the home of a Gentile is not really the normal venue for missionary activity!
Yet Paul plans to take the Gospel to places where it has not gone before. On the island of Crete he approaches a Roman governor, Sergius Paulus, and in Lystra and Iconium he tries to preach the Gospel to Gentiles outside of the Synagogue.
If the examples listed above are a fair reading of Judaism in the first century, then how radical was Paul's Gentile mission strategy?
Bird, Michael F. An Anomalous Jew: Paul among Jews, Greeks, and Romans. Grand Rapids, Mich.: Eerdmans, 2017. xii + 322 pages; Pb. $28.   Link to Eerdmans
This new collection of essays from Michael Bird includes three chapters previously published and two lengthy chapters written for this volume. A lengthy thirty-page introduction explains what Bird means by "an anomalous Jew" (aside from the play on John Meier's work on the Historical Jesus, A Marginal Jew or Daniel Boyarin's Paul: A Radical Jew). Although it is commonplace in contemporary scholarship to acknowledge Paul's Jewish roots, Bird points out Paul says things that no other Torah-affirming Jew would say and he was opposed violently by Torah-affirming Jews. Paul's view of what God is doing in the present age through Jesus Christ led to his "decentering of the Torah" (7). So if Paul is a Jewish thinker, how should he be situated in what we know about Second Temple period Judaism?
Prior to the twentieth century, situating Paul within Judaism was not even considered since Paul was read as completely rejecting his Jewish (legalistic) religion and "converting" to Christianity. Aside from the historical anachronisms, the traditional view of Paul was at best anti-Semitic. But since the Holocaust Pauline scholarship had returned the idea Paul represents some form of early Judaism. Bird offers several contemporary scholarly opinions that Paul was a Former Jew (Martyn), a Transformed Jew (Sanders, Dunn and the New Perspective), a Faithful Jew (Mark Nanos), or even a Radical Jew (Daniel Boyarin). Bird picks up on a suggestion from John Barclay that Paul was an anomalous diaspora Jew, although he wants to include the "thoroughly Judean Paul" of W. D. Davies, E. P. Sanders and the New Perspective (27).
Having charted the course in his introduction, Bird then turns to "Salvation in Paul's Judaism" (chapter 1, a shorter version appeared in Paul and Judaism, LNTS 463; T&T Clark 2012). He begins by surveying several recent attempts to describe Paul's view of salvation as being either against Judaism or within it. If Paul was against the Judaism of his day, then he was necessarily supersessionist and conceived of Christianity as the replacement for Israel. But if Paul stayed in some sense within Judaism, then Paul viewed Jews and Gentiles as a "remnant within Israel who occupy a special place within an irrevocably elected Israel" (45). Bird concludes Paul was somewhere between these two poles since he seems intra-Judaism with respect to halakic discussions, but contra-Judaism in the sense he says things no Second Temple Jew would, such as the Torah leads to death.
Written specifically for this volume, the second essay in the collection asks if Paul was an Apostle to the Gentiles and Jews. Bird begins with the observation that Paul's title of "apostle to the Gentiles" has obscured his continued mission to the Jews. Since the epistles of Paul may be used to argue Paul only went to the Gentiles after his conversion, the accuracy of Acts is questions (since Paul continues to reach out to Jews throughout his whole career). Bird therefore focuses this essay on the place of the Jews in Paul's apostolate to the Gentiles (71). In order to achieve this goal, he begins with an overview of the vocabulary Paul used for non-believing non-Jews (ἔθνη, Ἕλλην, ἀκροβυστία, περιτομή, ἄνομος). This vocabulary is more "fuzzy" than often observed, especially when used to describe the target of Paul's mission. Bird has a helpful chart on page 85 demonstrating that there are both lawless Gentiles and Jews, Greeks (Hellenes who may also be lawless) but Diaspora Jews (who might be Hellenistic but keep the Law).
Bird argues Paul did in fact target Jews in the Diaspora, but also that his mission evolved over the years. Although this is not controversial as far as I can see, Bird goes on to ask when Paul received his commission to go to the Gentiles. He argues the evidence from Acts is ambiguous. Acts 9:15 indicates he was to carry Jesus' name to "Gentiles and Kings and the sons of Israel." In fact, Paul does go to synagogues where he preaches that Jesus is the Messiah, and he does continue to go to synagogues in the book of Acts. One potential problem is Paul's time in Arabia, but Bird argues Paul's focus was on Jews living in the Nabatean kingdom, especially around Damascus. What may be controversial in this essay is Bird's contention the commission to go to the Gentiles occurs after the Jerusalem council in Acts 15. It is only after this watershed moment that Paul begins to partition his Gentile churches from the synagogues (96). Bird thinks this may help understand Paul's statement in 1 Corinthians 9:20-22 that he became a Jew in order to win the Jews, and a Gentile to win the Gentiles. Given the flexible vocabulary Paul uses to describe his mission, Paul's target were those who were not in Christ, which may include some Jews. The door was opened to the Gentiles, but as Bid says, it was never closed to the Jews (104).
By the end of this chapter, Bird indicates Acts is a trustworthy guide, which raises a question for the thesis Paul's Gentile mission developed more fully after the Jerusalem Council. Although he acknowledges the synagogue sermon in Acts 13 is paradigmatic for Lukan theology, he overlooks the important symbolic miracle earlier in that chapter. After "Barnabas and Saul" visit synagogues on Cyprus, Saul approaches a Roman official. This man is not a God-fearing Gentile (like Cornelius) and appears to be a pagan Roman. When Saul attempts to share the Gospel with him, a Jewish sorcerer attempts to stop him. At this point in the story Luke tells the readers Saul is also called Paul, and Paul delivers a judgment speech on the Jewish sorcerer and he is blinded for a time. After this dramatic incident, Luke only uses the name Paul and almost always places Paul first ("Paul and Barnabas," the only exception is at the Jerusalem council). This symbolic blinding is explained in the synagogue sermon later in Acts 13, where Paul and Barnabas "turn to the Gentiles" for the first time in the book of Acts. Luke has used this story at a crucial turning point in his overall story, but the incident also seems to indicate Paul was targeting a Roman official before the Jerusalem council. I have no doubt Bird is correct that Paul's missionary strategy developed and matured over the years and it is absolutely the case Paul continued to use the synagogue as a platform for preaching Jesus as Messiah. But perhaps he was engaged in Gentile mission such as approaching Romans such as Sergius Paulus from the beginning.
At a combined one hundred pages, chapters 3 and 4 are a kind of mini-commentary on Galatians. In chapter three Bird offers an assessment of recent apocalyptic readings of Galatians ("An Invasive Story: An Apocalyptic and Salvation-Historical Rereading of Galatians"). As his first two footnotes make clear, apocalyptic readings of Galatians are a hot topic for Pauline scholars in recent years. There are two ways of nuancing the issue. For many Pauline scholars such as Krister Stendahl, a salvation-history or covenantal approach is an adequate explanation for Paul's theology. Paul's theology is set within the larger story of Israel. But for others (Käsemann and Beker), apocalyptic is central to Paul's thinking. By apocalyptic, these scholars focus on Jesus as the messiah and his death and resurrection as an apocalyptic event which creates a new world, perhaps a new "kingdom of God." Louis Martyn and Douglas Campbell make a sharp distinction between these two approaches, although others (Wright, Dunn, for example) see a unity between salvation history and an apocalyptic reading of the Christ event. After surveying some of the literature, Bird engages with Martyn's apocalyptic interpretation of Paul (especially in his Anchor Bible Galatians commentary) in order to show the dichotomy between salvation history and apocalyptic is not necessary. Bird says "there is no requirement we divorce Paul's apocalyptic theology from its metanarrative of the Jewish Scriptures" (116) because apocalyptic properly understood is the climax of God's saving purpose for his people, not a whole new start, and certainly not a repudiation of the past" (121). After examining several key texts in Galatians, Bird concludes "Paul's apocalyptic gospel is necessarily salvation-historical by nature of the Jewish context of his eschatology and Christology" (167).
This conclusion helps unpack the title of the collection, Paul was truly anomalous in the sense that the Law was preparatory for salvation rather than necessary for salvation, a conclusion which was provocative and an affront to Paul's Jewish opponents. I am reminded of F. F. Bruce's comment in his Galatians commentary, the Law was a parenthesis between the promise to Abraham and the present age (NIGTC, 153-4). This view of the Law would certainly be anomalous in Second Temple Judaism.
In chapter four, Bird returns to Galatians 2:11-14 and argues the incident at Antioch represents "the beginnings of Paulinism." An earlier version of this essay was published in Earliest Christian History (ed. Bird and Matson; WUNT 2.320; Tubingen: Mohr Siebeck, 2012): 329-61. In this essay, Bird returns to one of the more tantalizing sections of Galatians, Paul's confrontation of Peter in Antioch. In chapter 2 Bird has already suggested Paul's mission to the Gentiles developed over time and that the Jerusalem council (Acts 15) played a significant role in targeting Paul's missionary efforts at the Gentiles.
The final chapter in this collection ("The Apostle Paul and the Roman Empire") is an expansion of Bird's contribution to Jesus is Lord, Caesar is Not (IVP Academic, 2013). Bird thinks "anyone vaguely familiar with the Roman imperium could see Paul articulating the vision of an alternative empire" (254). In the earlier essay, Bird made four points in favor of an anti-imperialism in the Pauline letters. Each are considerably expanded for this new essay, as are his "lingering doubts." His literature survey is slightly expanded and now includes interaction with "Augustus guru" Karl Galinski and some account of the "scholarly melee: between John Barclay and N. T. Wright with respect to the importance of the imperial cult to this discussion. What is extremely valuable is the inclusion of all of the texts in Romans which may (or may not) be read as anti-imperial. In the shorter essay Bird was limited to only Romans 1:16-17; 13:1-7 and 15:5-13. In this longer form essay he is able to be more comprehensive as well as draw more scholarship into the dialogue. However, his conclusion remains the same: "Romans is not a political manifesto" (Jesus is Lord, 161; An Anomalous Jew, 253), both essays citing William Ramsay's statement that "a universal Paulinism and a universal Empire must either coalesce or they one must destroy the other."
Conclusion. As with any collection of essays drawn from various sources, there is potential for lack of cohesion between the chapters. Bird has worked hard to draw previously printed essays back to the title of the book: why does Paul appear to be an anomalous Jew? Although this is achieved by editing the introductions and conclusions to each essay, each topic does in fact demonstrate Paul operated within the world of Judaism, but he certainly did not fit the pattern of other early Jewish Christ-believers or other Jewish groups from the Second Temple period.
NB: Thanks to Eerdmans for kindly providing me with a review copy of this book. This did not influence my thoughts regarding the work.
In his role as the apostle to the Gentiles, Paul is sometimes described as trying to bridge the gap between Judaism and the pagan world. His sermon at Athens in Acts 17 is often used as a model for "how to do ministry" today. In order to reach the world, we have to present the Gospel in ways which appeal to the world. In some cases this is involves using art and philosophy to demonstrate the reasonableness of Christianity, but more commonly this methodology is used defend worship styles or it quickly devolves into using movie and TV clips as sermon illustrations.
To determine how Paul reached out to pagans. I want to look at a passage earlier in Paul's career, from his so-called first missionary journey. When Paul and Barnabas arrive in Lystra, Paul heals a man who was crippled in the feet. This miracle in intentionally parallel to Peter's healing in Acts 3, although the results are much different! In Acts 3, the miracle takes place in the temple courts, Paul is in a Gentile town which is more likely to believe he is Hermes incarnate than a representative of the Hebrew God! When Paul was among Jews in Iconium he did many miracles and saw great success. The working of a miracle among the Gentiles of Lystra is counter-productive and results in Paul being stone and left for dead.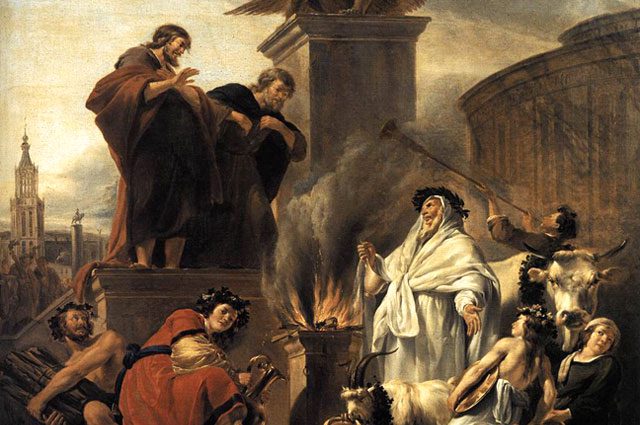 There is only the briefest hint at the sort of "sermon" Paul might have preached to this crowd. This is unfortunate, since this is the first time in Acts that Paul addresses a pagan audience. Often Paul's speech in Acts 17 at Mars Hill is set up as an example of Paul's method of reaching the Gentile world, rarely is this speech in Acts 14.
Paul states that there is a living God, as opposed to the worthless idols that never show their power. Like Acts 17, Paul does not allude to the many acts of God in the Hebrew Bible. Rather, he uses God's preservation of men through the giving of rain and crops as an example of his power. This might be called "general revelation," since the crowd would neither know about the God of the Hebrew Bible, nor would they care what he did for the Jews.
But Paul is not giving up on the biblical story at all in this sermon. He begins with God's creation and provision. He says that he represents the creator, something which this group can understand within their own world view, but Paul uses the language of Genesis (the heaven, the earth, and the sea, along with everything in them).
But notice that Paul more or less attacks the gods of Lystra: they are worthless things. This is even more powerful when you realize the priests of Zeus have brought out bulls to sacrifice to Paul and Barnabas. Paul could very well be pointing at these prepared sacrifices when he says, "worthless idols." The noun used here (μάταιος) means that these idols and their sacrifices "lack truth" and it is pointless to worship them because they are not true at all!
This dismissal of idols is also found one of Paul's earlier letters. In 1 Thessalonians 1:9 Paul contrasts idols and the "living and true God." The implication is clear: the idols are neither living nor true. In fact, this clear attack on idols is at the foundation of Romans. In Romans 1:21-23, humans reject the clear revelation of God in creation, become fools, and "exchanged the glory of the immortal God for images resembling mortal man and birds and animals and creeping things" (ESV).
This does not sound very hipster and emergent to me! How can the brief sermon in Acts 14 be used as a model for contemporary evangelism? Should we directly attack another world view as "worthless"?
Paul claims to be called to be an apostle in each of the undisputed letters (Rom 1:1, 1 Cor 1:1, 2 Cor 1:1, Gal 1:1) as well as several other letters (Eph 1:1, Col 1:1, 1-2 Tim, Titus). In addition to the headings of these letters, Paul refers to his apostleship in several other contexts. In Rom 11:13 he calls himself the "apostle to the Gentiles" and in 1 Corinthians 9 Paul defends his status as an apostle on a par with Peter or Barnabas. But Paul never claims to be one of the Twelve. With the exception of Matthias, the replacement for Judas, this group were chosen by Jesus before the crucifixion.
In fact, in Galatians 1 Paul emphasizes his commission as an apostle but distinct from the Twelve.  An "apostle" is someone who is sent as a representative of another, usually some kind of a group.  Most lexicons suggests the English "ambassador, delegate, messenger" for the Greek concept of an apostle.  Most scholars now associate the Greek apostolos (ἀπόστολος) with the Hebrew shaliach. A person who was sent as a representative or agent acts on the same authority of the sending group.
For example, when the Jerusalem church sent Barnabas to Antioch, it is possible he was send as a shaliach or apostle of the Jerusalem church (Acts 11:22).  He would have acted as their representative on the scene should questions arise. Paul is not an apostle sent by the church of Antioch to the churches of Galatia, nor is he an agent sent out by the Jerusalem church. He never claims to be one of the Twelve Apostles, in fact Galatians 1-2 make it clear he is not part of that particular group. Paul's claim in Galatians is that is an apostle of Jesus Christ and God the Father.
In 1 Corinthians 15:9 Paul alludes to his status as an apostle in his discussion of the resurrection. Paul was not a follower of Jesus until his encounter in Acts 9. As is well known, he was a persecutor of Jesus' followers prior to the resurrection appearance of Jesus. Paul claims in in 1 Cor 15 to be an eye-witness to the resurrection, albeit one with different credentials than Peter or James since he did not know Jesus before the resurrection.
This experience was like an "untimely birth" (ESV). This word (ἔκτρωμα) is used for a stillborn child or a miscarriage. Many commentators think this is an insult Paul faced in his ministry, he is not just a "Johnny-come-lately" or someone who is trying to "jump on the band-wagon," or that he has some spiritual deficiency disqualifying him from being considered a "real apostle." Rather than responding to an attack, Paul is simply listing himself as the final witness because he was the final witness, and his experience is unique among the apostles. But again, he does not claim to be one of the Twelve; like James, the Lord's Brother, he is commissioned by the resurrected Jesus to be an apostle, but NOT one of the Twelve.
In 2 Corinthians 11, Paul sarcastically refers to his opponents in Corinth as "super-apostles." But since this rare word can mean superior, it is possible the opponents considered themselves to be superior to Paul and described themselves as his superiors to the members of the Corinthian church. Some have argued this is a reference to the apostles in Jerusalem, but it seems unlikely Paul would refer the Twelve with this snarky title (like added "so-called" to something to question its authority). More likely the super apostles are Greeks in Corinth who have accepted the Gospel but are now behaving like Greek intellectuals. Like many of the other issues in Corinth, Paul is dealing with a pagan worldview in the church.
By way of summary, there was a group called the Twelve who were apostles, and a few other people who were commissioned by Jesus after the resurrection (James and Paul) and were therefore also considered apostles. There were others who claimed to be apostles, like the super apostles mentioned in 2 Corinthians who claimed authority as apostles but were not commissioned by the resurrected Jesus.
What is Paul claiming when he calls himself an Apostle?  What does it mean for a letter like 1 Thessalonians, where he does not use the title but then says he could have made demands as an apostle of Christ?