You are currently browsing the tag archive for the 'Pauline Literature' tag.
deSilva, David A. The Letter to the Galatians. NICNT; Grand Rapids, Mich.: Eerdmans, 2018. lxxix+541 pp.; Hb.; $55.00. Link to Eerdmans

Over the past few years Eerdmans has been replacing older volumes of the New International Commentary on the New Testament. In the case of Galatians, deSilva's new commentary replaces Ronald Y. K. Fung's 1988 commentary, itself a replacement of Herman Ridderbos's 1953 work originally written in Dutch. Each generation of the commentary has grown, from Ridderbos's 238 pages to Fung's 342 pages, now deSilva's 541 pages (plus 76 pages of bibliography). The new NICNT volumes are also larger size volume (6×9 as opposed to 5×7, Ridderbos has a larger font than the other two). Ridderbos had a thirty-eight page introduction, a half page subject index and no bibliography; deSilva's introduction runs one hundred and eight pages, twenty-three pages of indices and fifty-one pages of bibliography.
What has happened in the study of Galatians since 1955 or 1988 to account for this kind of exponential growth in a commentary? First, Hans Deiter Betz commentary on Galatians was published in 1979. Betz was one of the first to analyze Galatians using ancient categories of rhetoric, arguing Galatians used judicial rhetoric and was an apologetic letter. Fung interacted with the rhetorical categories suggested by Betz and ultimately rejected the category of apologetic, deSilva presents a more nuanced interpretation of Paul's use or ancient rhetoric (ethos, pathos, logos, for example). In his introduction deSilva offers twenty-nine pages on Paul's rhetoric and letter writing in antiquity and another ten pages applying this material to the letter to the Galatians.
Second, New Perspective on Paul was still new when Fung wrote in 1988 so he does not address some of the more controversial New Perspective issues in any detail. Fung discusses the phrase "works of the Law" in a footnote to Galatians 2:16, deSilva has five pages with extensive footnotes. The same is true for pistis Christou, the "faith of Jesus" or "faith in Jesus." deSilva has a nine-page excursus on this sometimes technical issue interacting with Dunn's many articles on the issue as well as the response to Dunn. Fung simply notes the problem in a footnote.
Third, J. Louis Martyn's Anchor Bible commentary used the category of apocalyptic to interpret Galatians. Martyn wrote an article on apocalyptic antimonies in Galatians just prior to Fung's commentary, but it did not have much influence on the commentary.
Fourth, related to an "apocalyptic Paul," there is far more attention in deSilva's commentary on Paul's imperial language. To give but one example, to use the language of peace in 1:3 is to use the language of imperial Rome. Augusts brought peace to the empire and Romans sacrificed on the "Altar of the Augustan Peace" and used coins which declared to all that the emperor was the personification of peace in the world (118). For Paul to talk of peace coming from another source, "Father God and Lord Jesus" implies global powers such as Rome are passing away. deSilva offers and excursus of nearly eight pages on the Imperial Cult and the Galatian believers.
With respect to the controversial issue of the destination and date of Galatians, deSilva favors a southern Galatian setting for the letter, although he recognizes the evidence is inconclusive on either side (29). He spends a considerable section of the introduction arguing for a southern Galatia destination based on the record of Paul's missionary activity in the book of Acts. Commentaries on Galatians which take the book of Acts as a reliable witness to Paul's missionary activity must deal with problem of Paul's visits to Jerusalem. Acts records Paul visiting Jerusalem three times, Galatians mentions only two. Of critical importance is the private meeting of Paul and the Jerusalem "pillars" (Galatians 2:1-10).
The result of this meeting is a handshake agreement that Paul continue his mission n to the Gentiles and (most importantly) the pillars agreed the gentile Titus did not need to submit to circumcision. For many commentators, this meeting is what Luke records in Acts 15. DeSilva argues the private meeting in Galatians 2:1-10 is parallel to Acts 11:28-30, the famine visit (which he tentatively dates to A. D. 46-47). After Paul's private meeting with the Jerusalem pillars Paul and Barnabas travel to South Galatia and establish a number of churches. After the return is the Antioch Incident (Galatians 2:11-14) and the visit of rival teachers to Paul's churches in Galatia. Galatians was written after these events, either in A. D. 48 or 49, just prior to the meeting with the apostles in Acts 15. As deSilva says, "This is admittedly a tight schedule" (61) and it requires the book of Acts to be taken seriously as history. Those who reject Acts as accurate history may struggle to accept deSilva's argument for an early date for Galatians, but it is compelling.
The introduction to the commentary includes a lengthy section on the rhetoric of letter writing in antiquity and Galatians as "persuasive communication" (61-106). DeSilva has contributed two commentaries which focused on rhetoric (Perseverance in Gratitude: A Socio-Rhetorical Commentary on the Epistle to the Hebrews, [Eerdmans, 2000] and Seeing Things John's Way: The Rhetoric of the Book of Revelation, WJKP, 2009). In this section of the introduction he traces Paul's argument through the letter.
The body of the commentary follows the pattern of the recent NICNT volumes. Each section begins a short orientation and translation of the text with numerous notes on textual variations and translation issues. The commentary moves from phrase to phrase with technical details and Greek grammatical comments in the footnotes. When Greek words appear in the main body of the commentary they are transliterated so readings without Greek training will be able to follow the argument. It is important to observe this is not a Greek text commentary so there are fewer notes dealing with syntactical issues than in Eerdmans's New International Greek Text Commentary. Most interaction with scholarship primarily appears in the footnotes, making for a readable commentary.
There are a number of extremely useful excurses in the body of the commentary. After his commentary on Galatians 1:11-17, deSilva includes a seven-page essay on Paul's encounter with the resurrected Jesus as a "paradigm shift." Before the Damascus Road, Paul would have considered Jesus as a failed messiah and in violation of the Torah (at least according to the Pharisaic interpretation of the Torah). The followers of Jesus declare Jesus as the Righteous One (Acts 3:14; 7:52) and a "prophet like Moses" (Acts 3:22-23, 7:37). If God raised Jesus from the dead, the he declared Jesus was the messianic heir to the throne of David. Paul reacted violently against the movement since the followers of Jesus proclaimed Jesus was indispensable for experiencing God's covenant blessings. After seeing the resurrected Jesus, Paul's center of authority shifted from Torah to Jesus (153). Since God was pouring his Spirit out into the Gentiles and reconciling Gentiles to himself, "it no longer made sense to Paul to try and make Jews out of the Gentiles" (156).
Conclusion. Despite his misgivings expressed in the preface, David deSilva's commentary on Galatians is a worthy successor to Fung's 1988 commentary and stands well alongside F. F. Bruce's classic New International Greek Text commentary. Students of Galatians should consider this commentary a standard work on one of Paul's most important letters. Although this is a professional, technical commentary, deSilva's text is very easy to read and will be of use for both pastor and scholar.
NB: Thanks to Eerdmans for kindly providing me with a review copy of this book. This did not influence my thoughts regarding the work.
Myers, Ben. The Apostles' Creed: A Guide to the Ancient Catechism. Lexham Classics; Bellingham, Wash.: Lexham Press, 2018. xvi +147 pp.; Hb. $15.99  Link to Lexham Press
Ben Myers is a research fellow of the Centre for Public and Contextual Theology at Charles Sturt University in Australia and director of the Millis Institute at Christian Heritage College. This short devotional reading of the Apostles' Creed began as a sermon series Leichhardt United Church in Sydney. This brief book on the Apostles' Creed is a very basic introduction to the deep and mysterious depths of the Gospel. As Myers confessions in to final chapter, just as "no one has yet breathed all the air" no mind has yet to grasp the creed in all of its fullness. This guide is a first step for a believer seeking to understand the historic faith of the church.
Myers does not focus attention on the origin in the creed in its present form, he is simply not interested historical details in this book. He begins with Hippolytus's description of a baptism in On the Apostolic Tradition. Before the candidates receive baptism, they are asked if they believe the three sections of the creed. From this Myers suggest the creed was used as a catechism for new believers (p. 4). The creed was memorized and served as the basis for further instruction. But more than an ancient confession of faith, Myers thinks this rule of faith functions as a part of the baptismal declaration of faith, a "threefold immersion into the life of God" (p. 5). The creed was both teaching and a "pledge of allegiance" which provides a framework for Christian thinking and Christian commitment.
Myers moves through the Apostle's Creed in a series of twenty-three short chapters. Some chapters reflect on only a single word (I, Believe and Amen); most discuss a phrase of the creed. Most only treat a few words, the longest combine a few phrases ("He descended into hell; on the third day he rose again from the dead" and "He ascended into heaven and is seated at the right hand of the Father"). Each chapter connects the theology of the creed to the canon of Scripture. Although he does not often set the creed into the context of the Hebrew Bible, the creedal statements do stand on the foundation of the New Testament. The exception to this is the chapter "who was conceived by the Holy Spirit" and "born of the Virgin Mary." Myers (rightly) sees the virgin birth in the light of the series of miraculous births in the Hebrew Bible.
My main criticism of the book is this lack of interest in the roots of the creed in the Hebrew Bible. For example, in the chapter on "Jesus Christ, God's only son, our Lord," Myers focuses on the final two words, "our Lord." This emphasis is important since the earliest Christian confession was "Jesus is Lord" (Romans 10:9, 1 Cor 12:3, Phil 2:5-11). But this chapter overlooks the both Christ as well as the "God's only son." Both of these titles rooted in the Hebrew Bible, Christ is Messiah and "son of God" is a messianic phrase as well (Psalm 2, for example). The same criticism applies to the chapters on "God the Father" and "Almighty." Despite the fact the term is drawn from the Hebrew Bible, there is no reference to the Hebrew Scripture in the chapter. Perhaps this is simply a result of Myers looking forward from the creed to the history of the church rather than back to the sources for each line. In fact, grounding each line of the creed to the Hebrew Bible would make an interesting companion volume to this book.
Myers also connects these creedal statements to church writers who comment on the theological importance of each line. He often cites Augustine, Irenaeus, Origen and Gregory of Nyssa (along with Karl Barth and Jorge Luis Borges once each). The historical reception of the creedal statements demonstrate how the words of the creed continued to resonate with each generation of the church.
This is a small "trim size" book (5×7 inches) and many of the 147 pages full-page illustrations. Since no chapter is more than a few pages long, the book is ideal for devotional reading or used in a small group Bible study. The brevity of the chapters allow for further discussion and contemplation of each phrase of the Apostles' Creed. The book can be read in an afternoon but it is best read slowly, with an open Bible and prayerful, open heart.
This guide to the Apostles' Creed is a theologically rich and historically aware meditation on heart of biblical Christianity.
NB: Thanks to Lexham Press for kindly providing me with a review copy of this book. This did not influence my thoughts regarding the work.
Lee, John A. L. Basics of Greek Accents. Grand Rapids, Mich. Zondervan, 2018. 110 pp. pb; $14.99. Link to Zondervan
Rarely does an introductory grammar devote much attention to Greek accents. For example Croy (Eerdmans 1999) lists five common rules occupying about a half-page. Although other rules exist and should not be ignored, Croy suggests they are best learned as they are encountered. In his extremely popular beginning grammar published by Zondervan, Mounce relegates the rules for accents to the "advanced information" section and only describes the three accents. For the rules, he suggests students consult his arcane Morphology of Biblical Greek. J. W. Wenham's Elements of New Testament Greek (Cambridge, 1965) states accents "are to be completely ignored except on rare occasions (which will be mentioned as they arise)" (23). Someone might argue Greek accents are unimportant sine they do not appear in the earliest manuscripts (this was the opinion of an author who submitted an article to a journal I edit). On the other hand, D. A. Carson attempted to rehabilitate Greek accents in his Greek Accents: A Student Manual (Paternoster, 1981; Baker 1985). With 38 lessons over 167 pages (plus exercises), most students of New Testament Greek will slip into despair before mastering accents. At 472 pages (and $245 retail) it is unlikely anyone outside of a Ph.D. student will track down and read Probert's Ancient Greek Accentuation (Oxford, 2006). Probert did publish a shorter guide (Bristol Classical Press, 2003), a mere 160 pages on ancient Greek accents.
John Lee's new Basics of Greet Accents falls squarely between the view "accents are not all that important" and Carson's manual. Lee is a Senior Research Fellow (honorary) attached to the Ancient History Department at Macquarie University where this little book had its origin. Lee suggestions "true competence in Greek cannot be attained without competence in Greek accents" (7). As someone who works regularly in the Greek New Testament, there is some truth to the statement. Greek simply looks wrong if it is printed without accents, and it is very difficult to pronounce properly unless the student pays attention to how the word is accented.
There are eight lessons in this manual, although the eighth contains advanced information rarely encountered in the New Testament (accenting optative, Epic and lesbian dialects, etc.) The first chapter covers the basic rules found in most basic grammars, Lessons 2, 3 and 5 deal with verbs, nouns and adjectives. Lesson 4 focuses on "function words" (demonstratives, articles, etc.)  Lessons 6 and 7 deal with contractions and enclitics. Each lesson has several examples for class discussion followed by an in-class exercise and a homework assignment. Each section has six lines of unaccented Greek words, the student should employ the rules and provide accents for each word. Later lessons contain a short paragraph. I looked over a few examples, and immediately went looking for the answer key in the back of the book (pages 73-85).
The book concludes with four examples drawn from ancient Greek manuscripts: Homer, Iliad 8.433, 435-47 (first or second century papyri); LXX Isaiah 13:3-8 (sixth century Codex Marchalianus); Romans 14:22-23, 16:25-27 (Michigan Ms. 34, fourteenth century); Demosthenes, On the Crown, 119-120 (an 1807 manuscript). Lee provides a photograph of the manuscript followed by a few paragraph of comments and a transcription. This wide range of dates allows the student to track the development of accents and other diacritical marks. These four illustrations are fascinating although I would have preferred additional examples from New Testament papyri given the target audience of this book. It would also be useful for Zondervan to host high resolution photographs for professors to use in a classroom.
Conclusion. Basics of Greet Accents is a handy guide to accents and is an inexpensive add-on to any first year course in biblical Greek. Most New Testament scholars will find this book a helpful refresher and set of exercise to sharpen Greek skills.
NB: Thanks to Zondervan for kindly providing me with a review copy of this book. This did not influence my thoughts regarding the work.
Cranfield, C. E. B. Romans (Shorter Commentary). Grand Rapids, Mich.: Eerdmans, 2018. 406 pp. Pb; $40.   Link to Eerdmans
Cranfield's 1975 commentary on Romans in the International Critical Commentary series is one of the best exegetical commentaries available at the time. N. T. Wright praised the ICC volume as "the finest work on Romans to appear this century" and F. F. Bruce thought it was "well worthy to take its place alongside the really great commentaries on Romans." But the two-volume commentary was expensive and the dense exegesis of the Greek text made it difficult for many to use.
Eerdmans originally published this abridged single volume in 1985. In the preface of the commentary Cranfield described the commentary as shorter, less detailed and Greekless. In addition, the shorter commentary does not have any footnotes to secondary literature (other commentaries and articles) and very few references to historic interpreters of the book of Romans.
In the body of the commentary Cranfield breaks each verse into phrases, identical to the ICC volume except the phrases are in English. The Shorter Commentary often follows the ICC verbatim with respect to comments on the text. Cranfield uses his own translation of Romans, which is identical to the fifth impression of the first volume and third impression of the second volume of the original ICC commentary.
The original commentary was known for offering a variety of solutions to several of the more troubling exegetical problems in Romans. For example, in Romans 5:12, Cranfield offers six alternatives for understanding the phrase ἐφ' ᾧ πάντες ἥμαρτον, "in whom all sinned." His ICC commentary has more than five pages of discussion including references to ancient commentaries and one quotation in German. The shorter commentary covers the same six possibilities with only one reference to Augustine in passing and no citations of any secondary sources.
It is fair to question the relevance of a commentary on Romans published in 1985, based on a commentary published in 1975. The commentary reflects the state of Pauline studies before E. P. Sanders and the ongoing debate over the so-called New Perspective on Paul. In fact, there is nothing new about Cranfield's perspective on Paul. Both his ICC volume and this shorter commentary are excellent examples of the best exegesis behind the traditional view of Paul.
But as with other volumes in the Eerdmans Classic Biblical Commentaries series, this Shorter Commentary on Romans is worthy of staying in print. Cranfield's commentary is an example of a master exegete who seeks to shed light on the text of Romans so those who are preaching and teaching the book can better communicate God's word. For a busy pastor, Cranfield's ICC volume might be difficult to use and priced out of their range, but this single volume commentary distills the larger commentary and will be of value to anyone working in Romans.
It is good Eerdmans recognizes the value of older commentaries. As the series preface observes, these commentaries have been used by pastors, teachers, seminary students, and are cited literary thousands of times by later works.
NB: Thanks to Eerdmans for kindly providing me with a review copy of this book. This did not influence my thoughts regarding the work.
Osborne, Grant R.  Ephesians: Verse by Verse. Osborne New Testament Commentaries; Bellingham, Wash.: Lexham Press, 2017. 267 pp.; Pb.  $19.99  Link to Lexham Press
Osborne, Grant R.  Philippians: Verse by Verse. Osborne New Testament Commentaries; Bellingham, Wash.: Lexham Press, 2017. 243 pp.; Pb.  $19.99  Link to Lexham Press
Osborne, Grant R.  Colossians and Philemon: Verse by Verse. Osborne New Testament Commentaries; Bellingham, Wash.: Lexham Press, 2017. 222 pp.; Pb.  $16.99  Link to Lexham Press
These three new commentaries on Paul's Prison Epistles from Lexham Press target a general readership rather than a scholarly audience. Like the popular The Tyndale Commentary Series, these three volumes are brief yet scholarly, targeting a wide range of readers.
As Osborne says in his preface, the commentaries in the series should be used for devotional Scripture reading. Since the commentaries are based on the NIV translation a reader can use this commentary as a supplement to their daily Bible reading. A second related goal is for these commentaries to be used in Church Bible studies, perhaps in a small group or Sunday school context. But pastors and teachers will find the commentaries useful as they prepare sermons on the text of the Bible. Osborne says he wants "to help pastors faithfully exposit the text in a sermon." Osborne attempts to balance a deep reading of the text with a practical application for the Bible student.
Commentaries on these four books often begin with a discussion of authorship. Scholarship has questioned whether Paul wrote Ephesians and occasionally Colossians. Osborne briefly summarizes these challenges in his introductions and concludes there is no reason to reject the claim of each book that Paul is the author. The theological themes of Ephesians are consistent with Paul's other letters and there is really no problem with parallels between Ephesians and Colossians, especially if they were written about the same time.
Since Paul implies he is in prison in each of these four letters, the second issue commentaries on the Prison Epistles usually treat is "from which of Paul's many imprisonments did he write these letters?" In the Ephesian commentary Osborne evaluates the two main alternatives, Caesarea (Acts 24:27, A.D. 59-60) and Rome (Acts 28:30-31, AD 61-62) and concludes the Roman imprisonment is better, primarily because there is little evidence of ministry while Paul is in Caesarea. He does not engage with the suggestion Paul wrote Philippians from an implied imprisonment during his lengthy stay in Ephesus. Osborne suggests all four Prison epistles were written over a three or four month period and delivered by Tychicus.
Each commentary suggests a few primary purposes for the letters. Ephesians was a circular letter to all the churches in the Roman province of Asia, likely including the seven churches mentioned in Revelation 2-3, Colossae and Hierapolis. As such, Ephesians is a general letter dealing with doctrine and practice with very little "Jew-Gentile tensions" which appear in Paul's other letters. Philippians thanks the church for supporting Paul while he is in prison. Paul informs them of his situation in order to encourage them, but he also addresses some theological issues perhaps in response to an opponent in Philippi. Writing to a church Paul did not found, Colossians deals with a particular teaching threatening the church. Philemon's purpose is clear: Paul writes a letter of recommendation for an escaped slave who has now become a Christian.
For Philippians and Colossians Paul engages an opponent, or perhaps as many as three opponents. In Philippians 1:18 Paul mentions those who "preach the gospel out of impure motives," rival teachers from within the church. In Philippians 3:2 Paul surprises the reader with a warning to watch out for "those dogs, mutilators of the flesh." Osborne suggests the opponents are similar to (or even the same as) the opponents in Galatia, the Judaizers (Philippians, 118). But there are also hints of a third group, pagan persecutors of the church (1:27-30).
For Colossians, commentaries usually devote significant space to the "Colossian Heresy." This opponent is in some aspects Jewish (2: 16, 18 21; food laws and festivals), but in other ways they are Gentile, described as a philosophy (Col 2:4, 8) For Osborne, this is a "proto-Gnostic" teaching which devalued Christ (and perhaps over-valued angels).
Osborne also deals briefly with the literary features of the letters. It is currently fashionable to read Paul's letters in the light of Greco-Roman rhetoric. Osborne recognizes some value in studying these features, but for Ephesians he concludes "this is not Hellenistic rhetoric, but a Jewish homily and letter" (Ephesians, 7). For Philippians, he discusses the genre of the letter (friendship letter, word of exhortation) as well as the common suggestion Philippians is a compilation of several short letters from Paul. The multiple-source theories are "artificial and unnecessary" (Philippians, 3).
For Philemon, commentaries often are bogged down with long background sections on slavery in the Roman word. Osborne's entire section on Philemon is barely forty pages and only touches on this cultural background. He does engage in a discussion of four potential reconstructions of the situation behind the letter before offering his own view (which he works out in the short commentary).
Finally, each introduction concludes with a short summary of the theology of the book. Although there are some unique elements in each letter, Osborne observes the work of Christ in each of these four letters as well as what each letter contributes to our understanding of the church in Pauline theology. Reading these three volumes at the same time highlights the consistency of the theology of the Prison Epistles.
The body of each commentary moves through paragraphs based on the outline provided in his introductions. Occasionally Osborne will refer to a Greek word, but these only appear in transliteration and do not distract readers who have not studied Greek. Footnotes are rare in the commentary, occasionally pointing to another scholar for additional information or to a series of cross-references. The commentary concludes with a glossary of key terms (indicated by bold lettering in the text), a short bibliography, Subject/Author index and a Scripture index.
Conclusion. Like Osborne's commentaries on Galatians and Romans in this series, these three volumes achieve the goal of providing ample resources for reading the text. Osborne intentionally writes to be understood by the layperson as well as to assist a busy pastor preparing to preach or teach the Prison Epistles. There are more technical exegetical commentaries available, but Osborne's commentaries fill the need for a short, readable commentary accessible by all students of the Bible.
NB: Thanks to Lexham Press for kindly providing me with a review copy of this book. This did not influence my thoughts regarding the work.
Osborne, Grant R.  Romans: Verse by Verse. Osborne New Testament Commentaries; Bellingham, Wash.: Lexham Press, 2017. 542 pp.; Pb.  $26.99  Link to Lexham Press
Grant Osborne is perhaps best known for his The Hermeneutical Spiral, a standard textbook for a generation of pastors and teachers. He serves as the series editor for the IVP New Testament Commentary and contributed the Romans commentary for that series (2004). This is the first volume of a series of New Testament commentaries written by Osborne and published by Lexham Press in both print and Logos Library editions. As of December 2017, six of the commentaries have been published.
In the series preface, Osborne describes three goals for his commentaries. First, they may be used for devotional Scripture reading. Since the commentaries are based on the NIV translation a reader can use this commentary as a supplement to their daily Bible reading. Second, these commentaries may be used in Church Bible studies, perhaps in a small group or Sunday school context. Third, these commentaries will serve as aids for pastors and teachers as they prepare sermons on the text of the Bible. Osborne says he wants "to help pastors faithfully exposit the text in a sermon." As he writes these commentaries, Osborne draws on his own experience as a pastor and interim pastor. He goal is academic respectable but intended for the layperson. Osborne attempts to balance a deep reading of the text with a practical application for the Bible student.
In the seventeen-page introduction Osborne argues for a more or less tradition view of the date and origin of the book of Romans. Paul wrote the book about A.D. 57 from Corinth just before he returned to Jerusalem to deliver the collection. The Roman church was founded by Jews returning home after Pentecost, but most of these leaders were expelled in A.D. 49 by Claudius. When they returned in A.D. 54, they found the churches were now predominantly Gentile. Osborne sees the issues in Romans 14:1-15:13 as real tensions between Jewish and Gentile believers in the Roman churches. The main purpose of Romans is preparation for a new phase of Paul's ministry in the western half of the Empire. A second reason for writing the letter was to gain prayer support for the delivery of the collection (15:31). But the third reason Osborne offers for the writing of Romans may be more dominant: Paul wants to bring unity to a church in conflict.
Osborne includes a short theology of Romans, briefly discussing what the letter says about God, Christ, and the Holy Spirit. The election of the believer and the Christian walk. With respect to the election of the believer, Osborne refers to Romans 9-11, but refers readers to his exposition of 8:28 and the end of Romans 10 to allow "readers to decide for themselves" (17). In the commentary on Romans 8:28 he briefly compares Calvin and Arminius on the definition of foreknowledge and predestination, concluding that he find the Arminian view "more faithful to all the biblical data." In his comments on Romans 10 Osborne does not engage with Calvinist or Arminian theology, preferring to let Scripture speak for itself. He says "salvation is available for 'anyone' who is willing to believe" (318).
The body of the commentary covers paragraphs of Romans in each chapter. For example, Romans 6:1-14 is a sixteen pages chapter. 6:15-23 is a ten-page chapter. The commentary chapter is then divided into units covering each verse in the section. Occasionally Osborne will refer to a Greek word, but these only appear in transliteration and do not distract readers who have not studied Greek. Occasionally he corrects the NIV (for example, pages 113 and 361, gar is not translated in the NIV). Footnotes are rare in the commentary, occasionally pointing to another scholar for additional information or to a series of cross-references. The commentary concludes with a glossary of key terms (indicated by bold in the text), a short bibliography, Subject/Author index and a Scripture index.
Osborne excels in summarizing important theological points which arise in the text and gently suggesting his own view. For example, a classic problem for interpreters of Romans is the phrase "in whom all sinned" in Romans 5:12. He offers five options, three of which are viable options. He suggests mediate imputation (the Arminian view) is the best understanding of Paul's phrase. With respect to the "I" in Romans 7, Osborne offers four options before suggesting it is best to see "Paul as using himself as an example of all humanity" (200). Commenting on Israel's national future in 11:25-36, Osborne he makes three clear points which offer the reader an overview of this controversial topic.
One major difference between this commentary and his 2004 IVP commentary is the complete lack of reference to the work of other scholars. There are several places in this commentary which are identical to Osborne's 2004 commentary (the first paragraph of the introduction to each book for example). His comments on Romans 16:18 are virtually identical as well. Often the general text is the same, but in-text citations have been removed. For example, commenting on Romans 11:25, page 205 of the 2004 IVP Commentary has "The in part could modify Israel (so Barrett 1957; Käsemann 1980; Morris 1988), page 362 of this 2017 commentary has "The 'in part' could modify 'Israel'" with no reference to Barrett, Käsemann or Morris. The Lexham commentary does not indicate it is a revision of the IVP commentary, but in many case it is a lightly edited version of the 2004 commentary. This may not detract from the value of the commentary, since Osborne has in fact re-written most of the commentary to fit the style of the new series.
Osborne's Romans commentary is available in print or in the Logos library. The Logos version of the book utilizes all of the features of the Logos Bible Software and is available on every version of the software. Users can float over cross-references to read the text; footnotes function similarly. Clicking a reference will take you to that Scripture in your preferred translation. The electronic version is tagged with real page numbers so the commentary can be cited in the same way as the real book.
Conclusion. Osborne has succeeded (again) in his goal of providing a scholarly yet readable commentary on the important book of Romans. The commentary is irenic, never passionately arguing for an Arminian position or violently rejecting the Calvinist view.
NB: Thanks to Lexham Press for kindly providing me with a review copy of this book. This did not influence my thoughts regarding the work.
The background to the Pastoral epistles is a matter of some speculation. The letters to Timothy and Titus are collectively called the "pastoral epistles" and are usually described as "letters to young pastors" on topics of church organization. This common way of describing these letters misses the obvious fact that by this point neither Timothy nor Titus could be called "young," nor are they ever really described as pastors in the letters. Both men are described as personal representatives of Paul and both men are given the task of dealing with some sort of theological deviation from Paul's gospel which likely includes some practical, moral failure on the part of elders and deacons in Ephesus (and potentially Crete). First Timothy is less of a manual that could be subtitled "how to be a pastor" than directions to Timothy on how to deal with a serious problem plaguing Paul's churches in Ephesus.
This is how I would reconstruct the situation behind First Timothy.  I am more interested in placing these letters into Paul's career at this point that describing the "opponents" who are implied by the letter. After teaching through the material over a few months, I will return to the difficult problem of the opponents.
Paul spent about three years in Ephesus (Acts 19). During this time he would have established churches in the city and trained others who planted still more churches. Colossians is evidence that at least one other city near Ephesus was evangelized by a Pauline disciple. Revelation 2-3 mentions 6 churches in addition to Ephesus which may have been established as a result of Paul's three years of ministry in Ephesus.
While it is impossible to know how large the church was in Ephesus when Paul left, we do know from Acts that enough people had joined the Christians that they were an economic threat to the silversmiths who made small models of Artemis (Acts 19).
In Acts 20, Paul's final words to the Ephesian elders predicts that there will be some among the Christians who fall away from sound doctrine and practice. The connection between Acts 20 and the pastorals has led scholars such as C. F. D. Moule to suggest that Luke himself is the author of the letters. Luke intended them as an epistolary conclusion to his Luke/Acts. For a review of this argument, see Hagner, The New Testament (Grand Rapids, Mich.: Baker, 2012), 623.
Paul traveled to Jerusalem where he is arrested at held under house arrest in Caesarea for two years. He is then transferred to Rome after appealing to Caesar. He is in Rome under house arrest for two years. This is where the book of Acts ends. In all, Paul is away from Ephesus for at least five years before he wrote First Timothy, perhaps two or three years more than that.
Paul is released from prison after Acts 28 and continues his ministry, likely into Spain but perhaps visiting churches he established in the earlier parts of his ministry. Somehow he learns that his fears for the Ephesian churches have come true and some elders / leaders have moved away from Paul's teaching and practice. The nature of the problems in the Ephesian churches may be a division between "Pauline congregations" and Jewish-Christian congregations.
Timothy was sent to Ephesus to encourage the congregations to "guard the deposit" which had been given to the churches. As Bill Mounce points out, Timothy was not a pastor, or elder, or bishop in these Ephesian churches. He was "an itinerant apostolic 'delegate.'" (The Pastoral Epistles, lviii; citing Jeremias). Timothy has already been sent to difficult situations as Paul's personal representative, he was sent to both Thessalonica (Acts 17) and Corinth to continue Paul's work.
Keown, Mark J. Philippians 1:1-2:18. Bellingham, Wash.: Lexham Press, 2017. 533 pp.; Hb.; $39.99. Link to Lexham Press
Keown, Mark J. Philippians 2:19-4:23. Bellingham, Wash.: Lexham Press, 2017. 569 pp.; Hb.; $39.99. Link to Lexham Press
Mark Keown's contribution on Philippians in the Evangelical Exegetical Commentary (EEC) is one of the most detailed commentaries published on this Pauline Letter. This two-volume exegetical commentary can take its place alongside recent major Philippians commentaries by Fee (NICNT, 1995), O'Brien (NIGTC, 1991) or Hawthorne and Martin, (WBC, revised edition, 2004). Keown's revised dissertation was published as Congregational Evangelism in Philippians: The Centrality of an Appeal for Gospel Proclamation to the Fabric of Philippians (Paternoster Biblical Monographs; Cascade, Ore.: Wipf & Stock, 2009). He is a frequent presenter at SBL and has published several articles on aspects of Philippians.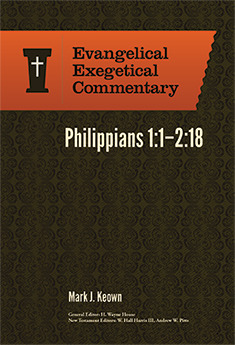 The 92-page introduction to the commentary more or less assumes Pauline authorship and settles on a Roman provenance (33) after weighing the various alternate suggestions. He examines various suggestions Philippians is a compilation of several shorter letters ("interpreting Philippians does not require a multi-letter hypothesis," 22). He suggests a range of dates from 61-64, but favors the later end of that range (33).
In his reconstruction of the background of the letter, Keown traces the history of the Roman church. Although it was primarily a Jewish Christian movement, after the edict of Claudius in A.D, 49 it was increasingly a Gentile church. This created friction as Jewish Christians returned to Rome after the death of Claudius. Keown suggests there was already some anti-Paulinism in the Roman church before Paul wrote Romans in A.D. 56. By the time Paul arrived in A.D. 60, there already was opposition to Paul from local Jewish Christian congregations.
He also argues the conditions of Paul's imprisonment have taken a turn for the worse because of conditions in Rome (ie. "Nero's lunacy, p. 14) in the early A.D. 60s. He is no longer under house arrest, but "in chains" and his life is in danger. As Keown acknowledges, this older view is so out of favor it rarely appears in a commentary on Philippians, but he argues the idea has merit (6). Despite worsening conditions, Paul is still zealously preaching the gospel, although his imprisonment has caused him to put off going to Spain. Instead, his intention is to return to Philippi when he is permitted to leave Rome. Keown wants this decision to affect the interpretation of the book, in contrast to Stephen Fowl (for example) who said it made little difference whether the Philippians was written from Ephesus or Rome. That Paul was writing from a Roman imprisonment will heighten the contrast between the Roman Empire and the heavenly politeuma (33, note 121).
This leads Keown to suggest Paul may have intended to escape from his Roman imprisonment and travel to Philippi. This material is synthesized from Keown's 2015 article in the Journal for the Study Paul and his Letters. The letter of Philippians clearly indicates Paul was in prison and planned to visit Philippi soon. At least according to church tradition Paul did leave Rome and continued to do some ministry (depending on the status of the Pastoral Epistles). Yet there is nothing to explain how he was released from prison. Keown briefly surveys many of the possible solutions to Paul's confidence he will leave Rome and concludes a prison escape answers all of the potential problems (12). Paul claims to have friends in the Praetorian Guard (1:13) who could help him escape. The obvious objection to this interesting reconstruction is Paul's desire to bear witness before Caesar (Acts 23:11) as well as his willingness to suffer for the sake of Christ (2 Cor 11:16-33). Yet even while boasting about his suffering, Paul does claim to have escaped from Damascus when persued by Aretas IV (2 Cor 11:33). Although Keown does not mention it, Paul avoids persecution a number of times in Acts (at Thessalonica and Ephesus for example). Although not exactly prison escapes, they do indicate Paul was willing to relocate in order to continue preaching the gospel, or at the very least Paul cannot be considered as seeking martyrdom.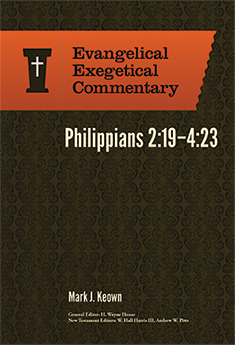 Perhaps the most useful feature of the introduction for most readers will be the lengthy introduction to the city and culture of Philippi. As Keown points out, Philippi was founded as a kind of mini-Rome," and this observation opens up several important interpretive possibilities.  After a sketch of the history of the city, Keown offers a commentary-worthy discussion of Acts 16 and the charges against Paul and Silas. He argues the letter of Philippians reflects a clash between Caesar and Christ, especially in the Christ Hymn (Phil 2:5-11). Because Philippi was so Roman in outlook, it is natural to see some of Paul's presentation as "anti-imperial." Keown says the letter is "utterly subversive and countercultural," although he stops short of some of the more radical anti-imperial readings of the letter (44).
The last long section of the introduction is an account of the church itself. For Keown, the Philippian church is predominantly Gentile including a number of prominent women (Lydia, for example). Paul has a positive relationship with the church and there is little which needs to be corrected as in Corinth, although there are some problems with divisions (4:2-3). The church is facing some opposition, which Keown describes as "twin challenges" (56) from Jerusalem (Judiazers) and Rome (Greco-Roman libertines). The final part of this description of the church is excellent fodder for a pastor preparing to preach this letter.
After the introduction, the body of the commentary is laid out in large sections divided into logical sub-sections as outlined in the introduction. Each section of commentary begins with an introduction discussing the context of the section as well as literary features. Following this introduction Keown offers his own translation of the text along with extensive textual critical notes.
The commentary itself proceeds phrase-by-phrase. Keown provides the Greek text followed by his translation. He comments extensively on Greek syntactical and lexical issues, occasionally comparing various translations in order to indicate the importance of the grammatical decisions. Since this is an exegetical commentary on the Greek text of Philippians, Greek words appear frequently and are not transliterated. Major commentaries are cited in-text, technical monographs and articles appear in the footnotes. Keown interacts with all major Philippians commentaries (Fee, O'Brien, for example), including many classic works (Lightfoot, Vincent, for example).
Following the exegetical section Keown makes a brief conclusion and offers a short section entitled "Biblical Theological Comments." Here he tries to connect the pericope to the larger world of Pauline theology. For example, after the exegetical section on Philippians 3:1-21, Keown discusses the impact of Paul's conversion on his theology, especially his view on what "Israel" means after his encounter with Christ as well as the role of the law. Paul's "fresh perspective on the law" is not antinomian, but rather "agapenomian, hypernomian, pneumanomian or kardianomian" (2:183). The four neologisms do indeed express how Paul sees the law in the present age (even if they are unlikely to catch on).
Each exegetical section ends with a short thought entitled "application and devotional implications." An exegetical commentary may draw theological implications, but not many technical commentaries like this one allow the author's pastoral heart to come forward and offer such exhortations.
Each volume includes a Scripture index, and volume two includes a brief glossary of foreign words and technical terms. The second volume also includes an extensive, 42-page bibliography divided into technical monographs, articles and essays, and other non-Philippians works cited in the commentary. For the commentaries, the bibliography follows the introduction in volume 1 (pages 83-92). There is no index of authors cited in either volume.
In the printed version of this commentary there were a few typographical oddities. In volume 2, starting on page 187 the header does not include the chapter/verse, although it does in the previous and following sections (it simply reads "Philippians" through page 290).  However, this does not distract from the content of the commentary.
Since Lexham Press is part of the larger Faithlife family, these volumes are available in Logos Bible Software as a single resource rather than two volumes. In the Logos resource, all Scripture is tagged so readers can float over the reference with their pointer and read the text or click to read the text in their preferred Bible. All abbreviations and references to other commentaries are similarly tagged; if you own the book you can click the pages to go directly to the resource. An additional advantage for the Logos version over the printed version is the ability to click on Greek words to launch your preferred lexicon. I happen to have BDAG in my library, so clicking a Greek work in the commentary takes me to the lexicon. Resources in the footnotes can be copied and pasted into a word processor, or in BibTex format for use in bibliography software. Finally, references to other section of the commentary are hyperlinked. For example, when Keown refers back to his thematic and structural analysis (page 492, for example), the Logos user can click the hyperlink and go directly to page 80 to read this section.
One potential problem is a discrepancy between the Logos resource (published 2016) and the printed book (published 2017). Since an electronic book can be updated frequently, it is possible a printed copy will be out of date. To date there are eleven commentaries in the Evangelical Exegetical Commentary available to Logos users, with a total of forty-four volumes planned.
NB: Thanks to Lexham Press for kindly providing me with a review copy of this book, both in print and Logos format. This did not influence my thoughts regarding the work.
In order to be a living sacrifice, the believer must completely change the way they think about everything. There are two parts to this change of thinking.
First, Paul says the believer is to "not be conformed" to the image of this world. The verb συσχηματίζω refers to being molded into another form, or guided by something else (BDAG). This is a compound word with σχῆμα "The term σχῆμα denotes the outward structure or form that may be known by the senses" (TDNT 7:954-58).
The "pattern of this world" is the way a culture thinks, the Greco-Roman worldview. This would include how a Gentile thinks about the gods, how daily life is regulated by placate the gods, relying on magic or divination when making decisions, etc. The average Roman would think about the Roman empire and the claims made by the emperor quite differently than a Christian view of empires based on the Hebrew Bible. The pursuit of honor in the Roman culture effects how and why a person decides to act in any given situation.
Second, the believer must be "transformed by the renewal of our minds." The verb μεταμορφόω refer to both outward physical changes (such as the transfiguration, Matthew 17:2) and inward spiritual changes (BDAG). It is used of the change of the physical body in glory (2 Corinthians 3:18). In Romans 12:2 the word refers to an inward spiritual change of the believer by the power of the Spirit. The verb is a passive imperative, suggesting that it is God who does the actual transforming of our minds so that we begin to think differently (Kruse, Romans, 464).
The key to this metamorphosis is the "renewing" of our minds. Paul may have coined the word ἀνακαίνωσις, both the noun and the verb (2 Cor 4:16; Col 3:10) do not appear outside of Christian literature (Jewett, Romans, 733). The word combines the more common καινόω, "to make new" with ἀνα to form a word which means to make something new again, to return it to a pristine state prior to it becoming "unnew." In Ephesians 4:21-24 Paul describes this process as putting off the old man and putting on the new (Cf. Col 3).
Paul argued in Romans 1 that Gentiles are futile in their thinking and ignorant of the way things really are. But the one who is in Christ has been enlightened, renewed so that they can "think about how they think," renewing their minds in Christ Jesus.
For example, they would have fully accepted gods had some control over their life, they may have made sacrifices or performed rituals to ensure good luck on a journey, they may have believed people could curse them, or even purchased magical amulets to protect themselves from such curses.
Paul is describing a change in the way we think about everything in life! For example: this new way of thinking includes how people relate to one another. Instead of trying to use people to get ahead in the pursuit of honor and shame, people ought to serve one another in sincerity of love. Instead of seeking revenge, we ought to pray for our enemies.
Paul says that Peter's actions are nothing less that hypocrisy. Peter has changed his attitude and behavior toward Gentile Christians after the visit from the "men from James." The first verb (ὑποστέλλω) is a military term and has the sense of retreating to an "inconspicuous position" (Witherington, Galatians, 154). In Acts 20:27 Paul uses the verb to describe what he did not do – he did not "shrink back" from preaching the gospel in Ephesus in the face of persecution. The second verb (ἀφορίζω) has the separating into groups (the sheep and the goats in Matt 25:32, for example). Witherington takes this to mean that the word has a sense of ritual purity, and I might add it has an eschatological sense. At the end of the age, the Lord will separate those who will enter the kingdom from those who will not. If we are right that the political and religious situation in Judea was becoming increasingly apocalyptic, it is possible that these "men from James" were encouraging a separation of the Jews and the Gentiles in anticipation of a coming judgment.
The reason for Peter's withdrawal from table fellowship is fear from the circumcision party, those Jews who insisted on circumcising Gentiles. There is at least the possibility (based on Galatians 6:12) that some Jews, such as the Zealots, were willing to use force to ensure Jewish traditions were being observed. If this is the case, then perhaps Peter's fear is a real fear of persecution by the more zealous wing of the Jerusalem church.  This is not a case of "the pastor is coming over, quick hide the beer bottles"! Peter and Barnabas may have withdrawn from fellowship to avoid a potentially violent reprisal from the "zealots" within Jewish Christianity.
Peter's actions therefore are out of character and not in line with his beliefs nor the agreement which he reached with Paul in Galatians 2:1-10. Paul thinks Peter and Barnabas have "shrunk back" out of fear and are in need of correction. While Peter is a hypocrite, Paul describes Barnabas as "led astray." The verb συναπάγω has the sense of "carried away,' he was fooled by the rhetoric of the "men from James."
Witherington suggests that Barnabas found himself in a bad place because he was originally sent to Antioch by Jerusalem, he could not go against the "orders" of the church who sent him to Antioch in the first place (Galatians, 157). His loyalty was to Jerusalem, the group with which he was associated from the earliest days (Acts 4), rather than to Paul and the Gentile mission. The Gentile mission is not Barnabas' commission, it is Paul's. All of the Jews in the Antioch church join with Peter and Barnabas in withdrawing from fellowship with the Gentile believers. This indicates that there is a church-wide split caused by the "men from James."
Paul publically confronted Peter because his "conduct was not in line with the truth." This confrontation was "before them all," which may mean that Paul waited until the church assembled. Parallel to the private meeting in Jerusalem, Paul chose to bring this issue to the whole assembly. The accusation against Peter that he is not living in accordance to what he knows is the truth, the agreement of Gal 2:1-10, for example. The agitators in the Galatian church, on the other hand, were described with military terms. They are spies and agitators who are outside of the truth of the gospel to begin with. Peter knows the truth and is not acting in accordance with it, the agitators do not even know the gospel.
Paul's point is that if Peter and the Jewish Christians withdraw from the Gentile Christians, then there is no unity in the body of Christ. As Paul will point out later in the later, there is no Jew or Greek in the Body of Christ, we are all members together "in Christ." To separate into two bodies, a Jewish and a Gentile one, totally misses the point of a "joint-body" as Paul describes in Ephesians 2.
What is at stake here is the nature of the Gospel. If Paul loses this argument, then Gentiles will continue to be "second class believers" in the eyes of some conservative Jewish believers.
Although the issues are different, how does contemporary churches create boundaries which push some types of Christians out of fellowship, or consider them as second-class Christians? Perhaps some of the boundaries are important (the men from James thought circumcision was critical to being a follower of Jesus), but others may not be. How can we disagree on the boundaries without compromising the unity of the Body of Christ?