You are currently browsing the tag archive for the 'Paul' tag.
"So then" (Ἄρα οὖν) is a common Pauline way of drawing a logical conclusion to a section. Since his readers have been chosen by God as the first to share in the Gospel, they will be glorified at the time of Christ's return (2:14). If this is true, then they ought to respond to this reality in the following two ways:
First, the Thessalonians are to "stand firm" (στήκω). This verb has the sense of being firmly committed to something (BDAG). This stands in contrast to Paul's description of the church at the beginning of this chapter: they were unsettled and alarmed by a report that then Day of the Lord already come. Rather than be shaken by the teaching which contradicted what Paul had taught them, they ought to stand firm in what they know to be the truth.
Second, the readers are told to "hold on" (κρατέω) to the traditions Paul has passed along to them when he was with them or by his earlier letter. Once again, this is necessary since it is possible the disturbing report came to the church from a letter claiming to be in Paul's name. In 1 Thessalonians Paul was very clear his appeal to the church was not motivated by greed nor was he using rhetoric to fool them into believing something which was not true.
It is very important to notice here that Paul says he passed along traditions (τὰς παραδόσεις). This implies there was a body of teaching Paul could "hand down" to his churches, some of which Paul says he had received from those who were before him. This includes teachings about the Lord's Supper (1 Cor 11:23) and the resurrection (1 Cor 15:3-5). Although there are some things Paul says he received from the Lord directly (1 Thess 4:15), others are part of a growing doctrinal and ethical tradition Paul delivers to his churches and expects them to hand down to the next generation of believers.
Third, Paul tells the Thessalonians to be encouraged and strengthened in both deed and word (2:16-17). This benediction is something of a conclusion to the first part of the letter. The benediction in 2:16-17 is a prayer to the Lord himself to give the readers strength to hold on to Paul's teaching. There are two parts to Paul's wish for the church. First, "Encourage your heart…" This is an inward action, although "encourage" might be a bit soft. In 3:12, Paul uses the same verb to strengthen a command (translated "we urge.") What is in mind is the Lord prodding and urging the heart to keep the command to hold tight to the teachings Paul gave them.
Second, Paul prays that the Lord would strengthen his readers. This is an external action, an enablement to do the action commanded. Even if the Lord nudges you to do the right thing, it is still possible for you to ignore that urging. The point of this part of the prayer is to actually follow through and do what must be done.
The encouraging and strengthening is to be done "in deed and word." There is a relationship here "between inward encouragement and outward behavior." (Wanamaker, 1-2 Thessalonians, 272). Paul does not want his congregation to say one thing and do another.
This section of 2 Thessalonians has some very real application to the modern church. There are occasionally strange teachings which do not conform to the "traditions handed down" and cause some in the church to be unsettled or alarmed. The recent weirdness about the solar eclipse is a case in point. Even a few reasonable people I know were seriously considering this as a "sign of the end." (Short answer: it was not a sign of the end). Sometimes a popular writer will publish a book with a new or radical reading of Scripture, the church ought to evaluate it in the light of the "traditions handed down." But from a contemporary perspective, what are those traditions? Is this just Scripture? The Nicene Creed? Do denominational commitments matter? How does the church strengthen itself so that it can stand firm and hold fast to the "traditions handed down" yet still respond to a culture where traditions like this are meaningless?
The situation in Thessalonica has changed since Paul wrote his first letter to the church. In fact, the second letter is so different from the first that some scholars suggest it was actually the first letter Paul wrote to the church and the order was reversed as the early church gathered the Pauline letters into a collection. It is true the whole collection is not chronological, and the general order of the letters is from longest (Romans) to the shortest (Philemon). So it is possible the smaller 2 Thessalonians was placed after the first letter simply because it was shorter. In the absence of evidence, this reversal of the letters is too speculative, and it really does not take into account 1 Thessalonians fits well into the context of Acts.
As for the situation of the letter, the consensus view is that the church received a letter claiming to come from Paul has circulated to the church. This letter claimed the "Day of the Lord" has already occurred. Paul writes to calm their fears and to assure then that the Day of the Lord has not yet arrived since the "Man of Lawlessness" has not been revealed.
But there is more in the background than a false letter claiming the "end times" have begun. It is possible the persecution the church faced has caused some in the congregation to wonder if they are suffering because they have sinned (and are being punished) or perhaps have believed the wrong things about Jesus. Much of the Greco-Roman world was motivated by pursuit of honor and avoiding shame. The suffering the church is facing appears to be "shame" rather than an "honor." Paul taught them Jesus would return soon and render judgment, yet he has not returned to rescue the Thessalonians from their troubles.
Why does Paul write 2 Thessalonians?
First, Paul writes this second letter to clarify that Christians might suffer before the return of the Lord. First, suffering cannot be taken as an indication that the Great Tribulation has begun because God has an appointed time when the restraining power of God is removed from the world, permitting the Lawless One to be revealed.
Second, suffering should not be taken as an indication of divine disfavor. Nor should the Christian think they are dishonored because they are being persecuted. This sort of suffering is the lot of the Christian and the endurance the church has already demonstrated is a worthy testimony of the Lord's work in their church and is a source of boasting for Paul. Paul is pleased that they are steadfast as they endure persecution (1:4).
Third, the source of the suffering which the church is experiencing is not God, but rather Satan. God is not punishing them at all. Since they are a successful, growing church, Satan is attempting to distract them from their calling as a church. They are engaged in serious spiritual warfare, so they ought to "stand firm and hold fast to the teachings" Paul had already passed on to them (2:15).
Fourth, the central problem in 2 Thessalonians is the false report about the return of Christ (2:1-12). Paul first must remind the Thessalonians of what he has already taught them, that the Lord will not return until "the man of lawlessness" is revealed, and this person cannot be revealed until "the restraining force" is taken out of the way. The identity of the Restrainer is one of the more difficult issues in Pauline studies (here are a few comments on what Paul might be talking about). Setting aside the precise identity of the Restrainer, Paul main encouragement to the Thessalonican church is that they need to be afraid they have entered into the "last days" and ought to encourage one another and be "strengthened in every good deed and word" (2:16)
The verbs translated "ask" and "urge" (ἐρωτάω and παρακαλέω) in 1 Thessalonians 4:1-2 are commonly used to encourage a reader to a particular action.  They appear in personal letters between people of the same social status rather than a "superior" giving orders to his underlings. Paul's view that the church is a family and that he is a "brother" within that family is implied by the use of these verbs (Green, Letters to the Thessalonians, 183).  Potentially Paul could have "pulled rank" and told the church what needs to change – but he offers these commands a social equal.
But Paul includes a prepositional phrase, he asks them "in the Lord Jesus."  The commands in this section are not from Paul, but rather from the true authority, Jesus.  Verse 8 will make this point again, if you reject this command you are rejecting the Holy Spirit!
"To please" can mean simply to make another happy, proud, etc.  But the word was used for citizens who had performed some civic duty and had "pleased" the government enough to inscribe their names on monuments. This is the nuance of meaning which would have been familiar to the original audience: live in a way that gets you a statue in the local park! Most contemporary Christians would not hear this meaning, but for a person living in the Roman world, this would be a clear image of what kind of virtuous life the Lord requires.
In the context of the "ask in the Lord Jesus," Paul is saying that these moral guidelines are ways to please the Lord, who is Jesus. Any citizen of Thessalonica would like to please their government and be honored with an inscription, therefore Paul says you ought to live your life the way the ultimate authority wants you to!
The Thessalonian church is already living to please God, but they can improve, they can do this "all the more." Anyone that thinks they cannot improve is in trouble, not only have they ceased to grow, but they are probably moving backwards.  Paul says keep moving ahead!  Keep on pleasing God all the more.
In this case Paul says that they ought to live, in order to please.  Living and pleasing God are coupled elsewhere in scripture, Enoch, for example, was said to have walked with God and pleased him. The verbs in this section are in the plural.  He is talking to the whole church, even though some of the issues that follow only concern some individuals within the church.  There is a corporate dimension in Paul's ethical thinking.
Surprisingly, Paul's commands here apply to whole church, not just a small part of it.  The rest of the church that is not immoral is responsible for holding everyone accountable to the same standard. Contemporary Christianity tends to individualize these sorts of commands so that they apply to a single person rather than a whole church.
If this is right, then Paul is saying to the whole congregation, "live out your faith in in a way that pleases God." How would this change the way we think about moral and ethical problems in a church? If one part of the body suffers, the whole body suffers; does this mean if one part of the body sins, the whole body sins?
In 1 Thessalonians 4:9–10 Paul encourages the church at Thessalonica to pursue "brotherly love." What is brotherly love? The noun used here (φιλαδελφία) was only used for literal family relationships before the Christian community began to use it as a metaphor for members of their community (EDNT, 4:434). The only exception appears to be 2 Macc 15:14, the word appears to refer to a fraternal relationship of all Israel. In 4 Maccabees 13:23, 26, 14:1 the word refers to the mutual love between seven brothers who all suffer instead of reject their Jewish traditions.
The Greeks considered the relationship between brothers to be of primary importance, Plutarch used the term "brotherly love" to describe the proper relationship between brothers.
Plutarch, De fraterno amore 2 …where there is an unanimous accordance amongst brothers, the family thrives and flourishes, and friends and acquaintance, like a well furnished choir, in all their actions, words, and thoughts maintain a delightful harmony. "But jarring feuds advance the worst of men."

Plutarch, De fraterno amore 15  Brothers should not be like the scales of a balance, the one rising upon the other's sinking; but rather like numbers in arithmetic, the lesser and greater mutually helping and improving each other.

Plutarch, De fraterno amore 21   Again, it is highly commendable in him to have the highest esteem and honor for his brother's wife, reputing and honoring her as the most sacred of all his brother's sacred treasures, and thus to do honor to him
Based on the teaching of Jesus, the earliest believers referred to themselves as "brothers and sisters." In Mark 3:3 Jesus indicates that his "brothers and sisters" are those who hear and obey his words.  If those who followed Jesus faced rejection from their families, it is possible that Jesus intended his followers to be a new "family."  On the other hand, the family of Jesus may be an allusion to the larger theme of a New Israel among the followers of Jesus.  In Acts 2:29 Peter addresses a Jewish crowd as "brothers," meaning "fellow Jews."   So too Paul in Acts 22:1; 23:1.
Paul's use of the term "brother" and "brotherly love" bears additional theological weight.  By accepting Christ, we are adopted into the family of God, God is our father.  This makes each person that has accepted Christ as their savior a brother or sister in Christ. This new family in Christ is the foundation for many of Paul's commands (cf., Rom 12:10; other Christian ethical instruction begins the same way (Heb 13:1; 1 Pet 1:22; 2 Pet 1:7; 1 Clem 48:1).  He urges his readers to please God by treating each other like brothers and sisters.
If the church lives in brotherly love, then the father is pleased and honored.  For the Greek world, nothing dishonors the parent more that children who do not display proper affection for one another and feud. If Plutarch could say "jarring feuds advance the worst of men," how might he describe the sort of angry disputes which plague most modern churches?
1 Thessalonians fits well into the book of Acts 17:1-9. Paul arrived in the city from Philippi, where he had been arrested illegally and released when he informed the Philippian magistrates he was a Roman citizen. As is typical for Paul he visits the local synagogue and "reasoned from the Scripture" that it was necessary for the Messiah to suffer, die, and rise from the dead. Luke indicates some Jews were persuaded, but also a "large number of God-fearing Gentiles and quite a few prominent women" (Acts 17:4).
Because of this success, the Jews stir up a mob to "start a riot" and drive Paul out of the town. They seize Jason, a prominent Thessalonian who was hosting Paul and Silas in his home. The Jews bring Jason before the city officials and claim Paul has been "turning the world upside down," defying Caesar's decrees and claiming there is another king, Jesus. Paul is forced to leave the city and these opponents follow Paul to Berea (Acts 17:10-15). Paul is forced to travel alone to Athens (Acts 17:16-34) and eventually to Corinth (Acts 18). Silas and Timothy returned to Thessalonica and re-joined Paul in Corinth (Acts 18:5). In 1 Thessalonians 3:6, Paul says Timothy had just "just now come from you" and reported good news: the church has continued to grow in faith and love and has stood against the attacks made against it. Timothy may have delivered a letter from the Thessalonians to which Paul now responds in First Thessalonians.
First, Paul must defend himself against unnamed opponents who are slandering him. Based on his defense in chapter 2, these opponents acclaim Paul has no divine authority and may be using the local church to enrich himself. It is true Paul was forced to leave Thessalonica under the cover of darkness (Acts 17:10), leaving Jason with some legal and financial burdens (Acts 17:9, Jason posted bail for Paul). Paul says his appeal to his readers did not "spring up from error or impure motives" (2:3) nor did he use the slick rhetoric of the Sophists to trick his readers into believing the Gospel (2:5). The church itself is a witness to Paul's behavior in Thessalonica, so the opponents have no basis for making these charges.
Second, although Timothy gave an "encouraging report" (1 Thess 3:6-10), he also seems to have reported on two or three problems for the church. In 4:3-8 Paul deals with sexual immorality, encouraging people to control themselves and live in an honorable way. In 4:9-12 Paul instructs the Thessalonican believers to live a "quiet life" and to work to provide for their own needs. It may be the case some members of the congregation were abusing the generosity of others, no longer working while they waiting for the soon arrival of the Lord Jesus. In both of these cases, Paul encourages the readers to live lives which "win the respect of outsiders" (4:12).
Third, Paul addresses some concerns about the return of the Lord (4:13-5:11). Since Paul's time was cut short, he may not have had the time to answer all the questions the church may have had about the imminent return of Jesus. What is more, some members of the church have died prior to the expected return of the Lord. Paul first must comfort the community by explaining that those who have died in Christ will certainly participate in the resurrection from the dead prior to the return of the Lord. In fact, they will rise first and join those who are still living as they are caught up to meet the Lord in the air (4:15). In chapter 5 Paul points out that the day of the Lord will come unexpectedly, so the "children of light" ought to live their lives in sober anticipation of the return of the Lord. Both of these teachings conclude with "therefore encourage one another." This is the main point of any teaching on the return of the Lord, encouragement to living godly lives which "win the respect of outsiders" (4:12).
Although 1 Thessalonians is remembered as the "Rapture book" in popular teaching, the main theme of the book is "encourage one another." Since the Thessalonian church was small and had to endure some pressure from both secular authorities and their cousins in the Jewish synagogue, they may have felt as though their new faith in Jesus was not worth the trouble. The congregation must comfort one another and encourage each member of their small group to continue living out their faith in Jesus as children of God.
Bird, Michael F. An Anomalous Jew: Paul among Jews, Greeks, and Romans. Grand Rapids, Mich.: Eerdmans, 2017. xii + 322 pages; Pb. $28.   Link to Eerdmans
This new collection of essays from Michael Bird includes three chapters previously published and two lengthy chapters written for this volume. A lengthy thirty-page introduction explains what Bird means by "an anomalous Jew" (aside from the play on John Meier's work on the Historical Jesus, A Marginal Jew or Daniel Boyarin's Paul: A Radical Jew). Although it is commonplace in contemporary scholarship to acknowledge Paul's Jewish roots, Bird points out Paul says things that no other Torah-affirming Jew would say and he was opposed violently by Torah-affirming Jews. Paul's view of what God is doing in the present age through Jesus Christ led to his "decentering of the Torah" (7). So if Paul is a Jewish thinker, how should he be situated in what we know about Second Temple period Judaism?
Prior to the twentieth century, situating Paul within Judaism was not even considered since Paul was read as completely rejecting his Jewish (legalistic) religion and "converting" to Christianity. Aside from the historical anachronisms, the traditional view of Paul was at best anti-Semitic. But since the Holocaust Pauline scholarship had returned the idea Paul represents some form of early Judaism. Bird offers several contemporary scholarly opinions that Paul was a Former Jew (Martyn), a Transformed Jew (Sanders, Dunn and the New Perspective), a Faithful Jew (Mark Nanos), or even a Radical Jew (Daniel Boyarin). Bird picks up on a suggestion from John Barclay that Paul was an anomalous diaspora Jew, although he wants to include the "thoroughly Judean Paul" of W. D. Davies, E. P. Sanders and the New Perspective (27).
Having charted the course in his introduction, Bird then turns to "Salvation in Paul's Judaism" (chapter 1, a shorter version appeared in Paul and Judaism, LNTS 463; T&T Clark 2012). He begins by surveying several recent attempts to describe Paul's view of salvation as being either against Judaism or within it. If Paul was against the Judaism of his day, then he was necessarily supersessionist and conceived of Christianity as the replacement for Israel. But if Paul stayed in some sense within Judaism, then Paul viewed Jews and Gentiles as a "remnant within Israel who occupy a special place within an irrevocably elected Israel" (45). Bird concludes Paul was somewhere between these two poles since he seems intra-Judaism with respect to halakic discussions, but contra-Judaism in the sense he says things no Second Temple Jew would, such as the Torah leads to death.
Written specifically for this volume, the second essay in the collection asks if Paul was an Apostle to the Gentiles and Jews. Bird begins with the observation that Paul's title of "apostle to the Gentiles" has obscured his continued mission to the Jews. Since the epistles of Paul may be used to argue Paul only went to the Gentiles after his conversion, the accuracy of Acts is questions (since Paul continues to reach out to Jews throughout his whole career). Bird therefore focuses this essay on the place of the Jews in Paul's apostolate to the Gentiles (71). In order to achieve this goal, he begins with an overview of the vocabulary Paul used for non-believing non-Jews (ἔθνη, Ἕλλην, ἀκροβυστία, περιτομή, ἄνομος). This vocabulary is more "fuzzy" than often observed, especially when used to describe the target of Paul's mission. Bird has a helpful chart on page 85 demonstrating that there are both lawless Gentiles and Jews, Greeks (Hellenes who may also be lawless) but Diaspora Jews (who might be Hellenistic but keep the Law).
Bird argues Paul did in fact target Jews in the Diaspora, but also that his mission evolved over the years. Although this is not controversial as far as I can see, Bird goes on to ask when Paul received his commission to go to the Gentiles. He argues the evidence from Acts is ambiguous. Acts 9:15 indicates he was to carry Jesus' name to "Gentiles and Kings and the sons of Israel." In fact, Paul does go to synagogues where he preaches that Jesus is the Messiah, and he does continue to go to synagogues in the book of Acts. One potential problem is Paul's time in Arabia, but Bird argues Paul's focus was on Jews living in the Nabatean kingdom, especially around Damascus. What may be controversial in this essay is Bird's contention the commission to go to the Gentiles occurs after the Jerusalem council in Acts 15. It is only after this watershed moment that Paul begins to partition his Gentile churches from the synagogues (96). Bird thinks this may help understand Paul's statement in 1 Corinthians 9:20-22 that he became a Jew in order to win the Jews, and a Gentile to win the Gentiles. Given the flexible vocabulary Paul uses to describe his mission, Paul's target were those who were not in Christ, which may include some Jews. The door was opened to the Gentiles, but as Bid says, it was never closed to the Jews (104).
By the end of this chapter, Bird indicates Acts is a trustworthy guide, which raises a question for the thesis Paul's Gentile mission developed more fully after the Jerusalem Council. Although he acknowledges the synagogue sermon in Acts 13 is paradigmatic for Lukan theology, he overlooks the important symbolic miracle earlier in that chapter. After "Barnabas and Saul" visit synagogues on Cyprus, Saul approaches a Roman official. This man is not a God-fearing Gentile (like Cornelius) and appears to be a pagan Roman. When Saul attempts to share the Gospel with him, a Jewish sorcerer attempts to stop him. At this point in the story Luke tells the readers Saul is also called Paul, and Paul delivers a judgment speech on the Jewish sorcerer and he is blinded for a time. After this dramatic incident, Luke only uses the name Paul and almost always places Paul first ("Paul and Barnabas," the only exception is at the Jerusalem council). This symbolic blinding is explained in the synagogue sermon later in Acts 13, where Paul and Barnabas "turn to the Gentiles" for the first time in the book of Acts. Luke has used this story at a crucial turning point in his overall story, but the incident also seems to indicate Paul was targeting a Roman official before the Jerusalem council. I have no doubt Bird is correct that Paul's missionary strategy developed and matured over the years and it is absolutely the case Paul continued to use the synagogue as a platform for preaching Jesus as Messiah. But perhaps he was engaged in Gentile mission such as approaching Romans such as Sergius Paulus from the beginning.
At a combined one hundred pages, chapters 3 and 4 are a kind of mini-commentary on Galatians. In chapter three Bird offers an assessment of recent apocalyptic readings of Galatians ("An Invasive Story: An Apocalyptic and Salvation-Historical Rereading of Galatians"). As his first two footnotes make clear, apocalyptic readings of Galatians are a hot topic for Pauline scholars in recent years. There are two ways of nuancing the issue. For many Pauline scholars such as Krister Stendahl, a salvation-history or covenantal approach is an adequate explanation for Paul's theology. Paul's theology is set within the larger story of Israel. But for others (Käsemann and Beker), apocalyptic is central to Paul's thinking. By apocalyptic, these scholars focus on Jesus as the messiah and his death and resurrection as an apocalyptic event which creates a new world, perhaps a new "kingdom of God." Louis Martyn and Douglas Campbell make a sharp distinction between these two approaches, although others (Wright, Dunn, for example) see a unity between salvation history and an apocalyptic reading of the Christ event. After surveying some of the literature, Bird engages with Martyn's apocalyptic interpretation of Paul (especially in his Anchor Bible Galatians commentary) in order to show the dichotomy between salvation history and apocalyptic is not necessary. Bird says "there is no requirement we divorce Paul's apocalyptic theology from its metanarrative of the Jewish Scriptures" (116) because apocalyptic properly understood is the climax of God's saving purpose for his people, not a whole new start, and certainly not a repudiation of the past" (121). After examining several key texts in Galatians, Bird concludes "Paul's apocalyptic gospel is necessarily salvation-historical by nature of the Jewish context of his eschatology and Christology" (167).
This conclusion helps unpack the title of the collection, Paul was truly anomalous in the sense that the Law was preparatory for salvation rather than necessary for salvation, a conclusion which was provocative and an affront to Paul's Jewish opponents. I am reminded of F. F. Bruce's comment in his Galatians commentary, the Law was a parenthesis between the promise to Abraham and the present age (NIGTC, 153-4). This view of the Law would certainly be anomalous in Second Temple Judaism.
In chapter four, Bird returns to Galatians 2:11-14 and argues the incident at Antioch represents "the beginnings of Paulinism." An earlier version of this essay was published in Earliest Christian History (ed. Bird and Matson; WUNT 2.320; Tubingen: Mohr Siebeck, 2012): 329-61. In this essay, Bird returns to one of the more tantalizing sections of Galatians, Paul's confrontation of Peter in Antioch. In chapter 2 Bird has already suggested Paul's mission to the Gentiles developed over time and that the Jerusalem council (Acts 15) played a significant role in targeting Paul's missionary efforts at the Gentiles.
The final chapter in this collection ("The Apostle Paul and the Roman Empire") is an expansion of Bird's contribution to Jesus is Lord, Caesar is Not (IVP Academic, 2013). Bird thinks "anyone vaguely familiar with the Roman imperium could see Paul articulating the vision of an alternative empire" (254). In the earlier essay, Bird made four points in favor of an anti-imperialism in the Pauline letters. Each are considerably expanded for this new essay, as are his "lingering doubts." His literature survey is slightly expanded and now includes interaction with "Augustus guru" Karl Galinski and some account of the "scholarly melee: between John Barclay and N. T. Wright with respect to the importance of the imperial cult to this discussion. What is extremely valuable is the inclusion of all of the texts in Romans which may (or may not) be read as anti-imperial. In the shorter essay Bird was limited to only Romans 1:16-17; 13:1-7 and 15:5-13. In this longer form essay he is able to be more comprehensive as well as draw more scholarship into the dialogue. However, his conclusion remains the same: "Romans is not a political manifesto" (Jesus is Lord, 161; An Anomalous Jew, 253), both essays citing William Ramsay's statement that "a universal Paulinism and a universal Empire must either coalesce or they one must destroy the other."
Conclusion. As with any collection of essays drawn from various sources, there is potential for lack of cohesion between the chapters. Bird has worked hard to draw previously printed essays back to the title of the book: why does Paul appear to be an anomalous Jew? Although this is achieved by editing the introductions and conclusions to each essay, each topic does in fact demonstrate Paul operated within the world of Judaism, but he certainly did not fit the pattern of other early Jewish Christ-believers or other Jewish groups from the Second Temple period.
NB: Thanks to Eerdmans for kindly providing me with a review copy of this book. This did not influence my thoughts regarding the work.
Acts 15 concerns the first major controversy in the early church, although the issue seems strange to modern readers. Unlike later theological debate over the divinity of Jesus or the Trinity, or modern concerns over how to properly worship in church or who can (or cannot) be ordained as a minister, the earliest church struggled to know what to do with Gentiles who accepted Jesus as the Messiah. Are these Gentiles "converting" to a form of Judaism? If that is the case, should they keep the Law? Or are they like the "God fearers Gentiles," people welcome in the synagogue without having to fully convert? If they are fully keeping the law, does this imply a secondary status for Gentile believers?
Primarily as a result of Paul's Gentile mission, the percentage of Gentiles was growing in Christian communities. Some Jews thought that it was necessary for the Gentiles to keep the whole Law, starting with circumcision.
Based on Galatians, it appears that Paul had taught the Gentiles that they do not have to keep the Jewish Law, especially circumcision. Undoubtedly this also included food laws and Sabbath worship, the other major boundary markers for Jews living in the Diaspora. After Paul established these churches and re-visited them once to appoint leaders (Acts 14:21-28), he returned to Antioch and reported that God had "opened a door of faith" among the Gentiles.
Sometime after Acts 14, some teachers arrived in Paul's Gentile churches and told the Gentiles that they were required to fully convert to Judaism in order to be fully a part of the people of God in the present age. I think that this teaching focused on the boundary markers of food and Sabbath as well, but Galatians and Acts 15 is concern only the practice of circumcision. If Gentiles are going to be considered full participants in the people of God in the present age, they must be Jews; this requires conversion and obedience with the law.
This is no small controversy for several reasons. First, circumcision was a major factor in Jewish identity. For many in the Greco-Roman world, it was circumcision which set the Jews apart, usually for ridicule. Marital, for example, seems to find a great deal of humor in the Jewish practice. Second, Paul argues in Galatians and other letters that the church is neither Jew nor Gentile (Gal 3:28). If Gentiles convert to Judaism, then the church is Jewish; if a Jew rejects the Law and acts like a Gentile, then the church is "Gentile." Paul's point is that there is something different than Judaism happening in the present age, the "church" is not a form of Judaism, nor is it a Gentile mystery religion. The church in Paul's view transcends ethnicity (neither Jew nor Gentile), gender (neither male nor female) and social boundaries (neither slave nor free).
For Paul, if the Gentiles are forced to keep the Jewish boundary markers, then they have converted to Judaism and they are not "in Christ." This view would have been radical in the first century, and it still is difficult for Christians two thousand years later. One does not "act like a Christian" to be right with God, any more than one "acted like a Jew" in the first century to be right with God.
To me, this is what makes Paul unique in the early church (or to use Michael Bird's recent phrase, Paul is an "anomalous Jew"). Although Gentiles could convert to Judaism, and many did, no other Jewish writer in the Second Temple Period would have said Gentiles can be right with God without keeping any of the Law. In Acts 10, Cornelius was accepted without circumcision but he was already considered a righteous man because he was doing the sorts of things the Law commands. Yet Paul is teaching his Gentile converts to not submit to circumcision since it implies they are becoming Jews. The Church is not a new Israel, Paul's churches are neither Jew nor Gentile.
There are many ramifications of this new teaching and we will return to many of these things when we get to Galatians. What is the practical benefit for Gentile believers if they are not expected to keep the Jewish Law? Does this help Paul's evangelistic efforts among the Gentiles? Certainly he has success among the God-fearers who were already attracted to the ethical content of the Law, but would this Law-free gospel of Jesus attract Gentiles who were not already interested in Judaism?
[I wrote this post almost exactly six years ago, September 14, 2011. Howard Pepper asked some good questions in a recent post about the idea of conversion, so I thought I would re-publish this as part of the recent series of posts on Paul's background.]
Like most who write on the conversion of Paul, John Polhill asks if Paul was "predisposed" to conversion (Paul and His Letters, 55).  To what extent did was Paul "prepared" for his encounter on the road to Damascus?  Certainly Paul thought that God had prepared him to preach the grace of God (Gal 1:15), but this question usually is more interested in Paul's psychological state of mind when he met Jesus.
Like the discussion of Paul's conversion, the New Perspective on Paul has had quite a bit to say here.  In fact, I recently summarized the NPP's thinking about Paul's conversion in this post.  Traditionally, Paul is described as struggling to keep the Law perfectly and was in despair over his inability to do "the whole of the Law."  Usually Romans 7 is the key text here.  Paul himself is the "wretched man" who must be delivered from his body of death (Rom 7:25).  He has been "kicking against the goads" for some time, according to Acts 26:14.  Paul knew that he was unable to live up to God's righteous standards and lived in a state of perpetual wretchedness.  His encounter with Jesus on the Road to Damascus freed him from the weight of his sin and guilt and he became the apostle of the Grace of God.
But this reconstruction has been questioned by the New Perspective, especially by E. P. Sanders, following Krister Stendahl.  Sanders challenged what he saw as the Lutheran domination of Pauline studies on justification.  In the twentieth century (primarily Lutheran) scholars have made justification by faith the "center" Pauline theology. This leads to the unfortunate result of anti-Judaism – Jews become proto-Pelagians, Paul is Luther bashing the RCC's.  Judaism is thought to be the antithesis of Paul's Christianity and Paul's theology develops out of a struggle against Judaism.  Sanders changed the debate by arguing that the questions posed by the protestant / RCC debate have nothing at all to do with Judaism of the Second Temple period.   For Sanders, this totally obscures what was actually happening in the first century and how Christianity developed out of Judaism.  In addition, Sanders points out that the protestant Paul was never recognized by Jewish scholars (Sandmel, for example), he was incoherent or inconsistent.
According to Sanders, Paul was not a guilt-ridden sinner trying to justify himself through the good works of the Law.  In fact, it was Luther who was a guilt-ridden sinner trying to justify himself, not Paul!  Paul was therefore not converted on the road to Damascus.  Obviously this has huge implications, since the theological edifice of the reformation is guilt on Luther's understanding of Paul, and there have been some fairly strenuous arguments against Sanders and the other more recent New Perspective writers.
Is Polhill is correct in the end when he states that Paul' encounter on the road to Damascus was a radical event for which he was totally unprepared (55)?
In his role as the apostle to the Gentiles, Paul is sometimes described as trying to bridge the gap between Judaism and the pagan world. His sermon at Athens in Acts 17 is often used as a model for "how to do ministry" today. In order to reach the world, we have to present the Gospel in ways which appeal to the world. In some cases this is involves using art and philosophy to demonstrate the reasonableness of Christianity, but more commonly this methodology is used defend worship styles or it quickly devolves into using movie and TV clips as sermon illustrations.
To determine how Paul reached out to pagans. I want to look at a passage earlier in Paul's career, from his so-called first missionary journey. When Paul and Barnabas arrive in Lystra, Paul heals a man who was crippled in the feet. This miracle in intentionally parallel to Peter's healing in Acts 3, although the results are much different! In Acts 3, the miracle takes place in the temple courts, Paul is in a Gentile town which is more likely to believe he is Hermes incarnate than a representative of the Hebrew God! When Paul was among Jews in Iconium he did many miracles and saw great success. The working of a miracle among the Gentiles of Lystra is counter-productive and results in Paul being stone and left for dead.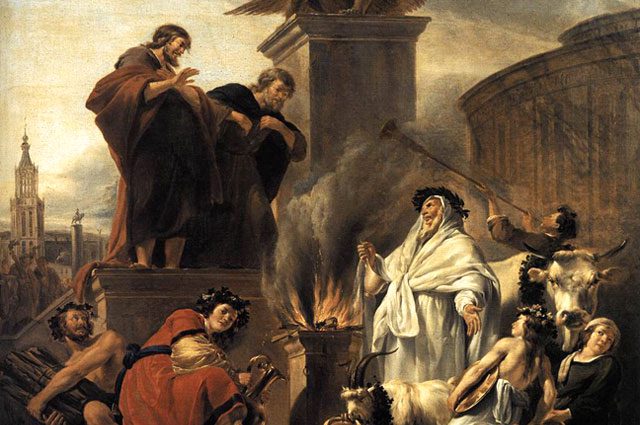 There is only the briefest hint at the sort of "sermon" Paul might have preached to this crowd. This is unfortunate, since this is the first time in Acts that Paul addresses a pagan audience. Often Paul's speech in Acts 17 at Mars Hill is set up as an example of Paul's method of reaching the Gentile world, rarely is this speech in Acts 14.
Paul states that there is a living God, as opposed to the worthless idols that never show their power. Like Acts 17, Paul does not allude to the many acts of God in the Hebrew Bible. Rather, he uses God's preservation of men through the giving of rain and crops as an example of his power. This might be called "general revelation," since the crowd would neither know about the God of the Hebrew Bible, nor would they care what he did for the Jews.
But Paul is not giving up on the biblical story at all in this sermon. He begins with God's creation and provision. He says that he represents the creator, something which this group can understand within their own world view, but Paul uses the language of Genesis (the heaven, the earth, and the sea, along with everything in them).
But notice that Paul more or less attacks the gods of Lystra: they are worthless things. This is even more powerful when you realize the priests of Zeus have brought out bulls to sacrifice to Paul and Barnabas. Paul could very well be pointing at these prepared sacrifices when he says, "worthless idols." The noun used here (μάταιος) means that these idols and their sacrifices "lack truth" and it is pointless to worship them because they are not true at all!
This dismissal of idols is also found one of Paul's earlier letters. In 1 Thessalonians 1:9 Paul contrasts idols and the "living and true God." The implication is clear: the idols are neither living nor true. In fact, this clear attack on idols is at the foundation of Romans. In Romans 1:21-23, humans reject the clear revelation of God in creation, become fools, and "exchanged the glory of the immortal God for images resembling mortal man and birds and animals and creeping things" (ESV).
This does not sound very hipster and emergent to me! How can the brief sermon in Acts 14 be used as a model for contemporary evangelism? Should we directly attack another world view as "worthless"?
Paul claims to be called to be an apostle in each of the undisputed letters (Rom 1:1, 1 Cor 1:1, 2 Cor 1:1, Gal 1:1) as well as several other letters (Eph 1:1, Col 1:1, 1-2 Tim, Titus). In addition to the headings of these letters, Paul refers to his apostleship in several other contexts. In Rom 11:13 he calls himself the "apostle to the Gentiles" and in 1 Corinthians 9 Paul defends his status as an apostle on a par with Peter or Barnabas. But Paul never claims to be one of the Twelve. With the exception of Matthias, the replacement for Judas, this group were chosen by Jesus before the crucifixion.
In fact, in Galatians 1 Paul emphasizes his commission as an apostle but distinct from the Twelve.  An "apostle" is someone who is sent as a representative of another, usually some kind of a group.  Most lexicons suggests the English "ambassador, delegate, messenger" for the Greek concept of an apostle.  Most scholars now associate the Greek apostolos (ἀπόστολος) with the Hebrew shaliach. A person who was sent as a representative or agent acts on the same authority of the sending group.
For example, when the Jerusalem church sent Barnabas to Antioch, it is possible he was send as a shaliach or apostle of the Jerusalem church (Acts 11:22).  He would have acted as their representative on the scene should questions arise. Paul is not an apostle sent by the church of Antioch to the churches of Galatia, nor is he an agent sent out by the Jerusalem church. He never claims to be one of the Twelve Apostles, in fact Galatians 1-2 make it clear he is not part of that particular group. Paul's claim in Galatians is that is an apostle of Jesus Christ and God the Father.
In 1 Corinthians 15:9 Paul alludes to his status as an apostle in his discussion of the resurrection. Paul was not a follower of Jesus until his encounter in Acts 9. As is well known, he was a persecutor of Jesus' followers prior to the resurrection appearance of Jesus. Paul claims in in 1 Cor 15 to be an eye-witness to the resurrection, albeit one with different credentials than Peter or James since he did not know Jesus before the resurrection.
This experience was like an "untimely birth" (ESV). This word (ἔκτρωμα) is used for a stillborn child or a miscarriage. Many commentators think this is an insult Paul faced in his ministry, he is not just a "Johnny-come-lately" or someone who is trying to "jump on the band-wagon," or that he has some spiritual deficiency disqualifying him from being considered a "real apostle." Rather than responding to an attack, Paul is simply listing himself as the final witness because he was the final witness, and his experience is unique among the apostles. But again, he does not claim to be one of the Twelve; like James, the Lord's Brother, he is commissioned by the resurrected Jesus to be an apostle, but NOT one of the Twelve.
In 2 Corinthians 11, Paul sarcastically refers to his opponents in Corinth as "super-apostles." But since this rare word can mean superior, it is possible the opponents considered themselves to be superior to Paul and described themselves as his superiors to the members of the Corinthian church. Some have argued this is a reference to the apostles in Jerusalem, but it seems unlikely Paul would refer the Twelve with this snarky title (like added "so-called" to something to question its authority). More likely the super apostles are Greeks in Corinth who have accepted the Gospel but are now behaving like Greek intellectuals. Like many of the other issues in Corinth, Paul is dealing with a pagan worldview in the church.
By way of summary, there was a group called the Twelve who were apostles, and a few other people who were commissioned by Jesus after the resurrection (James and Paul) and were therefore also considered apostles. There were others who claimed to be apostles, like the super apostles mentioned in 2 Corinthians who claimed authority as apostles but were not commissioned by the resurrected Jesus.
What is Paul claiming when he calls himself an Apostle?  What does it mean for a letter like 1 Thessalonians, where he does not use the title but then says he could have made demands as an apostle of Christ?