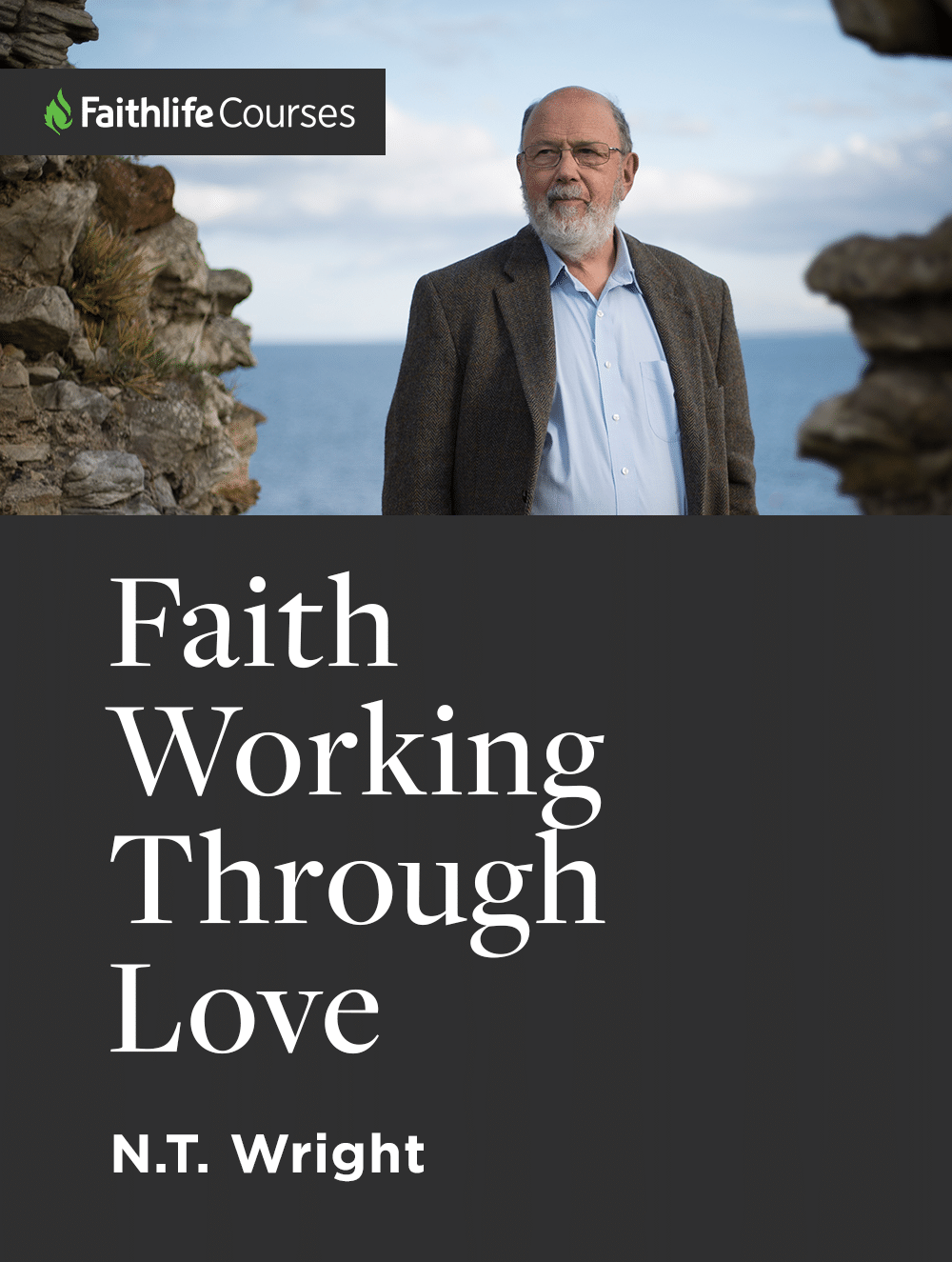 Rather than a free book for the Logos Bible Software, this month Faithlife is giving away a one-hour Mobile Course on Faith Working Through Love by N. T. Wright.
If you have not experienced a Faithlife course, this is a good chance to see what a Faithlife Mobile Learning course looks like. When you download the course, you will get a document with a syllabus, course outcomes and course outline.
For an hour course, you will get about an hour of video lecture (for the nine-hour course, you get about nine hours of lecture). The videos for this course are broken into nine sections, each main session is about ten minutes (as short as 7 minutes, as long as 13 minutes). Wright has a short intro to the show course and four of the videos are simply Wright reading the key Scripture for the session.
There are a few questions and a quiz for each session.The questions are entitled "process ideas and probing questions" (essay questions, reflection questions) and can be answered right in the mobile course in Logos. The self-quizzes are brief, all true/false or multiple-choice.
The outline for the free course is:
Session One: The Transformative Power of the Gospel for Faithful Living
Session Two: Modeling Faithfulness in the World (Philippians)
Session Three: The Transformative Power of Worship for Faithful Living (Romans 12)
Session Four: Modeling Faithfulness in the Church (2 Thessalonians 3:6–13)
Here is the Faithlife blurb for the free course:
Discover how Biblical wisdom can help you find meaning in your work. We are all engaged in some kind of work, whether it comes with a paycheck or not. Regardless of the kind of work you do, from bussing tables, to taking care of your home and family, to managing a business, chances are you want to find meaning in your endeavors. In this intriguing course, Professor N.T. Wright examines a series of Biblical texts that discuss how Christians should consider the work they do. As you're guided through Old and New Testament teachings, you'll discover concrete actions you can take to live out the fullness of being in the image of God, and become an agent for positive change in a broken society.
In addition to the free course, Faithlife is offering Wright's hour lecture on The Lord's Prayer for $9.99 (50% off), Paul and His Letter to the Philippians for $19.99 (83% off, 4.5 hours) and The Acts of the Apostles for $34.99 (88% off, 9 hour course).
The monthly giveaway is N. T. Wright themed as well. There are several ways to enter to win The N. T. Wright Collection (51 vols., a $689.99 value).
These valuable resources are only free (or almost free) through April 30, 2020.