You are currently browsing the tag archive for the 'Philippians' tag.
Keown, Mark J. Philippians 1:1-2:18. Bellingham, Wash.: Lexham Press, 2017. 533 pp.; Hb.; $39.99. Link to Lexham Press
Keown, Mark J. Philippians 2:19-4:23. Bellingham, Wash.: Lexham Press, 2017. 569 pp.; Hb.; $39.99. Link to Lexham Press
Mark Keown's contribution on Philippians in the Evangelical Exegetical Commentary (EEC) is one of the most detailed commentaries published on this Pauline Letter. This two-volume exegetical commentary can take its place alongside recent major Philippians commentaries by Fee (NICNT, 1995), O'Brien (NIGTC, 1991) or Hawthorne and Martin, (WBC, revised edition, 2004). Keown's revised dissertation was published as Congregational Evangelism in Philippians: The Centrality of an Appeal for Gospel Proclamation to the Fabric of Philippians (Paternoster Biblical Monographs; Cascade, Ore.: Wipf & Stock, 2009). He is a frequent presenter at SBL and has published several articles on aspects of Philippians.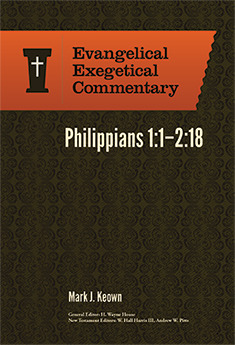 The 92-page introduction to the commentary more or less assumes Pauline authorship and settles on a Roman provenance (33) after weighing the various alternate suggestions. He examines various suggestions Philippians is a compilation of several shorter letters ("interpreting Philippians does not require a multi-letter hypothesis," 22). He suggests a range of dates from 61-64, but favors the later end of that range (33).
In his reconstruction of the background of the letter, Keown traces the history of the Roman church. Although it was primarily a Jewish Christian movement, after the edict of Claudius in A.D, 49 it was increasingly a Gentile church. This created friction as Jewish Christians returned to Rome after the death of Claudius. Keown suggests there was already some anti-Paulinism in the Roman church before Paul wrote Romans in A.D. 56. By the time Paul arrived in A.D. 60, there already was opposition to Paul from local Jewish Christian congregations.
He also argues the conditions of Paul's imprisonment have taken a turn for the worse because of conditions in Rome (ie. "Nero's lunacy, p. 14) in the early A.D. 60s. He is no longer under house arrest, but "in chains" and his life is in danger. As Keown acknowledges, this older view is so out of favor it rarely appears in a commentary on Philippians, but he argues the idea has merit (6). Despite worsening conditions, Paul is still zealously preaching the gospel, although his imprisonment has caused him to put off going to Spain. Instead, his intention is to return to Philippi when he is permitted to leave Rome. Keown wants this decision to affect the interpretation of the book, in contrast to Stephen Fowl (for example) who said it made little difference whether the Philippians was written from Ephesus or Rome. That Paul was writing from a Roman imprisonment will heighten the contrast between the Roman Empire and the heavenly politeuma (33, note 121).
This leads Keown to suggest Paul may have intended to escape from his Roman imprisonment and travel to Philippi. This material is synthesized from Keown's 2015 article in the Journal for the Study Paul and his Letters. The letter of Philippians clearly indicates Paul was in prison and planned to visit Philippi soon. At least according to church tradition Paul did leave Rome and continued to do some ministry (depending on the status of the Pastoral Epistles). Yet there is nothing to explain how he was released from prison. Keown briefly surveys many of the possible solutions to Paul's confidence he will leave Rome and concludes a prison escape answers all of the potential problems (12). Paul claims to have friends in the Praetorian Guard (1:13) who could help him escape. The obvious objection to this interesting reconstruction is Paul's desire to bear witness before Caesar (Acts 23:11) as well as his willingness to suffer for the sake of Christ (2 Cor 11:16-33). Yet even while boasting about his suffering, Paul does claim to have escaped from Damascus when persued by Aretas IV (2 Cor 11:33). Although Keown does not mention it, Paul avoids persecution a number of times in Acts (at Thessalonica and Ephesus for example). Although not exactly prison escapes, they do indicate Paul was willing to relocate in order to continue preaching the gospel, or at the very least Paul cannot be considered as seeking martyrdom.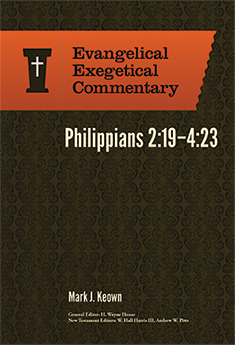 Perhaps the most useful feature of the introduction for most readers will be the lengthy introduction to the city and culture of Philippi. As Keown points out, Philippi was founded as a kind of mini-Rome," and this observation opens up several important interpretive possibilities.  After a sketch of the history of the city, Keown offers a commentary-worthy discussion of Acts 16 and the charges against Paul and Silas. He argues the letter of Philippians reflects a clash between Caesar and Christ, especially in the Christ Hymn (Phil 2:5-11). Because Philippi was so Roman in outlook, it is natural to see some of Paul's presentation as "anti-imperial." Keown says the letter is "utterly subversive and countercultural," although he stops short of some of the more radical anti-imperial readings of the letter (44).
The last long section of the introduction is an account of the church itself. For Keown, the Philippian church is predominantly Gentile including a number of prominent women (Lydia, for example). Paul has a positive relationship with the church and there is little which needs to be corrected as in Corinth, although there are some problems with divisions (4:2-3). The church is facing some opposition, which Keown describes as "twin challenges" (56) from Jerusalem (Judiazers) and Rome (Greco-Roman libertines). The final part of this description of the church is excellent fodder for a pastor preparing to preach this letter.
After the introduction, the body of the commentary is laid out in large sections divided into logical sub-sections as outlined in the introduction. Each section of commentary begins with an introduction discussing the context of the section as well as literary features. Following this introduction Keown offers his own translation of the text along with extensive textual critical notes.
The commentary itself proceeds phrase-by-phrase. Keown provides the Greek text followed by his translation. He comments extensively on Greek syntactical and lexical issues, occasionally comparing various translations in order to indicate the importance of the grammatical decisions. Since this is an exegetical commentary on the Greek text of Philippians, Greek words appear frequently and are not transliterated. Major commentaries are cited in-text, technical monographs and articles appear in the footnotes. Keown interacts with all major Philippians commentaries (Fee, O'Brien, for example), including many classic works (Lightfoot, Vincent, for example).
Following the exegetical section Keown makes a brief conclusion and offers a short section entitled "Biblical Theological Comments." Here he tries to connect the pericope to the larger world of Pauline theology. For example, after the exegetical section on Philippians 3:1-21, Keown discusses the impact of Paul's conversion on his theology, especially his view on what "Israel" means after his encounter with Christ as well as the role of the law. Paul's "fresh perspective on the law" is not antinomian, but rather "agapenomian, hypernomian, pneumanomian or kardianomian" (2:183). The four neologisms do indeed express how Paul sees the law in the present age (even if they are unlikely to catch on).
Each exegetical section ends with a short thought entitled "application and devotional implications." An exegetical commentary may draw theological implications, but not many technical commentaries like this one allow the author's pastoral heart to come forward and offer such exhortations.
Each volume includes a Scripture index, and volume two includes a brief glossary of foreign words and technical terms. The second volume also includes an extensive, 42-page bibliography divided into technical monographs, articles and essays, and other non-Philippians works cited in the commentary. For the commentaries, the bibliography follows the introduction in volume 1 (pages 83-92). There is no index of authors cited in either volume.
In the printed version of this commentary there were a few typographical oddities. In volume 2, starting on page 187 the header does not include the chapter/verse, although it does in the previous and following sections (it simply reads "Philippians" through page 290).  However, this does not distract from the content of the commentary.
Since Lexham Press is part of the larger Faithlife family, these volumes are available in Logos Bible Software as a single resource rather than two volumes. In the Logos resource, all Scripture is tagged so readers can float over the reference with their pointer and read the text or click to read the text in their preferred Bible. All abbreviations and references to other commentaries are similarly tagged; if you own the book you can click the pages to go directly to the resource. An additional advantage for the Logos version over the printed version is the ability to click on Greek words to launch your preferred lexicon. I happen to have BDAG in my library, so clicking a Greek work in the commentary takes me to the lexicon. Resources in the footnotes can be copied and pasted into a word processor, or in BibTex format for use in bibliography software. Finally, references to other section of the commentary are hyperlinked. For example, when Keown refers back to his thematic and structural analysis (page 492, for example), the Logos user can click the hyperlink and go directly to page 80 to read this section.
One potential problem is a discrepancy between the Logos resource (published 2016) and the printed book (published 2017). Since an electronic book can be updated frequently, it is possible a printed copy will be out of date. To date there are eleven commentaries in the Evangelical Exegetical Commentary available to Logos users, with a total of forty-four volumes planned.
NB: Thanks to Lexham Press for kindly providing me with a review copy of this book, both in print and Logos format. This did not influence my thoughts regarding the work.
I had an interesting talk with a man at church recently.  He shared with me that the first church he attended after accepting Christ was a "health and wealth" type church.  If something "bad" happened in your life, there was an assumption that you had sinned and were being punished for it.  On the other hand, if you had good health and a decent salary, you must be doing pretty well spiritually.  I do not have much patience for this sort of theology since it is a bad application of a few texts from the blessing passages of the law mixed with some American optimism, and occasionally a greedy pastor or two.  In fact, I am not sure how anyone could believe that God will automatically bless you for proper behavior or curse you for your sins after reading Philippians 4:10-13.
I think that most people can agree that Paul the Apostle is a "model" Christian.  (If you can't agree with this, go read 1 Thessalonians 2 where Paul himself tells his readers to follow his example as a "model" of Christ.)   Paul is in fact a man who was so led by the Spirit of God that he is virtually responsible for Christianity in the western world, 13 letters in the NT and a major influence on Luke and Acts.  One cannot discuss "Christian theology" without discussion Paul.
Yet in Philippians 4 he says that he knows what it means to be in want, he knows what it means to be "brought low."  At the writing of this letter Paul is in prison and it is entirely possible he will die as a result of this imprisonment.  I am not sure that it can get any lower than that!  Yet Paul does not connect his present suffering with any behavior, with any "curse" of God for something he has done or not done.  His suffering is exactly what God has planned and he could not be happier about it.  Rejoice! Paul says, and again, I say, Rejoice!
What is remarkable is that Paul says he has learned the secret to being content in all circumstances, whether blessed with "health and wealth" or blessed with painful suffering physically.  That secret is that any success he has is not his at all.  He can only be successful through Christ, who strengthens him.  The way Paul expresses this is interesting.  The verb μυέω is only found here in the NT, but it has the sense of being let in on a secret which is a dark mystery.  It is used of the mystery religions which had elaborate rituals are deep secrets that only the really advanced people understood.
Perhaps this is a hint from Paul that one does not learn the secret to contentment without a lengthy initiation, and that initiation is a road filled with suffering and heartbreak.  You do not learn the secret of contentment by being blessed with wealth, you learn in by making due with very little indeed.  Here is a lesson American Christianity needs to learn quickly.  Perhaps it is not the church with money and power which has learned the secret of contentment after all, but the little country church will no money and only a few loyal believers.
Paul does something unusual in Philippains 4, he specifically names at least two leaders in the congregation have some problem hindering the church. Specifically, Euodia and Syntyche need to demonstrate unity. For Paul to specifically name people is very unusual since the letter would have been read publically to the whole congregation. He treats them equally by repeating the verb twice ("I encourage Euodia, I encourage Syntyche").
We know nothing about these two women, although there have been a few Christian writers who denied they were women, perhaps because Paul called them co-laborers, and a few who have wondered if they were actual people! But the pronouns throughout the three verses are feminine, so very few (if any) modern scholars deny Paul is talking about two women who worked with him in Philippi.
Syntyche is a feminine name in Philippians, but it appears in inscriptions as a masculine. The early Christian writer and bishop of Antioch Theodore of Mopsuestia (ca. 350 – 428) therefore tried to argue this refers to a man rather than a woman. He went as far as to identify Syntyche as the Philippian jailer from Acts 16!
Euodia is also a common name in the Greco-Roman world (BDAG cites Greek grave inscriptions on Cyprus); the name means "prosperous" or "successful," sometimes in the context of a journey. Like Syntyche, the name has a masculine and feminine form.
The Tübingen School interpreted Euodia and Syntyche as symbols for Jewish and Gentile Christians (for a summary, see Gillman, "Euodia (Person)," ABD 2:670). If this was the case, the Syzygus is the one who unifies the two opposing sides of the early Christian church.
The motivation for making Syntyche into a man is to avoid the implication that an early church like Philippi had women leaders on a level with Paul.  These women are not opponents of Paul nor are they false teachers: their names are "written in the book of life." This is a common way of describing someone who have suffered for their faith yet remained faithful (Dan 12:1, Rev 3:5). This may therefore be a hint the church has suffered for their faith and these two women were instrumental in guiding the congregation through that difficult time.
Verse three asks someone in the congregation to help the women to work through their dispute. The Greek word (σύζυγος) has sometimes been interpreted as a name (Syzygus), a name which would mean "yoke-fellow" if it is a name at all. The name does appear in Greek literature as a description of a wife (T.Rub 4:1, for example), so sometimes Syzygus was thought to be Paul's wife! (She is Paul's loyal wife, left behind in Philippi, perhaps Lydia herself.) Paul also calls on Clement and the "rest of my fellow workers" to help the women to reconcile.  We know nothing of Clement. Although it is the same name as a bishop of Rome in the late 90s, it is unlikely to be the same man.
Paul clearly loves and respects these fellow-workers (v. 1), but he does strongly encourage them to set aside these difference.  He uses a strong word for his affection for the church: he earnestly desires to see them (ἐπιπόθητος). The church is Paul's "joy and crown." This is similar to saying "pride and joy" today, the church is something Paul can boast about and on the day he stands before the Lord he can consider the church a victor's crown.
In summary, Paul deeply cares for the church at Philippi and wants them to endure in the trails they will face. Because he loves them so deeply, he needs to call out two people who are causing disunity. But the whole church needs to have the same sort of unity as well; everyone is to "think similarly."
As is typical of Paul's letters, he begins by expressing his thanks for the church in prayer.  Most letters in the Greco-Roman world began with some sort of thanksgiving section in order to set the tone for the letter. Here Paul recalls his time with the church, probably going all the way back to his first visit to the city in Acts 16. He likely had other contacts with the church over the years.
The reason for his thanksgiving is the church's partnership in the Gospel. A "partnership" (κοινωνία) is a close association of individuals, a fellowship. While contemporary English uses the word with the sense of a business friendship, or sometimes as a verb for a ministry asking for money (they want you to "partner" with them by giving money), the use of this word in the first century was more complex.  It can be used, for example, to describe the marriage relationship (3 Macc 4:6) although this is not found in the New Testament.  It is often used for close participation Phil 3:10, we "participate" in the suffering of Jesus; 1 Cor 10:16 the believer "participates" in the blood of Jesus; in 2 Cor 8:4 the readers are asked to "participate" in sending famine relief. The Philippian church has participated in Paul's ministry by sending him financial support via Epaphroditus, a servant from their church.
Paul is confident God will bring their work to completion "at the day of Jesus Christ." When the gospel was preached in Philippi God began to do something good, and Paul is absolutely confident that God will finish the good work he began.  Having been persuaded, this is a perfect participle; Paul was persuaded that the members of the church. It is not the case that Paul was unconvinced until the church sent him some money!
Modern Christians might reading something like "good work" as a reference to ministry, maybe a mission goal, etc. But a "good work" in a Greco-Roman context would refer to doing some sort of civic project for the good of a community. Imagine someone donating a great deal of money and material to begin the building of a new public building for the good of the community, a museum or library. If the money ran out before the building was finished, this would be a shameful thing for the one who began the project.
There is a tower in Poland intended to be the new regional office of the Main Technical Organization in 1975. Work was stopped in 1981 due to civil unrest, but nothing has been done since to the 92 meter tall structure since. The building known as "Skelator" is too expensive to re-purpose or demolish. This unfinished project is an embarrassment to those who originally planned it.
In the case of the Philippian church, God began the project of building up the church and he will bring the project to a glorious completion on the Day of Jesus Christ. Paul is confident there will be no shame or embarrassment from a half-completed project in the case of this church since God himself is the builder and he cannot fail.
Paul therefore opens his letter with a look back at how the Philippian have already participated in his presentation of the Gospel but also forward to the completion of that partnership when those who are in Christ meet him in glory. Paul can feel this level of confidence because he knows the church also participates in God's grace.
There are other examples of "participation" in Philippians. How can this way of thinking about ministry change the way we "do church"?
When Paul arrived in Philippi in late A.D. 49 the city was one of the most important cities in Eastern Macedonia. Luke refers to Philippi as a "first city" in the region (Acts 16:12). The old Greek city of Philippi was founded in 350 B.C. By Philip II. The Greek city was conquered by the Romans in 86 B.C. and by 42 B.C. it could be described as a "small settlement" (ECM 1151).
Marc Anthony began to settle retired veterans from the 23rd Legion in 42 B.C. after he defeated Cassius and Brutus. After the battle of Actium, Augustus re-founded the city in 31 B.C. as Colonia Iuilia Augusta Philippiensis. There were at least 1000 colonists settled in the city. The city was originally populated by "veterans of Antony's praetorian guard who had lost their claims to land in Italy" (ABD 5:314).
As a colony, Philippi was considered an extension of Rome. The citizens enjoyed Roman citizenship and ius Italicum, a legal status which permitted self-government and tax-exemption to its citizens. Thessalonica was a free city, but Philippi had a higher status as a colony.
The total population of Philippi at the time of time of Paul's visit was nearly 10,000 with slaves making up about 20% of the population (Verhoef, Philippi, 9, 12). Verhoef suggests the eleven named individuals associated with Philippi implies there were as few as 33 adult members in a city of 10,000.
Religious life in first century Philippi was similar to most Greco-Roman cities. Although it was not as ancient as many Greek cities, Philippi was "rich with pagan connections" (Keener, Acts, 3:2381). On the Acropolis above the city there are "more than 90 sculptures represent Diana, goddess of the hunt" (Verhoef, Philippi). These 90 or so figurines represent around 50 per cent of the total number of pictures and inscriptions that have been found at the acropolis. Consequently Diana must have been incredibly important in the life of the Philippians" (62).
Lynn Cohick suggests several factors which make Philippians fertile ground for Empire studies ("Philippians" in Jesus is Lord, Caesar is Not). First, inscriptional evidence indicates that the imperial cult was present in first century Philippi (169). Second, there is a great deal of citizenship language in Philippians as well as the usual "Jesus is Lord." Third, there are studies on Philippians that describe Paul as "colonialist and imperialist" as well as those who see Paul as critiquing the Empire. Cohick concludes that if Paul is anti-imperial, it is part of his Jewish context. Certainly there is a challenge to the power of Rome, but that is not very different than any Jew living in the middle of the first century. There were two temples dedicated to Imperial Cult, although it is difficult to know how influential the imperial cult was in first century Philippi.
In the mid first century, the city was populated with "relatively privileged core of Roman veterans and their descendants" as well as Greeks descended from the original inhabitants of the region (ABD 5:315). The Roman veterans owned agricultural estates worked by slaves.
At the time of Paul's visit to the city, Philippi was a moderately sized Greek city with a strong Roman influence.
In the previous post I pointed out a few historical details which indicate Philippi was more or less Roman city in the mid-first century. How does this background effect our reading of the letter? There are quite a few things in the letter which are illuminated by this background, let me suggest just three.
First, Paul the Slave vs. Paul the Citizen (Phil 1:1). Paul identifies himself as a slave in the first verse of the letter. The superscription to the letter is unique in that Paul identifies himself solely as a slave and his readers as "overseers and deacons" in the church. Often this is explained either as a reflection of the close personal relationship Paul had with the church (O'Brien) or as a part of the literary genre of "friendship letter" (Fee).
Joe Hellerman sees the titles as a part of Paul's reconstruction program.  "Paul has a legitimate right to proclaim his apostolic status, but chose instead to refer to himself as a lowly δοῦλος" (Reconstructing Honor, 120).  Paul does not mention his citizenship in Philippians, even though his experience in the city involved his illegal arrest and imprisonment as a citizen. "Citizens who have a citizenship in heaven should live according to the Gospel of Christ. In my opinion, in this verse and in 3:20, Paul contrasts the very desirable Roman citizenship with the citizenship that is connected with heaven" (Verhoef, Philippi, 33).
Second, The Pursuit of Honor (Phil 2:5-11). Jesus considered his equality with God as not "a thing to be grasped." A "thing to be grasped" (ἁρπαγμός) refers to asserting a title or putting forth a claim for something, or something to be exploited. Think of someone who "makes a claim" for a legal settlement, they think they are entitled to compensation so the "make a claim." The King James Version had "did not think it robbery," reflecting the idea of grabbing at something.
In the Roman world, a Citizen of high standing might wear a toga indicating his rank, and expect that others notice it and give him proper deference. Jesus did not consider his rank as God was something he always needed to claim. Paul describes Jesus in this verse as occupying the very highest rank imaginable by anyone in the ancient world, he was in fact God. Yet that position and rank was not something he insisted upon, as the Romans would have done. He set aside that rank in order to humble himself.
The Roman world was based on extreme social stratification. There was a rigid social order in the Roman world, from the extreme minority elites who had virtually all the power to the majority slaves who had absolutely no power. In fact, Roman life can be described as a "Quest for Honor" (cursus honorum).  Hellerman shows the lengths to which a Roman might go in order to gain honor. For example, on the tombstone of C. Luccius (A.D. 134), all of the honors achieved by the man are listed. In contrast to this, Paul offers his own list of honors in Phil 3:5-6, which he considers "rubbish."
While members of Roman culture were motivated by self-promotion, members of Paul's churches were to seek the honor of others and to think of others more highly than themselves. This flies in the face of the Roman world, and as Hellerman points out, it flies in the face of power relations within the church (p. 99).
Third, Setting Aside Marks of Honor. In Phil 2:7-8, Jesus emptied himself of his honor and prestige. The meaning of "emptied" is important here. The verb (κενόω) refers to setting the status described in verse 6 in order to be obedient.  There is a great deal of theological weight placed on this word, but the phrase is better understood in terms Roman status, especially in the practice of wearing the toga by Roman elite.
The toga was a sign of elite status in the Roman world. Hellerman makes the point that this would be equivalent to a Roman senator setting aside his toga (his mark of status) and taking on the rags of a slave (also a mark of status). Because of that humble obedience, Jesus is exalted to the highest status imaginable, even above the emperor of Rome! That Jesus is called Lord is counter to a Roman world where Caesar is Lord and worshiped as a god (p. 167). So when he "he emptied himself." Jesus "divested himself of his prestige or privileges" (BDAG). It is as if he voluntarily set aside his toga, the sign he was the highest ranking Lord in the universe.
Rather than divesting himself of divine attributes, the idea Paul has in mind the humility Jesus had in the incarnation, so much so that the God of the universe could set aside that status in order to serve others.
Rather than having the form of God, Jesus took on the form of a servant. The ESV translates this as servant, but it is the same word as "slave," the lowest possible social class in the Roman world. Jesus therefore set aside the toga, and picked up the rags of a slave. Think of the Roman emperor stripping himself of the finest clothing available to a Roman citizen and putting on the stained and flea-infested rags of the lowliest slave.
Just as the status of a Roman citizen was evident by what they wore, so too the clothing of a slave signal his status. Even a slave with some social standing would not dress in a toga! The social status of a servant was always viewed negatively in the Roman world.
In modern western culture, a person at a store might say something like "I am at your service" in order to indicate their willingness to help someone. In the Roman world, this would be a shameful expression, a servant was.
Although Jesus was by nature God, he voluntarily took on the nature of a human. In doing so Jesus is the model of humility for the honor-conscious members of the Philippian church.
Paul's opponents may have claimed to be better qualified to explain the role of the Law for Gentiles because of their heritage and training. This is more or less equivalent to someone who claims to be an expert because they graduated with a PhD from Harvard (as opposed to a certificate from DeVry Institute? Fill-in your own institutions here…) Paul therefore takes a moment to boast about his personal heritage and achievements. Paul claims in Philippians is that he is a proper Jew who excelled in the practice of Second Temple Judaism more than anyone else of his generation.
First, he was circumcised on the eighth day. This indicates he comes from a family that is keeping the Jewish traditions despite living in Tarsus.  It is possible that there were Diaspora Jews who did not keep this tradition or even did not circumcise their boys.
Second, he is a member of Israel connects Paul to the covenant as a member of Abraham's family.  Paul was not a Hellenistic Jew from Tarsus pretending to be a Greek, but rather a Jew who was well aware of his heritage as a child of Abraham.
Third, he is from the tribe of Benjamin is significant since not every Jew in the first century could claim to know they were from a particular tribe.  Paul's Jewish name "Saul" is taken from the first king of Israel, from the tribe of Benjamin, and Paul's teacher in Jerusalem, Gamaliel, was also from the tribe of Benjamin.
Fourth, the phrase "Hebrew of the Hebrews" can be taken in several ways.  This phrase may mean that Paul was born of true Jewish blood, that there is no Gentile in his linage. It is sometimes suggested that Paul is referring to his ability to speak and read Hebrew. Not all Jews spoke the language, especially in the home.  If there is an increasing specificity in the list of descriptions, then perhaps Polhill is right and Paul is saying that he is from an extremely Jewish family, one that still speaks the language at home (Paul and his Letters, 26).
Fifth, with respect to religion, he is a Pharisee.  Second Temple Judaism had a number of sub-divisions, not exactly like modern denominations but that is a fair way to think about them. Sadducees and Pharisees are the two most well known in the New Testament, but there were several others. There are many ways to define the groups, but Paul's emphasis might be on faithfulness to the Law and loyalty to Israel. Pharisees were not simply observant of the Law; they thought deeply about the Law and guarded themselves against breaking the Law unknowingly. They really could claim to be "blameless" with respect to law
Last, with respect to zeal, Paul says he was a persecutor of the church. Zeal has become a Christian virtue in modern Church-talk, usually equivalent to strong emotional response in worship. But that is not at all Paul's point here. He is zealous for the Law and the traditions of his people in the same way the Maccabean Revolt was zealous for the Law. In that case, they fought the Greeks for the right to keep the Law. More important, they were willing to enforce the Law for Jews, including circumcision. Paul's zeal was not a warm feeling of love for God, he was violently opposed to Jews who claimed the Messiah was crucified by the Temple authorities; he was willing to use physical abuse to convince people this Messiah did not rise from the dead.
Paul is, in the words of J. B. Lightfoot, making a progressive argument.  A convert to Judaism may be circumcised, someone with some Gentile in his linage might claim a tribal affiliation, but Paul is a pure-bred true Jew!  If anyone in the Second Temple period could boast about their heritage it was Paul!
What is the point of this boasting? In the light of Paul's exhortation to humility in Phil 2, what do we make of Paul's list of his achievements? How would those living in Greco-Roman Philippi hear this boast?
Paul begins the next section of the letter to the Philippians by calling on the church to live a life worthy of the Gospel.
By living a worthy life, the church will stand firm in one spirit (v. 27-28).  One's "manner of life" (πολιτεύομαι) refers to being a good citizen. If someone was a Roman citizen, there were a number of expectations for proper behavior in the public forum. This refers to both a legal responsibility as well as conduct in public. By analogy, a "good citizen" in America pays their taxes and votes in elections, properly registers and insures their car, etc. You cannot call a person who refuses to pay taxes, breaks the Law regularly, or runs around burning American flags a "good citizen."
"Manner of life" can be used as a metaphor for living in accordance with the Law. 3 Macc 3:4, for example, describes the way of those Jews who had kept themselves separate with respect to foods, but had gained a good reputation for various good works. But these differences were so significant that they fell under suspicion as "hostile and greatly opposed to the government" (3 Macc 3:7) and eventually the government oppressions the Jews because their "manner of life" was so different than the Greeks in Egypt (3:11-30).  The same sense of the word appears in 4 Macc 2:8 where one whose "manner of life" conforms to the Law stands in contrast to a number of typical vices. Josephus refers to keeping the Law, but also paying the Temple tax and other civic duties (Ant. 12.142). The word appears in other Jewish literature to describe proper conduct of life with respect to the Law. It is not insignificant that the Jews in 3 and 4 Maccabees were perceived as hostile to their culture and were persecuted for their "manner of life"
To have a manner of life "worthy" of some ideal is a common way of expressing the goal of spiritual life in the New Testament. Perhaps this might be thought of as "live up to an expectation." For Roman citizen, the expectation is to live like a Roman citizen should; for the one who is "in Christ," they are to live worthy of the Gospel!  Paul begins the second half of Ephesians with similar words ("walk in a manner worthy of the calling"); in 2 Thess 2:12 he encourages his readers to "walk worthy of God" (cf. 3 John 6); in Col 1:10, it is "walk worthy of the Lord;" in Rom 16:2, it is "walk worthy of the saints." Deissmann reports this word was used on inscriptions in Pergamum (Biblical Studies, 248). Athenaios, a priest of Dionysus and Sabazius, is extolled as "worthy of god." Whatever these priests did, they were considered good examples for other worshipers.
The goal in Philippians 1:27 is the Gospel of Christ. The one who is "in Christ" is not a citizen of Rome. Nor should they conform their lives to the Law quite like the martyrs in 3 and 4 Maccabees. Their loyalty is to the Gospel of Christ only. Everything the individual Christian or local church does ought to be viewed through the grid of the Gospel.
It is remarkable that the issue of Paul's citizenship first arises in Philippi in Acts 16. Citizenship was not common in the first century, not everyone was guaranteed the privilege of being a citizen of the Empire. In 28 B.C. there were approximately 4.9 million citizens, by the time of Claudius there were 5.9 million. Most of these lived in Italy or were serving in the army. That Paul was a Roman citizen was significant, but even more so in the city of Philippi.
The city of Philippi was a re-founded as a Roman colony in 42 B.C. after supporting Octavian in the Roman civil wars. Rome settled a number of retired soldiers there in 42 and again after the battle of Actium in 31 B.C. As Polhill observes, the city was an impressive Roman city when Paul visited it (P&HL, 161).
One of the most striking features of the city of Philippi was civic pride. Joe Hellerman summarizes this "the Romanness of Philippi," citing the catalog of inscriptions now available to scholars. He comments that compared to other cities in the Greek world, Philippi had a "preoccupation with honorific titles and offices which characterized the social priorities of both elite and non-elite persons in the colony." Titles mattered to this colony of retired soldiers, since titles were a sign of social significance. To be a citizen of Rome was to have a higher social standing than the non-citizen.
Paul's use of citizenship terminology in the letter suggests "that Paul sought intentionally to mimic the honor inscriptions that confronted his readers on a daily basis throughout the colony" (Hellerman, 783). In fact, Paul uses citizenship as a metaphor only in Philippians. In 3:20 he describes the believer as a "citizen of heaven" (πολίτευμα). In 1:27 Paul states that one's "way of life" ought to be worth of the Gospel. The word translated "way of life" is πολιτεύομαι, to "be a citizen" (BDAG).
Paul's point in using this language in Philippians is to show his readers that being "in Christ" is far superior to being "in Rome." You may be a citizen of Rome, but that does not matter at all if you are a "citizen of Heaven." I imagine that someone in Philippi might have judged a person who was merely a "citizen of Philippi" as socially inferior. The members of the church, according to Acts 16, included a business woman (Lydia), a retired soldier (the jailer) and perhaps a slave girl (formerly possessed). That "mix" of social strata is radical in the world of first century Philippi, yet Paul describes them as all citizens of a kingdom far superior to Rome.
If this reading of the citizenship metaphor is correct, then it will change the way we read Paul's boasting in chapter 3, but also how we read the "Christ Hymn" in 2:5-11.
Bibliography: Joseph H. Hellerman, "Μορφη Θεου As A Signifier Of Social Status In Philippians 2:6," JETS 52 (2009): 778-797. This article draws out the implications in the Christ Hymn in detail.
While the following commands from Paul seem unrelated to the theme of unity, Frank Thielman argues they ought to be read in the context of persecution (Philippians, NIVAC, 217-9). While this is not an Empire-wide systematic persecution of believers, we have already seen several times in the letter than the church at Philippi was a small community of believers who are in many ways "different" from the Roman culture around them. The existence of a group of people who "have the mind of Christ" is enough to be suspicious, and suspicion easily gives way to gossip, wild accusations and pressure to conform. This sort of social pressure can be difficult to accept and a source of great fear for the church. Paul's series of short exhortations in these verses are therefore designed to give comfort and encouragement to endure.
First, Paul encourages the church to set aside worry by rejoicing in their circumstances. If the context is social pressure on Christians in Philippi, then there may be some despair in the congregation. Paul repeats his call for joy regardless of circumstances here, recalling his words in chapter 1. Paul is in prison and may be executed for his faith, yet he rejoices in his circumstances.  He is modeling the kind of attitude he desires from the congregation.
This is not some sort of masochistic pleasure in suffering, but rather the sort of happiness that comes from understanding the circumstances properly. For example, someone who competes in athletics "suffers" greatly when they train. They consider the work they are doing well worth the pain because of the ultimate goal (winning the prize). The same is true for pursuing a college degree or training necessary to advance at a job. It is hard work, and might fairly be called suffering, but as painful as it is, from the perspective of the goal, it is a cause for rejoicing. Paul models this by counting his past achievements as a loss and "forgetting what is behind and straining for what is ahead" (3:12-14).
Second, Paul says the believer is to be "reasonable" (ESV) or "be gentle" (NIV 2011), or perhaps a "forbearing spirit" (BDAG). The Greek word (ἐπιεικής) does have the sense of kindness or courteousness. But it has the sense of kindness in a context where retaliation is expected. This fits well with the possibility of harassment and persecution as well. The believer responds to pressure to conform to the world in ways the world does not expect; instead of revenge and retaliation, we are to be reasonable, gentle, and forgiving.
Third, worry is not necessary because the "Lord is at hand. The phrase, "the Lord is at hand" may go with "be reasonable," although it is probably better to see it as the reason we should not be anxious. This is not escapist, as if Paul is saying, do not worry about things since God is going to destroy it all soon anyway! The soon return of the Lord is a motivation for unity because the return will vindicate the righteous (rewarding them) while punishing the oppressors. Again, this is not some sort of defeatist, "hunker down and take it" attitude; Paul is once again pointing to the goal and understanding his present suffering in the light of future vindication at the return of the Lord.
Last, instead of worry, we are to bring requests to God in prayer.  Based on this verse, worry is sometimes considered a sin. But "worry" here is refers to anxiety or apprehension concerning present circumstances (suffering for the faith?) rather than faithlessness or a careless attitude toward life. Some worry is a "healthy concern." If my car makes a funny noise it is a cause for concern; I might worry about some change in my health; I might be worried about how my children behave, or about my family's health, etc. But if I begin to worry about your children, perhaps I have gone beyond healthy concern.
How much worry is unhealthy? Since Paul says we ought to bring requests to God in prayer rather than worry about them, perhaps the analogy of a "burden" is good here. Some things you can physically carry better than others, some people are stronger, better at carrying things, etc. Sometimes you need a little help carrying something heavy or awkward. Unhealthy worry may vary from person to person, but sharing the concern with others, first with the Lord is the best way to "share the load."
Rather than be excessively concerned, Paul tells us to commit these things to the Lord in prayer in order to share the burden with the one who is able to carry it for you. If Paul has in mind pressure to conform to the Roman world faced by the church, but the application to contemporary Christianity life is clear. We are to let God carry our burdens rather than bear them alone.