You are currently browsing the tag archive for the 'Pauline Theology' tag.
Longenecker, Richard N. Paul, Apostle of Liberty. Second Edition. Grand Rapids, Mich.: Eerdmans, 2016. 435 pp. Pb; $34.   Link to Eerdmans
Richard Longenecker's Paul, Apostle of Liberty was first published in 1964. Much has happened in Pauline studies since 1964, not the least of which is E. P. Sanders's Paul and Palestinian Judaism (1977). Since the first edition of this book, Longenecker himself contributed a highly regarded Word Biblical Commentary on Galatians commentary (Word; 1990) and most recently the NIGTC volume on Romans (Eerdmans, 2016), along with many other monographs and articles on topics within the field of Pauline studies. This introduction to Paul's theology can fairly be described as a classic text which has already served a generation of students as a classroom textbook and standard reference work on Paul's theology.
The body of this introduction to Paul is essentially the same as earlier editions. Longenecker does not survey the letters of Paul or discuss "background" issues. His interest is in tracing the more important contours of Pauline theology. After a chapter on sources, Longenecker provides three chapters on Jewish backgrounds for Pauline studies (Paul as "Hebrew of the Hebrews"; Piety in Hebraic Judaism; Saul and the Law). Longenecker uses the Romans 7 as evidence Paul was indeed "kicking against the goads" when he zealously persecuted the church.
Longenecker has four chapters on Pauline teaching: Legality and the Law; The End of Nominism; Liberty in Christ; The Exercise of Liberty. For Longenecker, liberty in Christ is essential for a proper understanding of his theology. In the third section of the book Longenecker entitles "practice" although his interest in these three chapters is how Paul worked out his view of Christian freedom in Christ with respect to the Law. Chapter 9 discusses the Judaizers and Paul's relationship with Jerusalem. Chapter 10 focuses on Paul's mission strategy of "all things to all men." Here Longenecker is interested in how Paul evangelized Gentiles, but also his response to the Libertenes, the Ascetics, the "strong" and the Ecstatics.
Finally, chapter 11 deals with the "problem practices" in Acts. Late in Acts, Paul claims to have a clear conscience with respect to the Law. If Paul is the Apostle of Liberty and believed the Gentiles were no longer under the Law, why does Paul continue to preach to the Jews? Why did he take a Nazarite vow in Acts 18? Why did he accept the Jerusalem decree in Acts 15 if he believed he was not under the authority of the Jerusalem church?
The new material in this book is a lengthy addendum tracing the reception of Paul and his letters through church history. Even in this 92 page survey, Longenecker cannot hope to present a comprehensive summary of all of the commentaries and sermons produced over 2000 years, so he provides a "Hall of Fame" intended to honor his own favorite commentators on Paul. Longenecker has divided his list into three periods: Patristic (including texts like the Acts of Paul and Thecla, the Gnostics and Marcion, but also Irenaeus, Clement of Alexandria, Tertullian,  Jerome, Augustine, and many others), the Reformation (beginning with Erasmus, but including all the expected reformers) and modern (Schleiermacher, Baur, Lightfoot, Barth, and James S. Stewart). For the modern period, he has purposely avoided scholars who are still active. This means there is nothing from N. T. Wright, for example, even though Wright has contributed a major Romans commentary and a massive book on Paul's theology, nor is there any attempt to deal with the often visceral reaction against Wright's views on Paul. Longenecker is not particularly swayed by the New Perspective, although in many ways the original 1964 version of this book anticipated some of the problems raised by Sanders and Dunn. Perhaps Longenecker's recent commentary on Romans offers insight into his opinion of the New Perspective, but there is very little in more than 1000 pages of commentary which reflects the contributions of the New Perspective.
In addition to this hall of fame style survey of historic commentators on Paul, Longenecker offers a series of brief summaries of modern approaches to Paul. This section includes two or three pages on:
Rhetorical approaches to Paul which recognize the epistolary form of Paul's letters
Reevaluation of the textual history of the New Testament
Reevaluations of Palestinian Judaism (E. P. Sanders)
The New Perspective on Paul (James Dunn)
Narrative approaches to the New Testament applied to Paul
Since this is a second edition, it is fair to evaluate the value of the book in contrast to the earlier edition. As Longenecker recognizes, the field of Pauline studies has gone through several major developments since 1964, but he has chosen not to update the body of the book to reflect these changes. Most readers of this new edition will be aware of the work of E. P. Sanders and the New Perspective on Paul as well as the reactions to Sanders and the New Perspective. Some of these responses were violently opposed to the movement, others took up the suggestions in Sanders's Paul and Palestinian Judaism and developed them in detail. Longenecker does not attempt to integrate any of this massive secondary literature into the 1964 version of his book, but rather comments on Sanders and the New Perspective in the addendum (p. 345-50).
By way of conclusion, Paul, Apostle of Liberty, remains a classic of Pauline theology and ought to be read (and re-read) by anyone studying Paul's theology. The addendum is an excellent primer for a seminary student who needs to "catch up" on two thousand years of thinking about Paul's theology.
NB: Thanks to Eerdmans for kindly providing me with a review copy of this book. This did not influence my thoughts regarding the work.
Thanks to WJKP for sending along a review copy of this new textbook by Markus Bockmuehl. This is the latest in the Resources for the Use of Scripture in the Church series, which is itself a subset of the Interpretation commentary series.
The book begins with a 54 page chapter defining an ancient Christian Gospel. Since there are about eighty documents which fall under the category "gospel," Bockmuehl must carefully define what he will include in this book. In his conclusion he comments "the canonical gospels appear to be unique and distinctive" (226). There are no narrative apocryphal gospels which attempt to tell the story of Jesus from baptism to resurrection, although they all seem to presuppose the general outline of the canonical gospels.
After this introduction, Bockmuehl offers a chapter infancy gospels (such as James and Thomas), ministry Gospels (Egerton and "secret Mark"), Passion Gospels (such as the Gospel of Peter), and post-resurrection gospels (such as the Gospels of Thomas and Philip).
Bockmuehl also concludes these apocryphal gospels were not suppressed from the canon and the evidence overwhelmingly indicate no one thought these gospels would supersede the canonical gospels. Many were in fact produced as private literature and intentionally hidden. As Bockmuehl says, these gospels did not "become apocryphal but remained so" (232). This is important since much of what is written on these gospels is sensationalism at its worst. These are the lost gospels, or the gospels the Church did not want people to read. In fact, only a small percentage of the literature surveyed in this book could be considered subversive by the orthodox church. For example, Bockmuehl considers the Gospel of Jesus as "antagonistic" (234), but most of this literature is not dark, heretical knowledge.
So why read this literature? The non-canonical gospels bear witness to a wide variety of early Christian thinking. The first few centuries of the church were far more diverse than many overly-optimistic church histories would lead you to believe. This diversity also indicates the difficulties of dealing with who Jesus was as presented by the four canonical gospels.
The book includes an extensive 47 page bibliography may be worth the price of the book by itself.
Look for a full review soon.
Gorman, Michael J. Becoming the Gospel: Paul, Participation, and Mission. Grand Rapids, Mich.: Eerdmans, 2016. 351 pp. Pb; $28.   Link to Eerdmans
In this new monograph Michael Gorman asserts the apostle Paul wanted his communities to not only believe the gospel but also to become the gospel by participating in the life and mission of God (2). Gorman describes local churches as "colonies of cruciformity" Gorman has already contributed two books with similar themes (Cruciformity: Paul's Narrative Spirituality of the Cross, Eerdmans 2001 and Inhabiting the Cruciform God: Kenosis, Justification, and Theosis in Paul's Narrative Soteriology, Eerdmans 2009). This book intends to develop this view of Paul's theology of participation by reading Paul missionally. After two introductory chapters, Gorman examines becoming faith, hope and love in 1 Thessalonians, the story of Christ in Philippians, the gospel of peace in Ephesians, and the justice of God in 1-2 Corinthians and Romans.
In this book Gorman argues Paul "expected the salvation of God to spread throughout the world not only by means of his own Gospel ministry but also by means of the participation of his converts in various house churches" (61). In fact the church was to be a "living exegesis" of the gospel of God (43).
Gorman uses Philippians 2:6-11 as a model of the gospel several times in the book. He calls this text a "missional Christology for a missional people" (109). The pattern of these verses is "although [x] status, not [y] selfishness, but [z] self-renunciation and self-giving." In Philippians, Jesus has the status of "form of God" [x], but did not consider that status as something to be exploited [y], but rather he emptied himself so he could give himself on the cross [z]. Chapter 4 contains a careful exegesis of these verses and Gorman describes them as Paul's master text. Gorman shows how Paul's example in 1 Thessalonians 2 or 1 Corinthians 9 follows this same pattern (87), but also Paul's expectation for his churches are similarly modeled.
Gorman is not advocating some bland lifestyle evangelism. Using the Thessalonian church as an example, it appears their faithfulness to the gospel was public and in some way brought them into conflict with their culture, perhaps even leading to the death of some members of the congregation because of their faithful witness (74; although he admits this is a minority view in footnote 24; I am inclined to agree). In addition to this, those who have expressed public faith in the gospel would have faced questions from friends and family about their abandonment of cultic activity. This would include a rejection of family gods, but also civic and imperial worship. This would be interpreted as impious and unpatriotic behavior, potentially leading to persecution (95). Gorman says "one cannot speak of the 'good news' of Jesus as 'Lord' without focusing on the countercultural religious and political claims of this story" (134). The gospel itself challenges the false master story of the Roman world. If the church is actually living out the gospel in their lives then they will challenge culture in very real ways which will lead naturally to persecution.
Gorman spends two chapters on the church as the embodiment of peace. Chapter 5 is a biblical theology of peace which defines peace as shalom, the fullness of life promised by God (143). Although Western Christians tend to think of peace in the Pauline letters as "peace with God," Gorman follows N. T. Wright in arguing peace is central to both Paul's soteriology and ecclesiology. Certainly reconciliation with God is important for Paul, but peace within the community is constantly repeated throughout Paul's letters. If a local church is an embodiment of the gospel, and peace with God is central to that gospel, then peace with one another must be an important component of how a church lives out the gospel in a community. Gorman sees the peacemaking mission of the church as an anticipatory participation in the coming eschatological kingdom of peace (162, almost an "already/not yet" argument).
To support this, Gorman offers a detailed reading of Ephesians. Ephesians refers to peace eight times, including the introduction (1:2) and conclusion (6:15) of the letter. Before looking at the way Ephesians describes peace, Gorman must deal with several obvious objections to using Ephesians as a model for Pauline ecclesiology. He deals with the authorship problem briefly by stating Paul is the genius behind the letter regardless of who wrote it. A second problem with Ephesians is the alleged patriarchy of Ephesians 5:22-6-9. Although there are various ways to deal with this problem, Gorman points out the peace of the gospel ought to effect all relationships in which believers participate, so if a male head of a household is acting peaceably, then he cannot mistreat his wife, children or slaves (186).
He then argues the book of Ephesians demonstrates Christ's death reconciles people to God, but also people to one another (192). To emphasize one or the other is to miss the point of "Christ as peacemaker." But the church is not simply to "be peace" rather they are to keep the peace. If shalom means harmony, then the local church ought to be a place characterized by the same cruciform love that created the church (196). Peacemaking cannot be reduced to a nebulous imitation of Christ or God, although it certainly includes "putting on" Christ.
Each chapter concludes with a brief example of a ministry which is "being the gospel" in a particular community. For example, after arguing Paul expects his churches to be peacemakers, Gorman illustrates this by describing Christian Peacemaker Teams, an ecumenical ministry which seeks nonviolent alternatives in Palestine, Iraq, Columbia or other war-torn regions. For the church as the justice of God, Gorman draws attention to Mary's Cradle in Bluefield, West Virginia, a ministry associated with Trinity United Methodist Church. The ministry provides assistance for pregnant women and offers a range of services for women. These illustrations are helpful because they provide concrete examples of how local churches can think creatively to be the gospel in their communities.
Conclusion. I have always been associated with Christian organizations which were decidedly evangelistic although not always intentional in how they live out the gospel in a community. Missionaries went off someplace and did missions and the local church supported that mission with prayer and money. But this is not what Paul envisioned when he planted local churches in specific communities. Gorman shows Paul's "missionary strategy" was to create local manifestations of the gospel, local churches, which could then reach into their communities as a living gospel. I agree with Gorman's assessment that some churches are hearing a call to be the gospel through a "renewed imagination." In Becoming the Gospel Gorman provides a solid exegetical, biblical foundation for local church involvement in local communities.
The Eerdmans podcast has a two-part interview with Gorman (episodes 14 and 15) and Gorman answered a few questions on Eerdworld about this book.
NB: Thanks to Eerdmans for kindly providing me with a review copy of this book. This did not influence my thoughts regarding the work.
After concluding Romans 8 with the great promise that nothing can separate those who have been declared righteous and adopted into the family of God from the love of God, a reader might object that God has in fact rejected his people Israel. God made promises to Israel which seem to remain unfulfilled because of Israel's unfaithfulness. Chapter 9 argued God this is not a problem of God's faithfulness. Like Ishmael, Esau or Pharaoh, Israel's failure to respond to God is an opportunity for God to show mercy (or not) on whomever he wills. But this does not mean Israel was not responsible for their failure to obtain righteousness through the Law.
But God's sovereign choice does not mean Israel bears no responsibility for their failure to obtain righteousness through the Law. This is true even though the Law was not able to produce righteousness in the first place.
For Paul, Israel did not pursue righteousness through faith, but rather by works. Does this implies righteousness could be obtained by the following law, but Israel pursued righteousness in the wrong way? Schreiner does not think this was Paul's point at all (Schreiner, "Israel's Failure," 213). Earlier in Romans Paul has argued the Law could not make someone righteous since that was not the purpose of the law in the first place (Rom 7:4-6).
Israel failed to obtain righteousness assuming a right relationship with God depended on total obedience to the Law rather than God's grace. For example, in is likely that the worship offered by the northern kingdom of Israel was properly performed, all sacrifices were made according to the Law, yet God says that this worship is a stench to him because the people are not acting justly (Amos 5:21-24).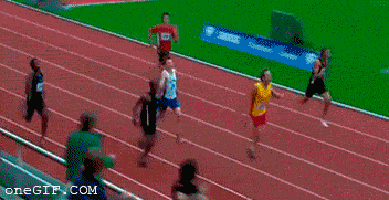 The verb translated "reaching" in verse 31 (φθάνω) can refer to attaining a particular status or state. Schreiner detects a racing metaphor, citing the verb "pursue" in this verse and "to run" in 9:16. I would also add the idea of a "stumbling block" in 9:32 could be part of the metaphor of running a race.
The Jewish people pursued the law of righteousness yet did not attain the goal of the Law. Looking ahead to 10:4, Paul will conclude this paragraph by stating clearly that Christ is the goal of the Law.
The Law was the standard to which Israel held themselves, but they could never obtain that standard. They therefore failed because they were seeking the wrong goal from the beginning. It really did not matter how close they came, they were never able to reach the goal since it was the wrong goal for them in the first place.
To extend Paul's metaphor of a foot race, imagine competing in 100 meter sprint. You wear the right shoes and get into the proper starting crouch, and make an excellent start when the gun sounds. You bear down and sprint the 100 meters, finishing well ahead of all the other runners, absolutely certain you have won the contest. But as it turns out, you were competing in a 26.2 mile marathon. Your excellent start, perfect performance and stellar finish do not count for anything, since the goal set before you is still 26 miles away.
By way of analogy, Israel pursued righteousness by pursuing the Law. Many kept the Law as well as they possibly could, yet found themselves falling short of the glory of God since they were pursuing as if the works of the matter rather than faith in the grace of God who has called them into a unique relationship with God.
Although this is aimed that Paul's Jewish dialogue partners, I suspect this warning is important also for Christians. It is easy for us to think we are pursuing Christ well by doing the right things, or by having a vibrant (emotional) worship time, by reading the right blogs, by voting for the right candidates or supporting all the right causes. These are not the standards by which we were declared righteous in the first place, nor is it the standard by which we maintain our relationship with God.
Before dealing with the problem of God's faithfulness, Paul lists many advantages the Jews have as God's people. In Romans 3:1-2 Paul initially raised the question of the advantages the Jewish people have with respect to God. Historically, some Jews were wholly unfaithful to the covenant they were given and even those who were not unfaithful failed to keep the covenant fully. By Romans 7, Paul explained the reason for this failure was the purpose of the Law. But the failure of Israel still stands as a potential objection to God's faithfulness to his promises. Paul proves his point that God's present rejection of Israel is not inconsistent with His Promise by looking at the history of Israel
Sons of God by adoption. ἡ υἱοθεσία ("the sonship") is never used in any Jewish literature including the Septuagint to describe Israel's relationship to God. For Barrett (Romans, 166), Paul refers to a status of sonship "conferred upon Israel at the Exodus" (Exod 4:22; Isa 1:2; Hosea 11:1). In the previous chapter, Paul his describe the Christian as having the status of "Sonship" using the same word. It is possible that he begins his list of advantages with the status of adoption in order to create continuity between God's people in the Old Testament and God's people in the new age.
The sons of Israel were shown his glory, an allusion to the Exodus. Paul has in mind the pillars of cloud and fire at the crossing of the Red Sea (Exod 15:6, 11) and/or the theophany at Mount Sinai (Exod  24:16).
God made the covenants with Israel. There is a textual variant with a singular covenant, the mosaic covenant. But if this is plural, then possibly a reference to "the three covenants within the great covenant of the Exodus—a covenant at Horeb, a second in the plains of Moab, and a third at Mounts Gerizim and Ebal" (Barrett, 166). Perhaps it is not a problem, since the plural "covenants" appears in several documents in the Second Temple period.
Wisdom of Solomon 18:22 He conquered the wrath not by strength of body, not by force of arms, but by his word he subdued the avenger, appealing to the oaths and covenants given to our ancestors.
God gave the law and the temple worship and the promises. The noun "law" in this line is ἡ νομοθεσία, only found here in the New Testament. Jewett refers to a similar usage in 2 Macc 6:23, a reference to "the holy and God-given legislation" honored by Eleazar. The noun translates "temple worship" would evoke sacrifices at the temple in Jerusalem, but to a Roman, the word λατρεία "would be understood by the Roman audience as referring to worship" (Jewett, Romans 564).
To Israel belongs "the fathers of the race." Abraham is normally considered the father of the Israelites, but Isaac and Jacob are also "the fathers". This anticipates the next section in which Isaac's children Jacob and Esau will be featured.
Most importantly, from Israel springs the Christ himself. The phrase "according to the flesh" recalls help Paul begin the book of Romans, by declaring that Jesus Christ was in the line of David according to the flesh. It may also anticipate Paul's argument in the next section. Those who are descended from Esau are "according to the flesh" as opposed to from the spirit.
It is therefore ironic that God's people rejected Jesus as the messiah, but also that the rejected the coming of the Holy Spirit in Acts 2 as well as Paul's preaching (for example, the synagogue sermon in Acts 13). To what extent would Roman believers (Jewish or Gentile) have understood the failure of Israel to respond to Jesus as Messiah? Were these advantages squandered?
Richards, E. Randolph and Brandon J. O'Brien. Paul Behaving Badly: Was the Apostle a Racist, Chauvinist Jerk? Downers Grove, Ill.: InterVarsity, 2016. 224 pgs., Pb.; $16.00 Link to IVP
This book follows Mark Strauss's Jesus Behaving Badly (IVP 2016, I review this book here) and David Lamb's God Behaving Badly (IVP 2011). In many ways this new book is similar to an earlier volume written by Richards and O'Brien, Misreading Scripture with Western Eyes (IVP 2012). The goal of this book is to offer some explanation for some of Paul's writings which strike the modern (and politically correct) reader as not just difficult, but impossible to apply. In the conclusion to the book, they state "Paul was a product of his time—like everyone else" (194).
In the introduction to the book, the writers set up the "problem of Paul" by describing their own misgivings about Paul. On the one hand, Paul does say some rather disturbing things. Most Christians struggle with Paul's command for women to remain silent in church because it is disgraceful for a woman to speak in church (1 Cor 14:3-35). His commands on head-coverings (1 Cor 11:2-16) are difficult to apply in a modern context. Paul can certainly be abrasive and downright rude, calling be infants or foolish (Gal 3:1). There are many Christians who prefer the kind, loving Jesus to a cranky, autocratic Paul. In the conclusion to the book the authors express their hope that this book does not "hate on Paul" (193),
But another serious problem is that Paul is intimidating! Reading Paul can be a difficult slog in terms of both content and theology. Following the argument of Romans can be challenging, and unpacking Paul's logic in a way which resonates with a modern reader is not always possible. For many Christians it is far easier to understand a parable of Jesus and immediately apply the parable to a situation in their life than to wade through the thick theological argument of Romans or Galatians.
Richards and O'Brien, begin with the way Paul communicates with his readers. Sometimes he seems to be "kind of a jerk." This is certainly true when Paul's letters are compared to the popular image most people of Jesus. Another aspect of Paul's letters which is hard for some to handle is arrogance. Rather than following Jesus, Paul regularly tells his readers to follow him. In 1 Corinthians 11:1, for example, Paul demands his readers follow his example as he follows Christ. Despite demanding peace in his churches, Paul occasionally bullies his opponents (24), calling them names and mocking their views. Richards and O'Brien point out that Paul makes a great deal out of his calling to be the Apostle to the Gentiles and he seems to put his own agenda ahead of the leading of the Holy Spirit (citing Acts 21:4). Richards and O'Brien conclude "there is no way around it. Paul thought he was special" (36). At least some of Paul's bluster can put explained as Greco-Roman rhetoric, and put into the context of other Roman writers, Paul is not that much different (perhaps he is less of a bully that some!)
Chapters 2-6 deal with specific issues in the Pauline letters which are difficult to apply in a modern context (Paul was a killjoy, racist, pro-slavery, a Chauvinist, and homophobic). In each case Richards and O'Brien set up the issue by citing several passages in Paul which imply he was in fact a racist, etc. After examining these passages within the cultural context of the first century, Roman world, they conclude Paul is not guilty as charged. At least not by the standards of the first century Roman world. This is a key observation for each of the issues Richards and O'Brien cover in chapters 2-6. If Paul is understood as a Second Temple period Jew living in the Greco-Roman world of the first century, then his "politically incorrect" sayings are perfectly understandable.
For example, Paul did not "support slavery" in the same sense than nineteenth century Southern Americans did. Certainly Paul did not demand Christians release their slaves, and he did tell slaves they ought to obey their masters. But in the context of the Roman world, slavery was not always an abusive relationship nor would every slave desire to be free! Although Richards and O'Brien do not mention this, it is worth noting that Jesus never demanded his followers free their slaves. Many of Jesus' parables include slaves, although it is hidden behind the softer translation "servants." So Paul could be charged as "pro-slavery" if his words are taken out of context, but within the correct cultural context, he is neither for nor against slavery.
With respect to chauvinism and homophobia, from a modern perspective Paul may be "guilty as charged." But again, Richards and O'Brien work to set some of Paul's difficult anti-women and anti-homosexual statements into their proper historical context. With respect to women, the writers conclude that Paul does come across badly, but Paul's Jewish culture would have not been pleased with the level of freedom and responsibility Paul suggested women have in the Body of Christ (122). With respect to homosexuality, it is absolutely true that Paul considers homosexuality a sin, but his view stands on the foundation of the Jewish Law. Paul's view was counter to the morals of the Greco-Roman world, but as Richards and O'Brien conclude, homosexual relationships acceptable in the Roman world did not include gay relationships between equals (gay marriage).
The two final issues in the book are more difficult. First, was Paul a Hypocrite? The issue here is Paul's ministry strategy of being "all things to all men" (1 Cor 9:20-21). Did Paul tell to live one way, while living a different way himself? In some letters, Paul refuses to take money from his churches, but in others he thanks the churches for their gifts. The issue of eating meat sacrificed to idols seems odd to us today, but it is was an important issue in the first century since Gentiles had no problem with the practice, Jewish Christians would have thought it was a sin. Richards and O'Brien offer an interesting analogy, should Christians practice yoga? Most Christians would answer like Paul, it depends. Since the origins of yoga are part of a non-Christian religious practice, could a believer do yoga as recreation without all of the pagan baggage? What if you listen to Chris Tomlin while doing yoga? For Paul, the wise answer for some practices depends on the situation (164).
Second, did Paul twist Scripture? There are a few places in Paul's letters where he seems to read the Old Testament in ways which the original text did not intend. The allegory of Sarah and Hagar in Galatians 4 is an example of this, since Paul uses the two women (and their children) as an analogy for a change in God's plan from Promise to Law to Grace. I have occasionally joked that if my exegesis students turned in papers using the same methods Paul did in Galatians 4, I would probably fail them! But as Richards and O'Brien point out, Paul is reading the Old Testament as a Jewish Christian. He was a trained Pharisee who was thoroughly trained in rabbinical techniques including midrash and pesher. As with virtually every section of this book, reading Paul in the context of the Second Temple period helps us to understand what Paul is saying. They conclude Paul did not twist Scripture, "but he did squeeze every last drop out of it" (190).
As a conclusion to the book, Richards and O'Brien offer a short reflection on whether we ought to be "following Paul" or "following Jesus." Like most of the questions in this book, the question is set up in order to generate the discussion which follows. Of course we follow Jesus, but we imitate Paul has he followed Jesus. It is true Paul may have been a "bull in a china shop" at times, but he was called by God to suffer for the sake of Jesus.
Conclusion. As with any book of this kind, chapter titles are set up in order to catch the reader's attention and make the answer to the question applicable to a modern reader. So, "Was Paul a homophobe?" suggests to the reader perhaps he was, although the answer is always comes down to careful definition of terms. The cover of the book and the promotional material which will accompany the book are intentionally shocking. This book would make an excellent small group Bible study since the chapters are set up to generate discussion Paul's views on controversial issues and how those issues ought to be addressed in the church today.
Romans 9-11 deal with the "problem" of the Jewish people in the present age. If God has begun a new program to deal with all peoples equally without giving a special advantage to Israel, one might ask if Israel is completely cut off from God's blessing.  What about the promises that God made to Abraham and David?  Would he fulfill those promises at some point in the future?  Or has God completely cut off Israel's special place in his plan due to their unfaithfulness.
Paul's intention in Romans 9-11 is not to give a complete exposition of predestination and election, he restricts his comments to God's choice of Israel as a favored nation, and within Israel those who believe, the true Israel (Dunn, Romans, 546). A few general comments about God's choice of Israel as his people are possible.
The election of Israel was not based upon works.  Paul makes this point by using the election of Jacob as an illustration in verse 12.  Before the children were born and could do deeds of merit or sinful deeds, the choice was made.  Even the choice of Isaac is made before he is born.  Paul cites Genesis 18:10-14 to show Isaac was the son of promise, not Ishmael. It was not Sarah's faith that was the basis of the choice since she laughed at the idea of having a child.  One cannot even say it was through Abraham's faith his son was chosen since the promise of a child was made in the initial promise in Genesis 12, before Abraham had believed.
In the first paragraph of Romans 9 Paul lists the advantages of Israel's election, including their adoption as sons, the divine glory, the covenants, the receiving of the law, the temple worship, the promises, and patriarchs.  Even the Messiah is a blessing given to Israel.  Yet the fact they have all of these things and preform the Works of the Law and Temple worship does not guarantee them salvation.
If the election of Israel is not based on works, on what is it based?  The key phrase in this section is in verse 11: God's electing purpose. The "purpose" of God is rooted in the Old Testament idea of an eternal God whose will transcends human will. Israel is God's people because of God's free decision. This decision not based upon any conditions. For Paul, there is not a need to explain the reasons for God's choice, they are summed up by the phrase "electing purpose of God."
Paul argues that because Israel has been elected by God to be his people, the nation still has advantages even in unbelief.  In in 9:4-5 these advantages are outlined in very brief straightforward statements. These advantages are not in the past, but in language suggesting the benefits are Israel's at the present time.  Paul vividly describes his sadness of Israel's rejection of Christ. But it also serves to show that the election of Israel has some meaning in the present time.
Paul is therefore arguing God is faithful to his promises despite the current state of Israel's unbelief. Will God be faithful to the promise to Abraham and restore Israel in the future? Does their present state of unbelief mean they will not receive a promised restoration in the future?
This long sentence might be a summary of what Paul means by "sound doctrine" in Titus 2:1.  Gordon Fee called these lines "semi creedal" (1-2 Timothy, Titus, 200)  and nearly all agree that this section was used in some form of liturgy. Paul concludes by declaring this a "trustworthy saying" indicating verses 4-7 that this formulation was well-known to the church.  Since virtually every word can be traced to earlier Pauline writings, it is possible that Paul himself is the source, or someone created the song out of the theology of Paul's letters. In either case, these few verses are a clear statement of Paul's understanding of our salvation.
God has acted on our behalf and saved us out of our foolishness (verse 4-5a).  The appearance of the kindness of love of God refers to Jesus. The work of Jesus on the cross is God's decisive act in history to solve the problem of sin.   Kindness and love are unusual ways to describe God's motivation for sending Jesus into the world, but the words may reflect the Hebrew idea of hesed, God's loyalty to his promises and covenant.   Because God is a faithful covenant partner, he acted in Jesus to enable those who are in Christ to keep the covenant in perfection.
Because of Jesus, we can be saved.  The word "saved" is in fact a metaphor which we miss since we use the term so frequently.  We were not just in danger, we were lost and in need to rescue.  In the Psalms David occasionally describes his personal salvation with being pulled out of a flood or a muddy pit, rescued from certain death and set in a level, firm place.
This salvation is not because of "works of righteousness," rather it is based on the mercy of God.  The idea of "works of righteousness" ought to be understood in the light of the false teachers who likely insisted on things like circumcision or keeping elements of the law.   Rather than a covenant which promises blessings for obedience, this salvation is based entirely on the mercy of God.
This salvation is a rebirth and renewal through the Holy Spirit (verse 5b-6). Paul uses a metaphor in this verse to describe the role of the Holy Spirit in our new birth.  "Washing" (λουτρόν) and the cognate verb (λούω) frequently refers to ceremonial washing which cleanses one from impurity.  The words are used in the context of preparing for worship or entering into the sanctuary.   For example, the verb is used more than a dozen times in Lev 15 in the context of physical impurity. In Lev 8:6 Aaron and his sons are ceremonially washed as they are installed as priests. In Lev 16 the verb is used to describe the washing of the high priest prior to entering the Holy of Holies.
Paul is therefore developing a metaphor which any person living in the first century would have understood.  If we are to be servants of God, we must be cleansed and made holy so that we are able to serve him (as priests in nay religion might have been cleansed).  It is the action of the Holy Spirit at the moment of salvation which "washes us" and makes us right with God. He may have in mind a text like Isa 1:16, where the Lord demands the people wash themselves of their sins, or Isa 4:4 where the filthiness of the nation of Israel will be washed away by a "spirit of judgment" and a "spirit of burning."
Paul therefore has in mind the rebirth or recreation of the person who is dead in their sins; they are "made alive" in Christ through the Holy Spirit. This is a hint of eschatology here as well, since the dawning of the new age is described with this same term (παλιγγενεσία).  This is the same regenerating work of the Spirit found in 1 Cor 6:1 and Eph 5:26.
The result of our rebirth is our membership in God's family (verse 7).  Verse seven begins with a purpose clause and an aorist passive participle.  Our membership in God's family is predicated on our having been made righteous, or justified, by God's grace.  While he does not make the point here, justification by grace is always "not of works, lest anyone should boast."  The verb is passive, we do not justify ourselves nor can we create our own righteousness, we are dependent wholly on God's grace and mercy.
Since we have been justified, we are "heirs" in God's family. This is an allusion to the theme of adoption from Paul's earlier letters (Romans 8, for example).  "Be what you are, a child of God."   This status in God's family is a guarantee of our future hope.  We know that our inheritance is held by God and that our eternal life is secure in him.
Therefore be devoted to doing good (8b).  To be "devoted" to something (φροντίζω) means to think about it, constantly pursue it, perhaps even to worry about it.  This is more than simply "keep it in mind."  (I find that when someone says "I'll keep that in mind" they usually mean, "I am going to ignore what you just said and do what I was going to do anyway.") The word may be translated "pay attention to" doing good works.
It is remarkable that Paul can say in one line that we are not saved by works, salvation is totally an act of God's grace, yet in the next line say that we need to do good works. But the order of the lines is critically important!   To reverse them is to destroy the foundation of "sound doctrine" described in these verses.
The false teachers described in the book are coming from within Titus's churches on Crete. They are elders who are not spiritual leaders and have defected from sound teaching and are behaving in a way that brings dishonor to the church. The list of qualifications in Titus are concerned with reputation of the elder outside of the church. The main reason for this is the elder is a model of spiritual life for the congregation. If the elder has a bad reputation in the community, so too will the church become associated with that bad reputation and therefore be shamed.
Notice that twice Paul says the elder must be "above reproach" (1:6-7). The noun ἀνέγκλητος has the sense of "free from reproach, without stain, guiltless" (TDNT 1:356), even a sense of innocence. Like 1 Timothy, the ideal elder is one who lives the "quiet life" and has a good reputation with outsiders. Perhaps this helps explain the always-difficult requirement the elder be a "husband of one wife." The emphasis may be less on gender than reputation in the community. If the elder is a womanizer he will likely have a bad reputation in the community or created enmity in the community.
Titus must therefore examine the family of the potential elder as well. His children must be believers and models of Christian faith and behavior. This is another difficult text to apply since most people know a "pastor's kid" who did not follow in their parent's faith. Should that pastor be removed from ministry? Paul's concern is for the reputation of the community. The child of a church leader cannot be open to the charge of "debauchery or insubordination" (ἀσωτίας ἢ ἀνυπότακτα). The first word can have the sense of being wasteful (financially) but is also associated with "wild living." The second refers to rebels or flagrant law-breakers (BDAG). In short, even the family of the elder ought to live a quiet life that gains the respect of everyone in their community.
Verse nine indicates the elder must guard the faith as well. Elder were the people who were especially educated and trained by Titus. Perhaps they are the members of the community who have been Christians the longer and therefore have devoted themselves to more study than the others. The elder was to be a shepherd for the congregation, guarding them from potential threats. They are responsible for teaching proper doctrine and practice to the congregation. This seems to be one of the source of the problems on Crete: elders are not teaching proper doctrine as it was handed down to them from Paul and Titus.
The solution is for Titus to "put things in order" by appointing qualified elders. The current leadership is "broken" and cannot be restored; it must be replaced. Titus is told to appoint qualified leaders, and in doing so, he is replacing the "unqualified leaders" who are destroying congregations.
It seems to me one of the greatest threats to the church are church leaders themselves. Christians are not spiritually damaged by outsiders very often, it is usually an elder, pastor or other church leader who hurts people and drives them from the church. What is more, these damaging leaders create a bad reputation for a local church or denomination. Why attend church if you are going to be judged and treated without respect? How can Paul's guidance in Titus help a modern church create a church leadership that builds a good reputation in the community?
In contrast to the false teachers, Paul lists his own suffering as an example of what will happen to anyone that wants to live a godly life (vv. 10-12).  This is somewhat surprising for contemporary Christians who are fed a steady diet of "health and wealth" gospel – if you are really spiritual and doing everything God requires, you will be blessed, you will be happy, healthy and wealthy.  That is the exact opposite of Paul's point in this passage.  Paul knows that his Gospel is the truth because he has suffered physically as a result of his preaching of Jesus.
It might seem odd, but Paul recalls his first missionary journey as an example of his suffering. He specifically has in mind the persecution he faced in Asia Minor (Acts 14). In Antioch, Paul is opposed by Jews from the Synagogue, who follow him to Iconium to harass him. Paul was attacked in Lystra, stoned and left for dead (Acts 14). Perhaps these persecutions were chosen because he was "left for dead," or perhaps this period continued to haunt him in his ministry for some time.
While that physical attack was important, Paul has in mind the constant treat from the Jewish community throughout that first journey as well as the threats to his churches reflected in the book of Galatians.  The attack on Paul's character reflected in Paul's early letters may have been more painful than the physical pain he faced in Lystra.  It appears that some of Paul's opponents described him as unqualified to preach the gospel (Gal 1) or worse, as a charlatan (1 Thess 2, for example).
A potential problem with this review of Paul's ministry is that it all occurred on the first missionary journey, before Timothy began to travel with Paul (Acts 15). This is sometimes used to argue that the letter of 2 Timothy is a pious forgery.  The writer introduced a historical error by saying that Timothy witnessed these events himself.  On the other hand, Timothy was from Lystra himself and joined Paul mission with the full knowledge that Paul is often persecuted physically and opposed by very powerful people where ever he preaches the Gospel!
Paul states very clearly that everyone who desires to live a godly life in Christ Jesus will be persecuted . This is a common theme throughout the New Testament: Jesus was persecuted and so too will his followers face similar trials.  Galatians 5:11 indicates that Paul was persecuted because he was preaching that the Gentiles were not under the Law.  The immediate background is his troubles in Asia Minor to which he alludes here in 2 Timothy (cf. Rom 8:35, 1 Cor 4:12, 2 Cor 4:9, 12:10, Gal 4:29, 5:11, 2 Thess 1:4).
If Timothy's desire is to live a godly life, he will in fact face some sort of trial or  persecution.  Paul knows that Timothy is at the moment facing a difficult time because of the false teachers in Ephesus, even if that has not developed into a physical persecution at this point. This text is clear that the one who is "in Christ" will suffer like Christ.  Perhaps this is an indication that the opponents in Ephesus are not really "in Christ," they simply do not suffer!
Imagine what would happen in Evangelical Christianity if people really believed that they should suffer for Jesus rather than expecting to be wealthy because of their faith. When was the last time you took a rock to the head because of your faith in Jesus?