You are currently browsing the tag archive for the 'Galatians' tag.
deSilva, David A. The Letter to the Galatians. NICNT; Grand Rapids, Mich.: Eerdmans, 2018. lxxix+541 pp.; Hb.; $55.00. Link to Eerdmans

Over the past few years Eerdmans has been replacing older volumes of the New International Commentary on the New Testament. In the case of Galatians, deSilva's new commentary replaces Ronald Y. K. Fung's 1988 commentary, itself a replacement of Herman Ridderbos's 1953 work originally written in Dutch. Each generation of the commentary has grown, from Ridderbos's 238 pages to Fung's 342 pages, now deSilva's 541 pages (plus 76 pages of bibliography). The new NICNT volumes are also larger size volume (6×9 as opposed to 5×7, Ridderbos has a larger font than the other two). Ridderbos had a thirty-eight page introduction, a half page subject index and no bibliography; deSilva's introduction runs one hundred and eight pages, twenty-three pages of indices and fifty-one pages of bibliography.
What has happened in the study of Galatians since 1955 or 1988 to account for this kind of exponential growth in a commentary? First, Hans Deiter Betz commentary on Galatians was published in 1979. Betz was one of the first to analyze Galatians using ancient categories of rhetoric, arguing Galatians used judicial rhetoric and was an apologetic letter. Fung interacted with the rhetorical categories suggested by Betz and ultimately rejected the category of apologetic, deSilva presents a more nuanced interpretation of Paul's use or ancient rhetoric (ethos, pathos, logos, for example). In his introduction deSilva offers twenty-nine pages on Paul's rhetoric and letter writing in antiquity and another ten pages applying this material to the letter to the Galatians.
Second, New Perspective on Paul was still new when Fung wrote in 1988 so he does not address some of the more controversial New Perspective issues in any detail. Fung discusses the phrase "works of the Law" in a footnote to Galatians 2:16, deSilva has five pages with extensive footnotes. The same is true for pistis Christou, the "faith of Jesus" or "faith in Jesus." deSilva has a nine-page excursus on this sometimes technical issue interacting with Dunn's many articles on the issue as well as the response to Dunn. Fung simply notes the problem in a footnote.
Third, J. Louis Martyn's Anchor Bible commentary used the category of apocalyptic to interpret Galatians. Martyn wrote an article on apocalyptic antimonies in Galatians just prior to Fung's commentary, but it did not have much influence on the commentary.
Fourth, related to an "apocalyptic Paul," there is far more attention in deSilva's commentary on Paul's imperial language. To give but one example, to use the language of peace in 1:3 is to use the language of imperial Rome. Augusts brought peace to the empire and Romans sacrificed on the "Altar of the Augustan Peace" and used coins which declared to all that the emperor was the personification of peace in the world (118). For Paul to talk of peace coming from another source, "Father God and Lord Jesus" implies global powers such as Rome are passing away. deSilva offers and excursus of nearly eight pages on the Imperial Cult and the Galatian believers.
With respect to the controversial issue of the destination and date of Galatians, deSilva favors a southern Galatian setting for the letter, although he recognizes the evidence is inconclusive on either side (29). He spends a considerable section of the introduction arguing for a southern Galatia destination based on the record of Paul's missionary activity in the book of Acts. Commentaries on Galatians which take the book of Acts as a reliable witness to Paul's missionary activity must deal with problem of Paul's visits to Jerusalem. Acts records Paul visiting Jerusalem three times, Galatians mentions only two. Of critical importance is the private meeting of Paul and the Jerusalem "pillars" (Galatians 2:1-10).
The result of this meeting is a handshake agreement that Paul continue his mission n to the Gentiles and (most importantly) the pillars agreed the gentile Titus did not need to submit to circumcision. For many commentators, this meeting is what Luke records in Acts 15. DeSilva argues the private meeting in Galatians 2:1-10 is parallel to Acts 11:28-30, the famine visit (which he tentatively dates to A. D. 46-47). After Paul's private meeting with the Jerusalem pillars Paul and Barnabas travel to South Galatia and establish a number of churches. After the return is the Antioch Incident (Galatians 2:11-14) and the visit of rival teachers to Paul's churches in Galatia. Galatians was written after these events, either in A. D. 48 or 49, just prior to the meeting with the apostles in Acts 15. As deSilva says, "This is admittedly a tight schedule" (61) and it requires the book of Acts to be taken seriously as history. Those who reject Acts as accurate history may struggle to accept deSilva's argument for an early date for Galatians, but it is compelling.
The introduction to the commentary includes a lengthy section on the rhetoric of letter writing in antiquity and Galatians as "persuasive communication" (61-106). DeSilva has contributed two commentaries which focused on rhetoric (Perseverance in Gratitude: A Socio-Rhetorical Commentary on the Epistle to the Hebrews, [Eerdmans, 2000] and Seeing Things John's Way: The Rhetoric of the Book of Revelation, WJKP, 2009). In this section of the introduction he traces Paul's argument through the letter.
The body of the commentary follows the pattern of the recent NICNT volumes. Each section begins a short orientation and translation of the text with numerous notes on textual variations and translation issues. The commentary moves from phrase to phrase with technical details and Greek grammatical comments in the footnotes. When Greek words appear in the main body of the commentary they are transliterated so readings without Greek training will be able to follow the argument. It is important to observe this is not a Greek text commentary so there are fewer notes dealing with syntactical issues than in Eerdmans's New International Greek Text Commentary. Most interaction with scholarship primarily appears in the footnotes, making for a readable commentary.
There are a number of extremely useful excurses in the body of the commentary. After his commentary on Galatians 1:11-17, deSilva includes a seven-page essay on Paul's encounter with the resurrected Jesus as a "paradigm shift." Before the Damascus Road, Paul would have considered Jesus as a failed messiah and in violation of the Torah (at least according to the Pharisaic interpretation of the Torah). The followers of Jesus declare Jesus as the Righteous One (Acts 3:14; 7:52) and a "prophet like Moses" (Acts 3:22-23, 7:37). If God raised Jesus from the dead, the he declared Jesus was the messianic heir to the throne of David. Paul reacted violently against the movement since the followers of Jesus proclaimed Jesus was indispensable for experiencing God's covenant blessings. After seeing the resurrected Jesus, Paul's center of authority shifted from Torah to Jesus (153). Since God was pouring his Spirit out into the Gentiles and reconciling Gentiles to himself, "it no longer made sense to Paul to try and make Jews out of the Gentiles" (156).
Conclusion. Despite his misgivings expressed in the preface, David deSilva's commentary on Galatians is a worthy successor to Fung's 1988 commentary and stands well alongside F. F. Bruce's classic New International Greek Text commentary. Students of Galatians should consider this commentary a standard work on one of Paul's most important letters. Although this is a professional, technical commentary, deSilva's text is very easy to read and will be of use for both pastor and scholar.
NB: Thanks to Eerdmans for kindly providing me with a review copy of this book. This did not influence my thoughts regarding the work.
The first Logos Bible Software "Free book of the Month" for 2018 is Todd Wilson's Galatians: Gospel-rooted Living. This 2013 commentary is in the Preaching the Word series from Crossway Books. Todd Wilson is has a PhD from Cambridge University and serves as the senior pastor of Calvary Memorial Church in Oak Park, Illinois. Wilson recently edited Becoming a Pastor Theologian: New Possibilities for Church Leadership (IVP Academic 2016). I happened to attend his paper on Galatians at the 2017 ETS meeting in Providence and found it very stimulating, so I am looking forward to this commentary.
Michael Bird blurbed the book:
"Todd Wilson has written a deeply pastoral and theologically competent commentary on Galatians that is an exemplary effort at Biblical exposition. There are some doozy passages in Galatians, especially on the Law, and Wilson provides a plain explanation and then shows readers how these texts relate to modern Christian living. A wonderful synergy of homiletical energy and honest exegesis."
For only $1.99 more, you can add Ray Ortlund Jr.'s Proverbs:Wisdom that Works (2012) in the same Preaching the Word series.  Graeme Goldsworthy said "The strength of Ray Ortlund's study of Proverbs is its Christ-centeredness. The wisdom of Proverbs loses none of its practical value, but rather is given its ultimate fulfillment as an expression of the wisdom of Christ."
Logos is also offering Martyn Lloyd-Jones's Acts 1-8 for $9.99. The Lloyd-Jones commentary was originally in six volumes, so Logos will add six separate resources to your library; that works out to $1.67ish per volume.
The giveaway this month is the Crossway D.A. Carson Collection (7 vols.,  $105.99 value). There are several ways to get chances to win this collection, visit the Logos Free Book of the Month for details. The free books (and almost free) books are only available through January 2018.
Osborne, Grant R.  Galatians: Verse by Verse. Osborne New Testament Commentaries; Bellingham, Wash.: Lexham Press, 2017. 243 pp.; Pb.  $19.99  Link to Lexham Press
As for all the volumes in this series, Osborne targets a general readership rather than a scholarly audience. As he says in his preface, the commentaries in the series should be used for devotional Scripture reading. Since the commentaries are based on the NIV translation a reader can use this commentary as a supplement to their daily Bible reading. A second related goal is for these commentaries to be used in Church Bible studies, perhaps in a small group or Sunday school context. But pastors and teachers will be find the commentaries useful as they prepare sermons on the text of the Bible. Osborne says he wants "to help pastors faithfully exposit the text in a sermon." Osborne attempts to balance a deep reading of the text with a practical application for the Bible student.
In the seventeen-page introduction Osborne argues for an early date for the book of Galatians, before the Jerusalem conference in Acts 15 (the "southern Galatia hypothesis). Galatians is therefore Paul's earlier letter, dated to about A.D. 48. The opponents in Galatia are Jewish Christians demanding Gentile converts follow the Mosaic Law, starting with circumcision. He associates these Judaizers with the Pharisees mentioned in Acts 15. Osborne does not see a so-called second front in Galatians, the Libertines (Gal 5:13-6:10). Paul warns against a possible misuse of his teaching rather than any real practice among the Galatian churches. Osborne briefly addresses the New Perspective on Paul, specifically the view that the "works of the Law" refer only to boundary markers (circumcision, Sabbath and food taboos). Osborne agrees with Sanders that Judaism was not a totally legalistic region devoid of grace, but he thinks Galatians is evidence for some legalistic aspects in first-century Judaism.
The introduction offers a detailed outline as well as a three-page summary of the theology of Galatians. For Paul, the death and resurrection of Jesus inaugurated the new covenant. Jesus fulfilled the purpose of the old covenant "rendering them obsolete as a means of salvation" (17). Galatians therefore emphasized justification by faith and freedom in Christ. The Christian life is a life obedience led by the Holy Spirit.
The body of the commentary consists of a series of short chapters with subsections working through each verse of the unit. Osborne makes occasional only use of the Greek text, and all Greek appears in transliteration. His focus is in the NIV translation so readers without specialized training will be able to read this commentary with understanding. Footnotes are minimal and there is almost no interaction with contemporary scholarship. Although this might frustrate academics, Osborne's writing friendly style makes the commentary useful for a small group Bible study.
As with all the volumes in this series, Osborne's Galatians commentary is available in print or in the Logos library. The electronic utilizes all of the features of the Logos Library and is available on the desktop and iOS versions of the software. For example, users can float over cross-references to read the text; footnotes function similarly. Clicking a reference will take you to that Scripture in your preferred translation; clicking references to other commentaries will open them if they are unlocked in your library. The electronic version is tagged with real page numbers so the commentary can be cited in the same way as the real book.
Conclusion. Osborne certainly achieves his goal to write a readable commentary of use in a Bible study as well as a helpful aid for pastors preparing sermons. As such, there is no need for Osborne to interact with the massive literature generated by the book of Galatians. He includes sixteen commentaries in his bibliography, including technical, exegetical works such as Martyn and Longenecker, but also several expositional and devotional commentaries. The short chapters could be used as the basis for a Bible Study, although this purpose could have been enhanced by adding a series of discussion questions for each chapter.
NB: Thanks to Lexham Press for kindly providing me with a review copy of this book. This did not influence my thoughts regarding the work.
The Logos Bible Software "Free book of the Month" for November is volume one of James Montgomery Boice's Exposition of the Psalms. Volume 1 (Psalms 1–41) is free, volume 2 (Psalms 42–106) is $1.99 and Volume 3 (Psalms 107–150) is $2.99. This is about 1000 pages of exposition for $4.98, less than the price of a Venti Candy Cane Peppermint latte.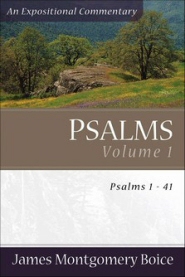 These are expositional commentaries, rather than exegetical. Boice comments on the English text and only occasionally interacts with other commentaries or scholarship. This is a commentary intended to be read by a layperson or pastor. He is not interested in the origins of the Psalms not does the commentary worry too much about the historical setting beyond what the Psalm header indicates. He says in the introduction, "The sermons appearing in this volume were preached in relatively short segments between the winter of 1989 and the fall of 1991 and were aired on the Bible Study Hour in special winter and summer series in 1992–93." Boice is a preacher, and his expositions in these three volumes demonstrate his preacher's heart. You can also get the complete James Montgomery Boice Expositional Commentary series for $99 during the "Twelve Days of Christmas" sale.
Logos also has a giveaway, this month it is the Baker D.A. Carson Collection (15 vols. $262.99 value). I am not sure why they did not choose to make the Boice collection the giveaway this month, but the Carson collection is worth entering the contest.  There are a few ways to get chances in this giveaway, so scroll down to the bottom of the page and enter early and often.
The free books (and almost free) books are only available through December 31, 2017.
The Logos Bible Software "Free book of the Month" for October is their best offer ever. During the month of October, you can add The Anchor Yale Bible commentary on Romans by Joseph A. Fitzmyer for free, and Francis I. Andersen's Anchor Bible Commentary on Habakkuk for only $1.99, and J. Louis Martyn's Galatians commentary for only $2.99. All three of these are excellent contributions to scholarship. Any work on Romans engages with Fitzmyer, and Martyn commentary on Galatians is one of the best available. The three books are about $150.00 retail, and you can get Logos 7 Basic Edition for free. So no excuses!
The Anchor Bible format begins with a fresh translation followed by a comment on the text and then a "notes" section for exegetical detail. All Greek is transliterated and all citations are in-text. All three commentaries interact with both ancient and modern scholarship and seek to explain the text as clearly as possible. For each section there is a bibliography covering secondary literature in English, German, and French. This makes the commentary invaluable for any student of these biblical books.
Strangely, Logos is not giving away the Anchor series in their monthly Logos. In anticipation of the the Reformation celebrations at the end of October, they are giving away the 55 volume set of Luther's Works (a $258.99 value).  There are a few ways to get chances in this giveaway, so scroll down to the bottom of the page and enter early and often.
The free books (and almost free) books are only available through October 31, 2017. Do not miss this opportunity to add three excellent professional commentaries to your Logos Library.
If the one who is walking in the Spirit is supporting the local Christian community, how was that community supposed to use the support?
"Doing good" might refer to doing things that were considered a civic virtue in the community.  In a Jewish context "doing good" might refer to giving to the poor, protecting the widow and orphan, even burying the dead. Since the theme of giving money is prominent in this chapter, it is possible Paul's command here was applied to a community fund which was collected and distributed to those in need.  How did the early church distribute funds?
Paul warns his readers not to become weary in doing these acts of goodness. The phrase appears in 2 Thessalonians 3:13.  The word Paul uses here (ἐγκακέω) sometimes refers to discouragement, or losing heart, perhaps even afraid.  The final phrase uses another verb (ἐκλύω) which refers to being exhausted or worn out. It appears in several military contexts to indicate losing one's nerve. Why would someone become discouraged or afraid of doing good deeds?
One option is that there is no response from those that are helped.  To extend the sowing and reaping metaphor, if a farmer sowed seed in a field and nothing ever grew, he might give up sowing that particular field. If you volunteer at a homeless shelter, you can do many good things for people. But there might be little or no response from the people you are trying to help. That can be very discouraging!
A second option is that someone in Paul's churches was afraid to do good works such as helping the poor in a community where helping the poor was not considered a virtue.  Early Christians often helped people who were very sick, even when their lives were a risk.  It is possible that this is a real fear people felt when doing acts of mercy.
A third option is that people who are busy doing good do in fact get tired of the work. Paul may very well have in mind physical exhaustion from serving people in the community! This is a danger in any kind of service, but it if someone is serving in a ministry where they are working hard and never see any results, they naturally become discouraged.
The fact that Paul includes a condition in verse 9 (if we do not give up) is an indication that the harvest or reward does not happen automatically (Witherington, Galatians, 433). It is hard work to be a member of God's family, but it is ultimately rewarding.
Doing good begins with the "household of faith" and moves outward to everyone else.  This may be people in need within the household of God because they have a burden they cannot bear.  It also includes those who have been called by God to teach the Scripture in the local church.
In the context of verse 1, this "bearing a burden" may refer to a burden carried by the brother caught in sin. But the language could also refer to financial burdens. This is possible since the next paragraph deals with helping others financially. There is a great deal in this paragraph that indicates Paul has money in mind here, although it is not good to limit the "burdens" to only financial distress.
The warning in verse 3 is significant since it implies that the person who is not willing to help other believers carry their burden deceive themselves by thinking that they are "something." Perhaps someone might think that they are too important to help the poorer members of the congregation. They may think that they are "above" that sort of thing. Paul's preference in v. 5 is that everyone takes care of their own "load" (φορτίον, a word that can refer to cargo, Acts 27:10). This is similar to Paul's teaching that people ought to work hard to provide for their needs (1 Thess 4:11-12, 2 Thess 3:12; Eph 4:28)
By bearing one another's burdens, the believer "fulfills the Law of Christ" (v. 4). What is the Law of Christ?
One possibility is that the "Law of Christ" is at least a portion of the Mosaic Law, perhaps the moral aspects of the Law. It is hard to believe, however, that Paul would say that the Gentile believers in Galatia could do part of the Law by helping those who struggle with sin.
A second possibility is that this refers to the teachings of Jesus in the Gospels. This is attractive since Paul taught the churches in Galatia about the Life, death and resurrection of Jesus. But it is hard to point to a verse in the Gospels (which were written after Galatians), such as the greatest commandment (Matt 22:34-40) as "the Law of Christ."
A third way to read this verse is that the "Law of Christ" stands in contrast to the Law of Moses. Romans 3:21-26 makes this point by contrasting the law of works (the Mosaic Law) with the righteousness obtained through the death of Jesus. In this view, the Law of Christ is equivalent to the New Covenant (1 Cor 11:23-26), the law of the Spirit (Rom 8:2), and walking by the Spirit (Gal 5:22-23).
Yet another way to look at the Law of Christ is to read it in the light of "bearing burdens." Christ bore our since in his body, if we are to be like Christ then we should be ready to bear the burdens of others who are in Christ.
To "fulfill" (ἀναπληρόω) this Law is to carry out a responsibility or obligation. The word occasionally means "to complete a work" (Josephus, Ant. 8.58; TDNT 6:305). Members of the Galatian churches wanted to fulfill the Law of Moses, yet they could never actually keep the whole law, let alone "complete it." Paul now tells them that they can fully complete the Law of Christ by bearing the burdens of their brothers and sisters.
As a general rule, Paul thinks that people ought to support themselves, but he also knows that there will always be people who cannot do so. Circumstances are such that they are unable to meet their obligations. In those cases a "mature spiritual community" will be "able to distinguish those loads which individuals must bear for themselves and those burdens where help is needed" (Dunn, Galatians, 326).
Paul described what those who "walk by the Spirit" look like in Gal 5:22-26. In the first part of chapter 6 Paul gives another example of walking in the Spirit from Galatians 5. There is a contrast between bearing the burden of the Law (Acts 15:10, 28) and bearing one another's burdens. These burdens may be spiritual, but there are real physical burdens in mind here as well. The household of God is called to do good to all people, beginning with those in the household who cannot carry their own burdens.
Those who live by the Spirit will restore one another when they are "caught in sin." What does this mean? To be "caught in sin" sounds like the person is caught red-handed, in the act of a sin. Sometimes people think that if they are not caught, it does not count against them (like speed limits, for example).  But the word Paul uses (προλαμβάνω) translated "overtake" in the aorist passive, as in hunting down an animal (T.Judah 2:5, for example).
If a person is caught, they are to be restored (καταρτίζω), returned to their former condition. The verb is used for folding and mending nets in Matt 4:21, or to complete what is lacking in 1 Thessalonians 3:10. The restoration is to be done gently (πραΰτης), the same word Paul used as part of the fruit of the Spirit in Gal 5:23. This means that the church is not arrogant or inconsiderate when dealing with a public sin, they seek to restore the person to fellowship without humiliating the person who was caught by a sin. The goal of any correction in this verse is a restoration of the brother who has sinned. Paul is not creating some sort of inquisition here.
But Paul also warns the reader not to think too much of themselves. His main concern is conceit and self-deception. Like Gal 5:26, Paul is concerned that the one who "walks by the Spirit" will be tempted, thinking that they are spiritual when they are not. By helping another believer deal with their own burden of sin, someone might become conceited, thinking that they are better than the one caught in sin. There is a balance between confronting a brother or sister in Christ who has a problem and meddling in things that are not your business.
Self-examination is therefore critical for a community of believers. While Paul has encouraged restoring a brother caught in sin, he is not inviting the congregation to investigate the private lives of members of the church looking for potential sins. This verse does not call for an inquisition which investigates church members looking for potential sins.
On the contrary, the first (and only) person that a believer ought to investigate is himself! In verse 1 he says that the spiritual ones who are trying to restore a person caught in sin ought to examine themselves first (σκοπέω). In verse 4 he says that each believer ought to test (δοκιμάζω) their own work. Both words have the sense of critical examination.
Contrary to popular belief (and practice), Christians are not called to a life of critical examination of the lives of other people. After carefully examining their own loves they may be able to restore a brother or a sister in Christ who struggles with sin, but there is no warrant in the New Testament for the sort of judgmental attitude associated with Christianity. If this balance between self-examination and gentle restoration were practiced regularly, how would it transform the church?
Paul says that Peter's actions are nothing less that hypocrisy. Peter has changed his attitude and behavior toward Gentile Christians after the visit from the "men from James." The first verb (ὑποστέλλω) is a military term and has the sense of retreating to an "inconspicuous position" (Witherington, Galatians, 154). In Acts 20:27 Paul uses the verb to describe what he did not do – he did not "shrink back" from preaching the gospel in Ephesus in the face of persecution. The second verb (ἀφορίζω) has the separating into groups (the sheep and the goats in Matt 25:32, for example). Witherington takes this to mean that the word has a sense of ritual purity, and I might add it has an eschatological sense. At the end of the age, the Lord will separate those who will enter the kingdom from those who will not. If we are right that the political and religious situation in Judea was becoming increasingly apocalyptic, it is possible that these "men from James" were encouraging a separation of the Jews and the Gentiles in anticipation of a coming judgment.
The reason for Peter's withdrawal from table fellowship is fear from the circumcision party, those Jews who insisted on circumcising Gentiles. There is at least the possibility (based on Galatians 6:12) that some Jews, such as the Zealots, were willing to use force to ensure Jewish traditions were being observed. If this is the case, then perhaps Peter's fear is a real fear of persecution by the more zealous wing of the Jerusalem church.  This is not a case of "the pastor is coming over, quick hide the beer bottles"! Peter and Barnabas may have withdrawn from fellowship to avoid a potentially violent reprisal from the "zealots" within Jewish Christianity.
Peter's actions therefore are out of character and not in line with his beliefs nor the agreement which he reached with Paul in Galatians 2:1-10. Paul thinks Peter and Barnabas have "shrunk back" out of fear and are in need of correction. While Peter is a hypocrite, Paul describes Barnabas as "led astray." The verb συναπάγω has the sense of "carried away,' he was fooled by the rhetoric of the "men from James."
Witherington suggests that Barnabas found himself in a bad place because he was originally sent to Antioch by Jerusalem, he could not go against the "orders" of the church who sent him to Antioch in the first place (Galatians, 157). His loyalty was to Jerusalem, the group with which he was associated from the earliest days (Acts 4), rather than to Paul and the Gentile mission. The Gentile mission is not Barnabas' commission, it is Paul's. All of the Jews in the Antioch church join with Peter and Barnabas in withdrawing from fellowship with the Gentile believers. This indicates that there is a church-wide split caused by the "men from James."
Paul publically confronted Peter because his "conduct was not in line with the truth." This confrontation was "before them all," which may mean that Paul waited until the church assembled. Parallel to the private meeting in Jerusalem, Paul chose to bring this issue to the whole assembly. The accusation against Peter that he is not living in accordance to what he knows is the truth, the agreement of Gal 2:1-10, for example. The agitators in the Galatian church, on the other hand, were described with military terms. They are spies and agitators who are outside of the truth of the gospel to begin with. Peter knows the truth and is not acting in accordance with it, the agitators do not even know the gospel.
Paul's point is that if Peter and the Jewish Christians withdraw from the Gentile Christians, then there is no unity in the body of Christ. As Paul will point out later in the later, there is no Jew or Greek in the Body of Christ, we are all members together "in Christ." To separate into two bodies, a Jewish and a Gentile one, totally misses the point of a "joint-body" as Paul describes in Ephesians 2.
What is at stake here is the nature of the Gospel. If Paul loses this argument, then Gentiles will continue to be "second class believers" in the eyes of some conservative Jewish believers.
Although the issues are different, how does contemporary churches create boundaries which push some types of Christians out of fellowship, or consider them as second-class Christians? Perhaps some of the boundaries are important (the men from James thought circumcision was critical to being a follower of Jesus), but others may not be. How can we disagree on the boundaries without compromising the unity of the Body of Christ?
The first major controversy the early church had to contend with strikes the modern reader a bit strange. Rather than debating the nature of Jesus or developing the doctrine of the Trinity, the first major theological problem was the status of the Gentile who has put their faith in Jesus. Before Acts 13, there were only a few Gentile believers (Cornelius and his household, for example). But after Paul's mission to several cities in Galatia,
Are Gentiles converting to Judaism? If so, should they keep the Law? Or are they like the "God Fearers," Gentiles who kept some of the Law but did not fully convert? For some Jewish Christians, there may have been an implied secondary status for the Gentile believer in Jesus who does not fully convert to Judaism and keep the Law.
But why was circumcision of Gentiles converts such a controversial issue? In Acts 13-14 Paul has success among Gentiles for the first time and establishes several churches with mixed congregations of Jews and Gentiles. That these churches included some Gentiles who were not previously "God Fearers" seems to be clear from the response Paul gets in Lystra.
Based on Galatians, it appears that Paul had taught the Gentiles that they do not have to keep the Jewish Law, especially circumcision. Undoubtedly this also included food laws and Sabbath worship, the other major boundary markers for Jews living in the Diaspora. After Paul established these churches and re-visited them once to appoint leaders (Acts 14:21-28), he returned to Antioch and reported that God had "opened a door of faith" among the Gentiles.
Sometime after Acts 14, some teachers arrived in Paul's Gentile churches and told the Gentiles that they were required to fully convert to Judaism in order to be fully a part of the people of God in the present age. I think that this teaching focused on the boundary markers of food and Sabbath as well, but Galatians and Acts 15 is concern only the practice of circumcision. If Gentiles are going to be considered full participants in the people of God in the present age, they must be Jews; this requires conversion and obedience with the law.
This is no small controversy for several reasons. First, circumcision was a major factor in Jewish identity. For many in the Greco-Roman world, circumcision was the key practice which set the Jews apart from the rest of the world (usually for ridicule). Marital, for example, seems to find a great deal of humor in the Jewish practice (Epigrams 7.35.3-4; 7,82, 11.94. Some of Marital's comments on circumcision are so crude the original Loeb translators did not translate them into English so as not to offend sensitive readers, choosing instead to translate them into Italian. A new edition of Marital has been produced for the Loeb series by D. R. Shackleton Baily which not only translates these epigrams, but seems to strive to offend!)
Second, Paul argues in Galatians and other letters that the church is neither Jew nor Gentile (Gal 3:28). If Gentiles convert to Judaism, then the church is Jewish; if a Jew rejects the Law and acts like a Gentile, then the church is "Gentile." Paul's point is that there is something different than Judaism happening in the present age, the "church" is not a form of Judaism, nor is it a Gentile mystery religion. The church in Paul's view transcends ethnicity (neither Jew nor Gentile), gender (neither male nor female) and social boundaries (neither slave nor free).
For Paul, if the Gentiles are forced to keep the Jewish boundary markers, then they have converted to Judaism and they are not "in Christ." This view would have been radical in the first century, and it still is difficult for Christians two thousand years later. One does not "act like a Christian" to be right with God, any more than one "acted like a Jew" in the first century to be right with God.
Based on a fair reading of Galatians, Paul met with serious resistance for his Law-free Gospel from some Jewish Christians. What might have motivated these opponents of Paul? What is it about Paul's preaching of the Gospel to the Gentiles which shocked them?