You are currently browsing the tag archive for the 'Jesus' tag.
At this time of year we sing the carol O Little Town of Bethlehem. Everyone knows that Jesus was born in Bethlehem and "laid in a manger because there was no room in the inn." Almost every word of that phrase has been exploded into a plot point for Christmas pageants. We imagine Joseph and his pregnant wife Mary arriving in Bethlehem just as she is about to give birth, only to be told that every hotel room in the city is full. A kindly innkeeper (dressed in your uncle's bathrobe and sandals) allows the couple to give birth in his barn.
But Bethlehem was no sprawling metropolis. It is doubtful there was an inn, and if there was it was the only inn in the tiny village. The image of Mary going into labor in the lobby of the local Comfort Inn is pure fantasy. The village was still quite small and unimportant in 6 B.C. But there are other reasons why it was important for Jesus to be born in the "little town of Bethlehem."
First, the Messiah was to be the son of David, the first King of Israel. David was from the village of Bethlehem, a son of Jesse. Jesse was a wealthy land owner in Bethlehem, a "sheep rancher" rather than a Bedouin with a few herd animals. He is described as a town elder, and therefore a more politically powerful man than a "lowly shepherd."
Bethlehem is only 5 and a half miles from Jerusalem, and 3 miles from Gibeah. While the town was likely small, it was well within the range of Saul's capital; elders from Bethlehem would have been well aware of court politics.  That Bethlehem is so close to Jerusalem may explain David's interest in taking the city after he becomes king. When he is anointed the city is controlled by the Jebusites, prompting some scholars to wonder if David was a Jebusite himself!
The image of David when he begins his career is of a boy-shepherd who was at the same time a warrior capable of defeating great enemies because the Lord is with him, and he is committed to the Lord.
Second, the Messiah was to be in the line of David (2 Sam 7:12; Psalm 2, 110). The Davidic covenant describes the son of David, Solomon, in terms which cannot be fully applied to Solomon. He will reign forever!
Psalm 2 is a text which was originally used at the enthronement of a king, but the Psalm cannot describe any single human; that the nations will be ruled by a son of David who sits on the throne with the Lord himself goes well beyond an enthronement text. Likewise, Psalm 110 describes the victory of the son of David in battle in cosmic terms which go well beyond the hopes of any given king of Israel.
The messiah is therefore thought to be the ultimate fulfillment of the "son of David" prophecies. God would send someone to solve the problems of Israel who ultimately fulfilled the role of David in that he liberate the nation from their oppressors and prepared the way for true worship in the Temple. What was not expected is that this person would be quite literally God's son!
The birth in Bethlehem therefore meets the expectation that the messiah would be from the line of David as well as from the town of Bethlehem.
In the carol Silent Night, we sing the words "Round yon Virgin, Mother and Child, Holy infant so tender and mild." This well know Christmas carol was written in 1816 by an Austrian priest named Joseph Mohr and set to music two years later by Franz Gruber. It was first preformed on Christmas Eve 1818, accompanied by a guitar because the church organ was broken. The carol was translated into English in 1863 and eventually included in an English Sunday School hymn book. The song usually tops lists of "most popular" Christmas carols and has been translated into 300 languages! According to Wikipedia, it has been recorded by virtually every artist who has produced a Christmas album. (From Bing Crosby to Elvis Presley, the Vienna Boys Choir to the metal band Anthrax, there is even a John Denver version accompanied by the Muppets!)
It is remarkable to me that the song remains popular because the lyrics contain rather traditional theology. When we sing this song we are reminded of the Virgin birth of Jesus, the holy son of God who is pure light, the savior who brings redeeming light into a world darkened by sin.
While it is unlikely that the instrumental versions floating around the background at the local Mall can be construed as "theology," the idea that Jesus was born miraculously from a virgin mother is part of our culture. This time of year people will point out that Jesus was born to a single mother into the world of poverty, he was homeless, etc. For doctrinal reasons the phrase "Virgin Mary" is common throughout the world, although sometimes for less-than-biblical reasons.
On the other hand, the virgin birth of Jesus is often dismissed as a lame attempt by early Christians to give their founding figure a miraculous birth, like Apollo or some other divine man. Scientifically, women do not reproduce on their own therefore this "miracle" is quickly explained away as legend. This is quite true but the point is that the birth of Jesus was supernatural, a miracle.
But the point that Matthew makes by claiming Mary was a virgin is that the origins of Jesus are different than any other great leader of Israel. Samuel, for example, was born to a woman who was barren in response to her fervent prayer (1 Samuel 1). The stories of the Patriarchs repeatedly include barren or old women giving birth because God gave them a child. The irgin birth of Jesus is the ultimate miraculous birth.
But two of the Gospels begin the story of the virgin birth, and Matthew states that the virgin birth happened "to fulfill what the Lord had spoken through the prophet." In this case, the prophet is Isaiah and the sign of Immanuel. It is important to read the words of Matthew in their proper context, looking back to what God did in Isaiah's day. In the context of Isaiah 7, God is with his people at a time when they are apathetic towards the covenant and the King is in open rebellion against his God. Yet the sign of Immanuel is given because God is still working to preserve the Davidic Dynasty.
In Matthew 1, the sign of Immanuel is given once again for the same reasons. While the details are different, the people of God are still apathetic toward the real heart of the covenant and many are in open rebellion against it – yet God is still working to preserve the people of Israel, to redeem them from their sins and to bring the real King, the Son of David into the world.
Curtis, Edward M. Interpreting the Wisdom Books: An Exegetical Handbook. Grand Rapids, Mich.: Kregel Academic, 2017. 204 pp. Pb; $21.99.  Link to Kregel
This new contribution to Kregel's Handbooks of Old Testament Exegesis covers four difficult books in the Hebrew Bible: Job, Proverbs, Ecclesiastes and Song of Songs. Curtis contributed a commentary on Ecclesiastes and Song of Songs in the Teach the Text Commentary Series (Baker 2013) and Discovering the Way of Wisdom (with John J. Brugaletta, Kregel, 2004). This handbook joins Gary Smith's recent Interpreting the Prophetic Books and Richard A. Taylor, Interpreting Apocalyptic Literature to complete the Handbooks on the Old Testament series.
The first section of the book provides definition of wisdom and the nature of poetry. Curtis understands wisdom literature as a kind of general revelation. By carefully observing life this literature draws accurate conclusions about God's orderly universe. But this literature does not always answer "enigmatic and anomalous experiences," perhaps generating the speculative wisdom of Job and Ecclesiastes. The unit on poetry is a basic introduction to Hebrew poetry (parallelism and other literary features), but also a very helpful section on interpreting metaphors. Metaphors can be a problem for Bible students who are taught to "read the Bible literally," but Curtis provides a basic method for teasing out the meaning of a metaphor.
The second section of the book explores the main themes of the four Old Testament wisdom books in canonical order. These short summaries of the books briefly gather the main theological points of the books under a series of headings. One particularly helpful section is on the application of proverbs. He begins with the warning "a proverb on the mouth of a fool is useless" (Prov 26:7) and explains there is a contingent time and place for a proverb to be used and there is a kind of life-skill in knowing that time and place. Although Curtis does not do this in his book, tt is possible to rearrange the wisdom material so the student encounters Proverbs as the "way wisdom works," and then read Job and Ecclesiastes as "the way wisdom does not work."
The Song of Songs is the one book of the Hebrew Bible that is difficult to classify. Although it is usually placed with other wisdom books, it is not at all like Proverbs, Job, or Ecclesiastes. Curtis does not defend the inclusion of the Song in a book of Wisdom Literature other than to observe sexual relationships are part of the created order. It is not surprising his comments on the Song focus on "one-flesh relationships" (lifelong monogamous, and by implication heterosexual relationships). He rejects allegorical interpretation for the most part, he does recognize some insights of allegorical interpreters "reflect legitimate applications" of the marriage metaphor in the Old Testament.
With this material in mind, Curtis then offers two chapters on exegetical method applied to the Wisdom books. Although most pastors will not take the time to worry about textual critical issues for the Wisdom books, Curtis has a short section on determining the text for the Hebrew Bible with a few examples drawn from Proverbs and Job. He develops a series of recommendations for interpreting the poetry and metaphors of each of the wisdom books.
Throughout both these methodological chapters, Curtis offers a detailed and annotated bibliography of resources needed for interpreting wisdom literature. Some of these are generic Hebrew Bible tools: a good lexicon, for example, is a necessary took regardless of the genre. Other bibliographies target Wisdom literature, such as a list of recommended commentaries. An appendix prepared by Austen M. Dutton suggests a number of electronic resources, from free on-line resources to professional (and expensive) Bible Software such as BibleWorks, Accordance and Logos.
The final section of the book is a guide to proclaiming Wisdom literature. Of all of the volumes of the Handbook of Old Testament Exegesis, the various genre of wisdom literature are challenging for preaching and teaching. Curtis offers some specific guidance using Proverbs 2 and Job 28 as examples. Following this model, he gives a series of suggestions for how to preach the four books. For example, with respect to Proverbs, the "proclamation should reflect the big picture and recurrent themes" (159). It would be confusing to preach through the whole book of Proverbs "verse-by-verse" the way someone might move through Galatians. There is simply no sustained argument from verse to verse! In his final chapter in the book, Curtis gives several case studies. These provide a simple sermon outlines and illustrations to serve as examples of what could be done for a particular text.
Conclusion. Curtis says "Proclamation should do justice to Qoheleth's tensions" (161). Although he makes this comment with respect to Ecclesiastes, it really does apply to the whole of the wisdom literature. Although the attraction of wisdom books is the often clear-cut and simple observations on how to live a successful life, there are frustrating, unanswered questions. If you raise up your child in the way they should go, why do they sometimes stray from that way, despite the claim of Proverbs 22:6? It seems as though there is always an assumed "most of the time" for any given proverbs. For this reason, Proverbs and the rest of the Wisdom literature is often better discussed than proclaimed.
Nevertheless, as with the other contributions to this series, this handbook for the Wisdom books succeeds in its goal of providing students of Old Testament wisdom with the tools for teaching and preaching this difficult material in the Hebrew Bible. This would make a good textbook for a college or seminary class on the Prophets, especially in more conservative circles.
NB: Thanks to Kregel Books for kindly providing me with a review copy of this book. This did not influence my thoughts regarding the work.
Bird, Michael F. Jesus The Eternal Son: Answering Adoptionist Christology. Grand Rapids, Mich.: Eerdmans, 2017. xv + 155 pages; Pb. $18.   Link to Eerdmans
This new monograph from Michael Bird is the result of a discussion held at the Greer-Heard Point-Counterpoint forum at New Orleans Baptist Theological Seminary in 2016 entitled "How Did Jesus Become God?" and featured Bird and Barth Ehrman.  The seminar discussed Ehrman's How Jesus Became God (Harper One, 2015) and Bird's recently edited collection of essays entitled How God Became Jesus (Zondervan, 2015). Larry W. Hurtado, Jennifer Wright Knust, Simon Gathercole and Dale Martin also participated in this conference.
As Bird explains in the preface, in his preparation for this conference he became aware much of what is said about adoptionist Christology is incorrect. It is simply assumed the most primitive Christology was adoptionist and scholars tended to reference John Knox or James Dunn rather than examine the evidence. This book calls that quasi consensus into question (9). Bird argues in this book that although there was Christological diversity in the early church, adoptionism was a second-century phenomenon. As Bird says, it is not correct to speak of a single, monolithic Christology of the early church, but it is equally problematic to speak of a wide variety of competing Christologies proportionally distributed across the early church (5).
After a short chapter describing what he means by both Christology and adoptionism, Bird examines two passages most often used as evidence for adoptionism (chapter 2). First, Romans 1:3-4 is one of the earliest statements often taken as evidence for adoptionist Christology, especially if these verses are a pre-Pauline creedal formula. Ehrman claims these verses say Jesus was (according to the flesh) the Davidic Messiah, then he was declared to be the exalted Son of God (14). Bird points out both titles "Son of David" and "Son of God" were messianic titles in Second Temple Jewish literature. There is no evidence the phrase "Son of God" was ever used in Jewish literature for a human who lived a meritorious life and was given divinity after a bodily resurrection (20). For Bird, Romans 1:34 claim the resurrection is the transition from Jesus's messianic and earthy mode to a display of his divine sonship and heavenly position (23).
Second, Acts 2:36 (along with 5:31 and 13:33) claim that "God made Jesus both Lord and Messiah." Since speeches in Luke-Acts reflect Luke's theological agenda, it is at least possible these speeches by Peter and Paul intend to present the exaltation of Jesus as the divinization of Jesus. Bird counters this by showing Luke's theology assumes Jesus was the messiah and Lord from the beginning (Luke 2:11). Bird cites Kavin Rowe, the change in Acts 2:36 is not ontological but epistemological. For both Romans 1:3-4 and Acts 2:36, there is no beginning to divine sonship implied because divine sonship is presupposed as a part of his messianic identity (29).
Bird devotes two chapters to the Christology of the Gospel of Mark. As the earliest Gospel, it is often assumed the book as an underdeveloped Christology and the baptism is clearly adoptionist: Jesus goes into the water a human, and comes out the Son of God (34). Barth Ehrman considers this as an innovation in Mark's gospel, Jesus is adopted at the baptism rather than the resurrection. Mark's gospel is also considered by some to have been influenced by Greco-Roman culture so that the baptism is deification similar to deified Hellenistic heroes or emperors. Bird surveys how the Greco-Roman world presented these defied figures and concludes ascriptions of divinity "were not primarily about essence but honor, status and power" (41). These people were deified because they had provided some benefit to the people and they were worshiped because they were perceived as continuing to be a benefit. In the Hellenistic world the idea a human could become a god was doubted, even if there was some cultural benefit from perpetuating the imperial cult. Both Jews and Christians rejected the idea of human deification, although Judaism developed used angels or exalted humans as intermediaries between God and man. But these angelic creatures are never exalted quite to the same level as Yahweh nor were they recipients of cultic worship (59). With respect to parallels between Mark's Jesus and the divine men in the Hellenistic world, Bird suggests everyone read Sandmel's article on parallelomania (JBL 81 (1962). Certainly Mark needs to be read within the context of both Greco-Roman and Jewish worlds, but parallels texts "create endless possibilities" and need to be used with clear criterion in order to avoid seeing things which just are not there (108).
Turning to the details of Mark's Gospel, Bird interacts at length with Michael Peppard, The Son of God in the Roman World (Oxford, 2011). Peppard argued the term "son of god" in the imperial cult was a major influence on early presentations of Jesus (67). For Bird, Peppard does not take seriously Mark's key images for Jesus are drawn from the Hebrew Bible, especially in the story of Jesus's baptism, the key adoption text in Mark. Psalm 2, Genesis 22 and Isaiah 42:1 provide Mark with his material: the Davidic king, the submissive son, and the Isaianic servant. In addition, Mark's use of Lord for Jesus connects Jesus to the shema. It is Jesus who is the Lord, and it is the Lord Jesus who is initiating a new exodus (91).
Bird deals more briefly with three other issues in the Gospel of Mark. First, in Mark 2 Jesus claims to forgive sin. This is not the function of a priest in Judaism, only God has the prerogative to pronounce since forgiven. Second, calming the storm (Mark 4:25-41) and walking in the water (Mark 6:45-52) are "theophanic episodes" which reveal Jesus as the God who controls the chaos of the seas (94). Third, in Mark 14:61-62 Jesus claims to be the son of Man from Daniel 7:13 who is invited by God himself to sit on his right hand (Ps 110:1). This blending of texts strongly suggests Jesus is the co-enthroned one who will be Lord of all creation (101).
Since the first four chapters of this book argue there are no adoptionist texts in the New Testament, Bird devotes his fifth chapter to explaining how adoptionism developed in the second century. Even here he questions adoptionism in Shepherd of Hermes (which he calls complicated and even incoherent, p. 111) and the Ebionites (which he calls a "poor man's Christology, 112). Bird agrees with Bauckham's assessment that the Ebionites were Jewish believers who were uncomfortable with some of the Christological claims being made about Jesus, and defaulted to a possession Christology (Jesus was taken over by God at the baptism). Bird thinks the first writer who can be described as an adoptionist is Theodotus of Byzantium (about 190 CE). Even here, Bird hedges since there appears to have been some mixture among his followers.
In his brief concluding chapter, Bird makes the point the New Testament is not adoptionist, but rather focuses on the enthronement of the Davidic Messiah to heavenly glory. This conclusion favors a Christology developed out of the Hebrew Bible over one influenced by the Greco-Roman world. Modern adoptionism erodes the atonement since a created being cannot redeem another created being (128) and runs the risk of a merit-based theology (129).
Like most contributions to the ongoing discussion of early Christology, this book will probably not convince adoptionists. However, Bird does successfully challenge the assertion the earliest Christology was adoptionist by carefully examining several Pauline texts and the Gospel of Mark and providing a compelling non-adoptionist interpretation of these texts.
NB: Thanks to Eerdmans for kindly providing me with a review copy of this book. This did not influence my thoughts regarding the work.
Norelli, Nick. Christology in Review: A Layman's Take on Books about Christology. Lulu, 2017. 149pp.; Pb.; $10.84. Link to Lulu
This small book collects twenty book reviews written by blogger Nick Norelli on the topic of Christology. Norelli has been blogging at Rightly Dividing the Word of Truth since July of 2006. He offers a short introduction to his journey from AOL chatrooms in 1997 to regularly reviewing books on his blog. He credits Chris Tilling's detailed review of Gordon Fee's Pauline Christology as encouraging him to focus on seriously reviewing books.
Christology in Review includes reviews of the following books no particular order.
Bauckham, Jesus and the God of Israel
Casey, From Jewish Prophet to Gentile God
J. & A. Y. Collins, King and Messiah as Son of God
D. G. Dunn, Did the First Christians Worship Jesus?
D. Ehrman, How Jesus Became God
Endo, Creation and Christology
Fatehi, The Spirit's Relation to the Risen Lord in Paul
Grindheim, Christology in the Synoptic Gospels
Grindheim, God's Equal
W. Hurtado, One God, One Lord
H. I. Lee, From Messiah to Preexistent Son
McDonough, Christ as Creator
F. McGrath, The Only True God
Nicholason, Dynamic Oneness
C. O'Neill, Who Did Jesus Think He Was?
A. Pizzuto, A Cosmic Leap of Faith
Stuckenbruck and North, Early Christian & Jewish Monotheism
H. Talbert, The Development of Christology During the First Hundred Years
Tilling, Paul's Divine Christology
Warrington, Discovering Jesus in the New Testament
The first review is Bauckham's 2008 work. The oldest reviewed book is Maurice Casey's From Jewish Prophet to Gentile God was published in 1991 and the latest is Bart Ehrman, How Jesus Became God from 2014. I would have expected the inclusion of the Michael Bird edited response to Ehrman (How God Became Jesus, published almost simultaneously in 2014). Norelli does mention the volume in his review but does not include a review.
The reviews are arranged alphabetically by author and vary in terms of length and depth of interaction. For example, his review of McGrath, The Only True God is a seventeen page review article with 34 footnotes.  His review of Richard Bauckham's Jesus and the God of Israel runs about 14 pages. However, his Grindheim's Christology in the Synoptic Gospels is only two pages. Some of the books reviewed are from the very best in scholarship (Fatehi, The Spirit's Relation to the Risen Lord in Paul in the WUNT series), others are written to a more popular audience (Ehrman, How Jesus Became God).
Although he styles himself as a layperson, Norelli offers trenchant critiques in many of his reviews and is not at all shy about expressing disagreement with the scholars he is reviewing. For example, he makes several critical arguments against James McGrath. McGrath called the review "a very detailed and, from my perspective, very fair and useful review" of his book The Only True God: Early Christian Monotheism in Its Jewish Context. In his response, McGrath said "There have been more positive reviews that did not leave me feeling as satisfied with the level of engagement as Nick's did."
His review of Bart Ehrman's How Jesus Became God: The Exaltation of a Jewish Preacher from Galilee is more scathing. Norelli says "if you have read one of Ehrman's popular books, you've pretty much read them all" (p. 55), especially his frequent digs against his former Christian faith.
This collection is useful for anyone wanting a quick sample of the dozens of books published on Christology in the last 20 years. Norelli has done a service by collecting these reviews in an inexpensive single volume.
He hints in his introduction he might produce a second volume on the Trinity. Maybe you can encourage this blogger by purchasing this inexpensive book.
NB: Thanks to Nick Norelli for kindly providing me with a review copy of this book. This did not influence my thoughts regarding the work.
Keown, Mark J. Philippians 1:1-2:18. Bellingham, Wash.: Lexham Press, 2017. 533 pp.; Hb.; $39.99. Link to Lexham Press
Keown, Mark J. Philippians 2:19-4:23. Bellingham, Wash.: Lexham Press, 2017. 569 pp.; Hb.; $39.99. Link to Lexham Press
Mark Keown's contribution on Philippians in the Evangelical Exegetical Commentary (EEC) is one of the most detailed commentaries published on this Pauline Letter. This two-volume exegetical commentary can take its place alongside recent major Philippians commentaries by Fee (NICNT, 1995), O'Brien (NIGTC, 1991) or Hawthorne and Martin, (WBC, revised edition, 2004). Keown's revised dissertation was published as Congregational Evangelism in Philippians: The Centrality of an Appeal for Gospel Proclamation to the Fabric of Philippians (Paternoster Biblical Monographs; Cascade, Ore.: Wipf & Stock, 2009). He is a frequent presenter at SBL and has published several articles on aspects of Philippians.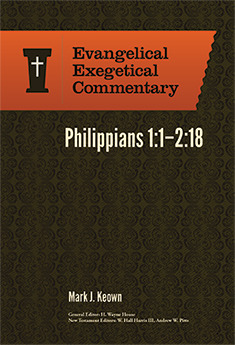 The 92-page introduction to commentary more or less assumes Pauline authorship and settles on a Roman provenance (33) after weighing the various alternate suggestions. He examines various suggestions that Philippians is a compilation of several shorter letters ("interpreting Philippians fore not require a multi-letter hypothesis," 22). He suggests a range of dates from 61-64, but favors the later end of that range (33).
In his reconstruction of the background of the letter, Keown traces the history of the Roman church. Although it was primarily a Jewish Christian movement, after the edict of Claudius in A.D, 49 it was increasingly a Gentile church. This created friction as Jewish Christians returned after the death of Claudius. Keown suggests there was already some anti-Paulinism in the Roman church before Paul wrote Romans in 56. By the time Paul arrived in 60, there already was opposition to Paul from local Jewish Christian congregations.
He also argues the conditions of Paul's imprisonment have taken a turn for the worse because of conditions in Rome (ie. "Nero's lunacy, p. 14) in the early 60s. He is no longer under house arrest, but "in chains" and his life is in danger. As Keown acknowledges, this older view is so out of favor it rarely appears in a commentary on Philippians, but he argues the idea has merit (6). Despite worsening conditions, Paul is still zealously preaching the Gospel, although his imprisonment has caused him to put off going to Spain. Instead, his intention is to return to Philippi when he is permitted to leave Rome. Keown wants this decision to affect the interpretation of the book, in contrast to Stephen Fowl (for example) who said it made little difference whether the Philippians was written from Ephesus or Rome. That Paul was writing from a Roman imprisonment will heighten the contrast between the Roman Empire and the heavenly politeuma (33, note 121).
This leads Keown to suggest Paul may have intended to escape from his Roman imprisonment and travel to Philippi. This material is synthesized from Keown's 2015 article in the Journal for the Study Paul and his Letters. The letter of Philippians clearly indicates Paul was in prison and planned to visit Philippi soon. At least according to church tradition Paul did leave Rome and continued to do some ministry (depending on the status of the Pastoral Epistles). Yet there is nothing to explain how he was released from prison. Keown briefly surveys many of the possible solutions to Paul's confidence that he will leave Rome and concludes a prison escape is answers all of the potential problems (12). Paul claims to have friends in the Praetorian Guard (1:13) who could help him escape. The obvious objection to this interesting reconstruction is Paul's desire to bear witness before Caesar (Acts 23:11) as well as his willingness to suffer for the sake of Christ (2 Cor 11:16-33). Yet even in while boasting about his suffering, Paul does claim to have escaped from Damascus when perused by Aretas IV (2 Cor 11:33). Although Keown does not mention it, Paul avoids persecution a number of times in Acts (at Thessalonica and Ephesus for example). Although not exactly prison escapes, they do indicate Paul was ailing to relocate in order to continue preaching the Gospel, or at the very least Paul cannot be considered as seeking martyrdom.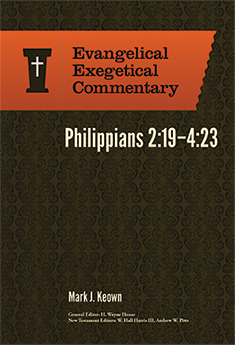 Perhaps the most useful feature of the introduction for most readers will be the lengthy introduction to the city and culture of Philippi. As Keown points out, Philippi was founded as a kind of mini-Rome," and this observation opens up several important interpretive possibilities.  After a sketch of the history of the city, Keown offers a commentary-worthy discussion of Acts 16 and the charges against Paul and Silas. He argues the letter of Philippians reflects a clash between Caesar and Christ, especially in the Christ Hymn (Phil 2:5-11). Because Philippi was so Roman in outlook, it is natural to see some of Paul's presentation as "anti-imperial." Keown says the letter is "utterly subversive and countercultural," although he stops short of some of the more radical anti-imperial readings of the letter (44).
The last long section of the introduction is an account of the church itself. For Keown, the Philippian church is predominantly Gentile including a number of prominent women (Lydia, for example). Paul has a positive relationship with the church there is little which needs to be corrected as in Corinth, although there are some problems with divisions (4:2-3). The church is facing some opposition, which Keown describes as "twin challenges" (56) from Jerusalem (Judiazers) and Rome (Greco-Roman libertines). The final part of this description of the church is excellent fodder for a pastor preparing to preach this letter.
After the introduction, the body of the commentary is laid out in large sections divided into logical sub-sections as outlined in the introduction. Each section of commentary begins with an introduction discussing the context of the section as well as literary features. Following this introduction Keown offers his own translation of the text along with extensive textual critical notes.
The commentary itself proceeds phrase-by-phrase. Keown provides the Greek text followed by his translation. He comments extensively on Greek syntactical and lexical issues, occasionally comparing various translations in order to indicate the importance of the grammatical decisions. Since this is an exegetical on the Greek text of Philippians, Greek words appear frequently and are not transliterated. Major commentaries are citing in-text, technical monographs and articles appear in the footnotes. Keown interacts with all major Philippians commentaries (Fee, O'Brien, for example), including many classic works (Lightfoot, Vincent, for example).
Following the exegetical section Keown makes a brief conclusion and offers a short section entitled "Biblical Theological Comments." Here he tries to connect the pericope to the larger world of Pauline theology. For example, after the exegetical section on Philippians 3:1-21, Keown discusses the impact of Paul's conversion on his theology, especially his view on what "Israel" means after his encounter with Christ as well as the role of the law. Paul's "fresh perspective on the law" is not antinomian, but rather "agapenomian, hypernomian, pneumanomian or kardianomian" (2:183). The four neologisms do indeed express how Paul sees the law in the present age (even if they are unlikely to catch on).
Each exegetical section ends with a short thought entitled "application and devotional implications." An exegetical commentary may draw theological implications, but not many technical commentaries like this one allow the author's pastoral heart to come forward and offer
Each volume includes a Scripture index, and volume two includes a brief glossary of foreign words and technical terms. The second volume also include an extensive, 42-page bibliography divided into technical monographs, articles and essays, and other non-Philippians works cited in the commentary. For the commentaries, the bibliography follows the introduction in volume 1 (pages 83-92). There is no index of authors cited in either volume.
In the printed version of this commentary there were a few typographical oddities. In volume 2, starting on page 187 the header does not include the chapter/verse, although it does in the previous and following sections (it simply reads "Philippians" through page 290).  However, this does not distract from the content of the commentary.
Since Lexham Press part of the larger Faithlife family, these volumes are available in for Logos Bible Software as a single resource rather than two volumes. In the Logos resource, all Scripture is tagged so the reader can float over the reference with their pointer and read the text or click to read the text in their preferred Bible. All abbreviations and references to other commentaries are similarly tagged; if you own the book you can click the pages to go directly to the resource. An additional advantage for the Logos version over the printed version is the ability to click on Greek words to launch your preferred lexicon. I happen to have BDAG in my library, so clicking a Greek work in the commentary takes me to the lexicon. Resources in the footnotes can be copied and pasted into a word processor, or in BibTex format for use in bibliography software. Finally, references to other section of the commentary are hyperlinked. For example, when Keown refers back to his thematic and structural analysis (page 492, for example), the Logos user can click the hyperlink and go directly to page 80 to read this section.
One potential problem is a discrepancy between the Logos resource (published 2016) and the printed book (published 2017). Since an electronic book can be updated frequently, it is possible a printed copy will be out of date. To date there are eleven commentaries in the Evangelical Exegetical Commentary available to Logos users, with a total of forty-four volumes planned.
NB: Thanks to Lexham Press for kindly providing me with a review copy of this book, both in print and Logos format. This did not influence my thoughts regarding the work.
Pennington, Jonathan T. The Sermon on the Mount and Human Flourishing: A Theological Commentary. Grand Rapids, Mich.: Baker Academic, 2017. 326 pp.; Hb.; $32.99. Link to Baker   
In the introduction to his new book on the Sermon on the Mount, Jonathan Pennington suggests the Sermon should be read in both a Jewish and Greco-Roman context. In placing the Sermon in this dual context, he argues the Sermon is concerned not simply with theological questions but also with the important the existential question of "human flourishing." By "human flourishing" Pennington means happiness, blessedness, or shalom, a true flourishing which is only available through fellowship with God revealed through his Son and empowered by the Holy Spirit (14). He does not force either a virtue-based ethic on to the Sermon or a Jewish wisdom model. He will attempt to balance both wisdom and virtue (or, Jewish and Greco-Roman context) because Jesus is the fulfillment and incarnation of both.
This first part of this book begins with a chapter on the context of the Sermon. He uses Umberto Eco's Encyclopedic Context model to show the ideal "model reader" of the sermon has a cultural and philosophical encyclopedia which consists of both Greco-Roman and Jewish elements. Pennington is clear he is not proposing a new way of doing biblical backgrounds, but rather he is trying to locate the Sermon in the right context, and that context is More complex that either Jewish or Hellenistic. He therefore briefly surveys wisdom literature with its emphasis on shalom which only fully restored in the eschaton and Greco-Roman virtue tradition with its emphasis on eudaimoia, or human flourishing. The Sermon on the Mount sits at the crossroads of these two traditions (38).
The middle three chapters of Part 1 deal with key vocabulary used in the Sermon, primarily makarios and teleios. The word makarios is notoriously difficult to translate with a single word. The traditional "blessed" is not sufficient, and although "happy" is closer to the meaning it does not have the same gravitas. Following Scot McKnight, Penning observes if you get this word right, everything else in the Sermon falls into place. By beginning with the Beatitudes, Jesus is "painting a picture of what the state of true God-centered human flourishing looks like" (47). For Pennington, the Beatitudes blend both eschatological reversals with wisdom/virtue. In fact (as is often observed), wisdom literature has an apocalyptic edge.
The second key concept in the Sermon is telios, a term often translated as "perfect" but should be translated "wholeness" or "completeness," or even "virtuous" (70). The word is important since it appears in Matthew 5:48, a verse which Pennington sees as central to the whole structure of the Sermon. Rather than "be perfect," he reads this verse as encouraging wholehearted devotion to God. This cardiographic reading of telios helps to explain how a person could keep the whole law and still not be whole (Matt 19:21).
Pennington surveys seven other key term sin the Sermon, including righteousness, hypocrisy, heart, gentiles/pagans, "the Father in Heaven," the Kingdom of God/heaven, and reward, recompense and treasure. Each are only treated briefly, each is worthy of a chapter (or monograph)! The final chapter in Part 1 is an attempt to provide some structure for the Sermon.
The second part of the book is the commentary proper (about 130 pages) divided into six chapters. Pennington begins each pericope with his own translation followed by a few paragraphs dealing with the overall teaching of the text. Since Pennington subtitled this book a "theological commentary" he often goes beyond exegesis to theological reflection. Most exegetical details are restricted to the footnotes and interaction with the Greek text is minimal (and transliterated). This makes for a very readable commentary which will appeal to both professions and laypeople.
For example, for the Beatitudes there is little traditional exegesis. To be fair, Pennington covered the main issue for the section in his chapter on makarios. He has a sub-section on the Isaianic background to the Beatitudes, a section connecting the Beatitudes with the rest of Matthew, a section on the paradox of suffering-flourishing, and a section on the theological appropriation of the Beatitudes in the rest of the canon.  Although not as clearly marked in other sections of the commentary, Pennington follows this pattern throughout his work. He sets the sayings in context by looking back to the Old Testament, the whole context of Matthew, then forward to the reception of the sayings in the rest of the canon and early church.
The final chapter is a final theological reflection on the contribution of the Sermon on the Mount to a "theology of human flourishing." He makes a series of "theological assertions" based on his reading of the Sermon. First, Pennington says the Bible is about human flourishing, a claim he needs to make because of the Protestant fear of describing the Bible in this way. Protestants tend to see the Bible as a "drama of redemption" (how does God deal with the sinfulness of humanity), but to focus solely on this misses the rich material throughout the Bible on how people can flourish as humans. This assertion makes perfect sense if one has a biblical view of shalom, essentially the second and third chapter of Pennington's book.
Second, the Bible's vision of human flourishing is God centered and (ultimately) eschatological. This point is developed from Pennington's work on telios in chapter 3. Since the story of the Bible is working toward the restoration of shalom, it is goal-oriented. Part of this goal can be realized in individual human flourishing, but it is also missional and outward focused. By participating in the story of redemption, humans work toward God's eschatological goal of restoring shalom.
Third, the moral view of the Bible is a "revelatory virtue ethic." Although he is attracted to ethics as virtue, Pennington is adamant the virtue demanded by the Bible is shaped by and encircled by divine revelation (300). This is not a case of baptizing secular virtue ethics by prooftexting them with the Sermon on the Mount.
Fourth, salvation is "inextricably entailed" with discipleship and virtuous transformation. In this assertion Pennington wants to defuse the potential disconnect between Jesus and Paul. In Matthew, disciples pursue righteousness, in Paul, righteousness is imputed by grace through faith in Jesus's death and resurrection. Even though they talk about righteousness differently, the Sermon and Paul both have a vision of discipleship as a transformation of the heart.
Fifth, virtue and grace are compatible. Again, this may be another problem generated by setting Jesus against Paul, since in the Sermon the virtuous disciple "seeks righteousness" and Paul is often made to say righteousness as a legal status equivalent to salvation. For Pennington, righteousness, virtue and sustaining grace are all essentially the same vision for Jesus's disciples.
Finally, Pennington observes that biblical human flourishing will provide an insight into the meaning of God's saving work. He does not want to leave the impression one can live a happy and prosperous life by following the Sermon on the Mount but never actually encounter Jesus as a savior. Human flourishing is not the only metaphor to describe the message of the Bible (309), but it does provide a framework for understanding redemption and the kingdom of God.
Conclusion. In this book, Pennington demonstrates that the Sermon is a "Christocentric, flourishing-oriented, kingdom-awaiting, eschatological wisdom exhortation" (15). He achieves this goal by setting the Sermon in a canonical context of wisdom literature, but also by paying attention to interaction with the world of ancient ethics texts. Pennington's contribution to the ongoing discussion of the Sermon on the Mount is far more than a commentary, it is an introduction to biblical ethics. Like Stassen and Gushee's Kingdom Ethics, Pennington's book attempts to use the Sermon on the Mount as a foundation for discussing larger issues of discipleship, virtue and ethics.
NB: Thanks to Baker for kindly providing me with a review copy of this book. This did not influence my thoughts regarding the work.
Gowler, David B. The Parables after Jesus: Their Imaginative Receptions across Two Millennia. Grand Rapids, Mich.: Baker Academic, 2017. 320 pp.; Pb.; $29.99. Link to Baker   
David Gowler's earlier book on the parables, What Are They Saying about the Parables? (Paulist Press, 2000) was a handy guide to the various approaches to the parables in scholarship. This new volume from Baker Academic extends that project by studying how scholars, pastors, preachers, philosophers and artists have understood Jesus's parables. This book is a reception history, although it ranges broadly in both chronology and disciplines.
Gowler includes chapters covering examples from Antiquity (to ca. 550 CE); Middle Ages (ca. 550-1500 CE); Sixteenth and Seventeenth Centuries; Eighteenth and Nineteenth Centuries; Twentieth and Twenty-First Centuries. Since he includes so many examples in each chronological period, each sub-section is necessarily brief. This may frustrate some (there is obviously more to be said about prolific writers Augustine or Luther), but it is the nature of the book Gowler has written. On the other hand, by limiting his comments only a few thousand words, readers may use this book as a kind of devotional reader. The brevity allows a reader to profitably spend a few moments reading a section without sacrificing the overall themes of the book.
Some of the selections are the most important and well known authors, but some selections are more obscure. For example, in the section on Antiquity (to ca. 550 CE), Gowler includes several of the earliest and most important Christian writers (Irenaeus, Tertullian, Origen, John Chrysostom, Augustine), but also the Gnostic Gospel of Philip, two obscure writers (Macrina the Younger and Ephrem the Syrian), but also examples in Early Christian Art, Oil Lamp and Roman Catacombs. He also includes the Dura-Europos House Church and Illuminations from the Rossano Gospels and several Byzantine Mosaics and a song from Romanos the Melodist.
This diversity is seen in Gowler's selections for his chapter on the Middle Ages. Gregory the Great, Hildegard of Bingen, Bonaventure and Thomas Aquinas are well-known to most students of church history, but the Sunni writer Sahih al-Bukhari (ca. 870) is far from a household name in contemporary evangelicalism. It may be a surprise for some readers to learn some of Jesus's parable were discussed in Islamic literature, but as Gowler observes, this illustrates the trajectories gospel traditions could follow. The next writer Gowler includes in this chapter is positively obscure, Wazo the bishop of Liège (985-1048). He is primarily known from a biography written by Anselm. This chapter also includes several panels from the Golden Gospels of Echternach (Codex Aureus), an illuminated gospel produced between1030–1050. The book reproduces several pages illustrating parables in grey-scale. It is well worth the effort to find these images available on the internet. Gowler includes several pieces of art (Albrecht Dürer) and architecture (Chartres Cathedral) in this section, although he only provides a link for the images from Chartres.
For the Sixteenth and Seventeenth Centuries, he includes the reformers Martin Luther John Calvin, but also playwright William Shakespeare, poet George Herbert and the remarkably evocative art of Rembrandt and Domenico Fetti (1859-1623).  One of the more obscure examples in this section is John Maldonatus (1534-1583), an example from the counter-Reformation who likens the "stony place" in the Parable of the Sower to the heretics Luther and Calvin.
The Eighteenth and Nineteenth Centuries are even more diverse, ranging from William Blake's art to Søren Kierkegaard, the poetry of Emily Dickinson and the hymn writing of Fanny Crosby. The inclusion of abolitionist Frederick Douglass is a pleasant surprise. Douglass used the parable of the Great Feast in Luke 14:16-24 as part of his argument against slavery and the plight of the black slaves as similar to Lazarus in one speech, as a symbol for women's emancipation in another. A rare biblical scholar in this period is Adolf Jülicher, a constantly referenced work on parables but rarely read.
For the Twentieth and Twenty-First Centuries, Gowler includes such diverse voices as Thomas Hart Benton, Flannery O'Connor, and Martin Luther King Jr. along with more pop-culture examples such as writer Octavia Butler and the play Godspell. He has a section on Latin American Receptions, a Jewish writer (David Flusser) and Vietnamese monk Thich Nhat Hanh.
In his concluding comments, Gowler asks, "What Do Parables Want?" Since the parables themselves are literary works of art, they function like any other type of art. Jesus was often ambiguous when he told a parable, and this ambiguity generates the variety of interpretations evidenced in this volume. When Jesus spoke a parable, he demanded a response, as in Luke 10:36-38: "go thou and do likewise."
Although Gowler includes many examples of the reception of Jesus's parables over the last two millennia, there is far more to be said. For example, he has barely scratched the surface of in the modern period with respect to art and literature. A catalog of scholarly approaches to the parables could generate another (much longer) book. Gowler maintains a blog, A Chorus of Voices: The Reception History of the Parables, where he has additional examples. Earlier posts on this blog are the seed-bed for this book and occasionally there are links to art and architecture examples. The book also includes an appendix briefly describes each of the parables covered in the book, although Gowler gives biblical references throughout.
Conclusion. This book is a joy to read, a book I would recommend one reads the book slowly. In many cases the examples are obscure and it will reward the reader to look up a few names in an encyclopedia or dictionary in order to place the section in a proper historical context. Gowler demonstrates an amazing range of scholarship, equally at home in patristics as in the Reformation, in both medieval and contemporary art. By including such a wide range of voices readers will be challenged by the diversity of responses to the parables of Jesus.
NB: Thanks to Baker for kindly providing me with a review copy of this book. This did not influence my thoughts regarding the work.
Buckley, Michael J. What Do You Seek? The Questions of Jesus as Challenge and Promise. Grand Rapids, Mich.: Eerdmans, 2016. 158 pages; pb. $18.00   Link to Eerdmans
This short monograph collects fourteen short meditations on questions asked by Jesus in the Gospel of John. Many of these questions are recognized as programmatic in the Gospel of John. For example, Buckley draws his title for the book from the first question Jesus asks in the book. In In
John 1:35-38, the first words Jesus speaks in the book asks two disciples following him, "What do you seek?" The Gospel of John returns to this theme frequently as people seek something from Jesus (healing, living water, bread from heaven, etc.) In his final question in the Gospel Jesus asks Peter, "Peter do you love me?" (John 21:15-16). Jesus's question demands a response just as the whole Gospel of John demands a response from its readers.
Buckley's short reflections on the text focus on the challenge issued by Jesus's questions. For example, his comments on Jesus's question to Peter in 21:15-16 concern forgiveness. He devotes two chapters to questions asked in the passion narrative, "what shall I say, save me from this hour?" and "shall I not drink this cup?") On occasion the meditation ranges far from the original intention, such as in John 2:3-4, when the wedding runs out of wine Jesus asks his mother, "What has this to do with us?" Buckley uses this question to address concern for the suffering and responding to those in need. Perhaps, but Jesus used the opportunity to reveal something about himself by providing wine at a wedding. When Jesus asks his disciples "how can we buy bread" (John 6:5), he reveals something about himself as "bread from heaven," but Buckley develops an application from the text about the unpredictability of the power of God and our weakness in service. Since this book is devotional reading, these applications are inspiring and challenging even if they seem tertiary to the text.
The book is rich in allusions to classic literature (many citations of T. S. Eliot, Dostoyevsky), philosophy and especially classical of western spirituality (St. John of the Cross, Cardinal Newman) and a few nods to modern scholarship (Bultmann, Barth, and Raymond Brown). Buckley reflects his Roman Catholic background (pp 34-24, for example) but this is not at all distracting.
Readers will be challenged by Jesus's questions and Buckley's thoughts on these questions.
NB: Thanks to Eerdmans for kindly providing me with a review copy of this book. This did not influence my thoughts regarding the work.
Johnson, John E. Under an Open Heaven: A New Way of Life Revealed in John's Gospel. Grand Rapids, Mich. Kregel, 2017. 256 pp. Pb; $15.99. Link to Kregel
John Johnson has served as a pastor and a professor of Pastoral Theology at Western Seminary in Portland. This blend of experience serves him well as he presents thirteen conversations from the Gospel of John. Each chapter is a meditation on an encounter with Jesus in the fourth Gospel. Johnson uses this conversation to present the theology of John's gospel in a personally challenging way. Some of the conversations are with seekers (Nicodemus and the woman at the well), people seeking healing (the blind men), and others with people antagonistic toward Jesus (his brothers and the Jews in John 8:30-59, even Pilate in John 18:28-19:11).
Johnson presents enough historical and cultural detail (although not exegesis) to set the story in its proper context. For example, he explains the Jesus's unusual response to his mother in John 2:4 or the clear parallels between Nicodemus and the woman at the well, or the contrasts between the two blind men in John 5 and 9. But since his goal is not to write a fully researched commentary on John, many details are overlooked. For example, there is far more to say about the Feeding of the 5000 than "pointing to a better meal" (116), or the quantity and quality of the wine Jesus provides in John 2 than "Jesus can be so generous" (50). Still, Johnson's goal is a devotional reading of the text, it is not fair to expect him to fully tease out all of the theological implications of John's Gospel.
The thirteen chapters of the book read like sermons, with introductory illustrations drawn from pop culture or personal experience, and chapter sections with alliterative headings. He even cites Bob Dylan, which is always a plus. Since the book is written on a conversational level, it would work well in a small group environment or as personal devotional reading. Johnson has included a few questions at the end of each chapter to prompt discussion. Johnson also maintains a blog which touches on some of the topics in this book.
NB: Thanks to Kregel for kindly providing me with a review copy of this book. This did not influence my thoughts regarding the work.